Short-term loans up to R250,000
Low-interest starting from 27.75%
Repayment up to 60 months
In-page navigation
---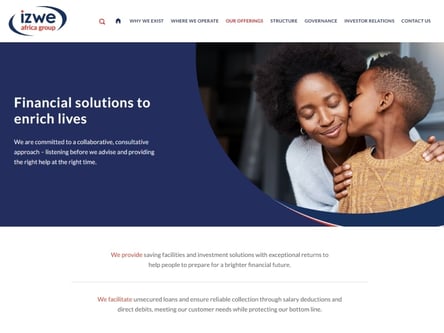 Author Izwe Loans. Screenshot of Izwe Loans website.


[Accessed January 30, 2023]
Izwe Loans – Fast unsecured loans online
Izwe Loans is a finance company that targets the formally employed market with options of unsecured term-loan offerings.
They also ensure that you receive benefits at all times through superior financial assistance via a loan company that understands your needs.
They strive to assist you in every way possible, and that's why they're able to provide financial aid to ensure that emergencies are taken care of, by providing you with a quick loan solution when you require additional money.
They're improving and innovating
Thanks to technology, They're able to provide you with a system that improves the speed and efficiency during the process of money lending and borrowing in today's lending industry.
They have a team of consultants who are dedicated to ensuring you reach the maximum benefits with Izwe Loans from start to finish. They provide you with all the resources you require and their support is endless during the process of the personal loan.
Trust is their middle name
They continually strive to deliver you with superior service, and are proud to say that over 150 000 clients have come forward to lay testament that they have succeeded in doing so! They've exceeded expectations in a number of ways, one being the processes, where they've made their clients' lives much simpler.
Their company is constantly developing, thus possessing the capabilities to offer their expertise in financial lending around the country and in other parts of the African continent.
Responsible lending initiative
As a regulator of the National Credit Act, they ensure that their accredited lending services are on track with all government regularities. You might choose to borrow an amount that reaches beyond your means of affordability, with their responsible lending initiative, they ensure that you aren't allowed to, so as to avoid the position where you're unable to repay your short-term loan instalment each month.
Get a loan online quickly & easily with Izwe Loans
Their loyal clients in South Africa can expect to receive loans that'll assist them with their cash flow problems and budget requirements.
What they offer
Izwe Loans cover a large range of online loan products and services that'll suit your budget and financial needs no matter the situation or the place, they serve you countrywide.
Expect customised loans
If you have a financial issue, chances are it's not the same as the person before you. That's why they tailor their offerings to suit you and your needs specifically. They ensure that your budget is in line with the affordability that's required for the instalments that they set for you.
You won't ever have to feel concerned that you can't afford to repay the loan, as they ensure that you receive responsible lending advice. Their short-term loans are payable over a term of 9 to 42 months. They'll offer you a loan amount starting with a minimum of R6 000 to a maximum of R90 000.
Loan offerings you can expect at Izwe Loans
Building loans- Need to renovate? Then this loan type is for you, want to settle your bond? It's still for you. Yes, you can do both with a building loan and they highly recommend it for those scenarios.
Student loans – There isn't always access to large funds to cover your children's studies when they choose to go off to college, and that's why they have student loans on offer so that you no longer need to stress about it, they've got it covered.
Consolidation loans – These debt consolidation loans offer you a chance to pay off all your current debts and become debt free quicker than expected by repaying one affordable monthly payment.
General loans – General loans will provide you with funds to purchase or settle anything you desire. The terms and repayment structure will always be one that you can comfortably afford.
Izwe Loans – Short-term loan
Loan Type

Short-term loans

Interest Rate

from 27.75%

Loan Amount

up to R250,000

Repayment

12 months to 60 months
Benefits of Izwe Loans
Accessible financial solutions
Flexible loan options
Quick and paperless loan applications
Short-term loan calculator
Izwe Loans - They have a fast loan processing time
If you wish to apply for a loan with them, all you have to do is complete their online application form with your personal details.
Upon sending them the online loan application, you should accompany it with three months' bank statements and a copy of your ID. You need to be 18 years or older and also be a permanent resident of South Africa.
Before applying for a loan with them you should be full-time employed, and earn a monthly salary. It is vital for them to have the security of knowing you can repay your loan.
Expect an answer almost instantly
Once your application form and supporting documents have been submitted, they'll contact you within an hour to confirm your personal, student, consolidation or payday loan approval, and start taking the next steps to provide you with the cash you need.
You are offered three ways to apply for cash
With them, you have more than one way to apply for a short-term loan. One way you can do it is by contacting them on their call-back line, where they'll call you back and go through the application over the phone with you. You can also send them an email, and they'll send you the application form to complete and submit, or alternatively, you can complete the documentation on their website.
Unbelievably fast processing time
They make sure they don't waste your time when you need funds, that's why all their processes are paperless and are processed in the shortest time possible. To speed up the process, all credit checks are processed electronically, with ITC technology.
Their loan features
They offer you fast loans from R6 000 to R99 000 to use as your needs require. The repayment terms all range from 9 to 42 months, all depending on the amount that's borrowed, and what you can afford to pay back each month.
Once your loan application has been approved, they'll send you your contract to sign. Once you've signed the contract, the cash will immediately be transferred into your bank account, and be available for you to use. This all takes place in less than 24 hours.
Customer Reviews & Testimonials
"
February 2019
When you are not a homeowner getting finance can be difficult especially if your credit score is not up to par. This is why I was relieved when I came across Izwe Loans because they offer fast un...
Joyce M
— Durban —
April 2019
With a new streamlined lending process, borrowing money from Izwe has never been simpler than now. I simply completed the online application, received a fast response and signed for my loan. I am...
Diana V
— Pietermaritzburg —
January 2019
Izwe Loans is a responsible and ethical lender. When I borrowed from them I knew that I was in safe hands. I had no reason to scan all the fine print because the employee explained everything to ...
Jarred B
— Pinetown —
Izwe Loans Contact
Contact Number
E-Mail
Website
Physical Address
Shop 25 Grand Central, Plein St, Cape Town City Center

Cape Town

Western Cape

8001

South Africa