Student loans up to R80,000
Low-interest starting from 6.5%
Repayment up to 7 years
In-page navigation
---
Author First National Bank. Screenshot of First National Bank website.


[Accessed May 13, 2018]
FNB - We can finance your future today
FNB has a long history in the financial industry of South Africa, dating back to the year of 1838, making us the oldest bank in South Africa.
On our list of offerings, we have a variety of loan types, including a comprehensive range of short-term loans, personal loans, student loans, home loans and much more at your disposal.
As with any business over a journey as long as ours, we have encountered various challenges, and have always ensured that we overcome those challenges with integrity, coming out even stronger than before.
We are renowned for our successful track record
Our exemplary track record affords us the confidence in our ability to assist clients in meeting and overcoming the financial challenges that they encounter on their journey through life including during their studies when student loans play a critical role.
We owe our success simply to be fully committed at every turn when servicing our clients whether they are looking for a home loan or a quick loan online.
FNB student loans
We strive to be the best credit provider in the country by servicing our clients with a level of expertise and attention to detail when it comes to our customers.
Our Life Start Student Loan can offer you loan amounts over R4 000 with competitive interest rates and flexibility, which you can apply for each year you are studying.
With this study loan, our clients will be able to pay their tuition fees and only pay the interest on your loan while you are studying.
This ensures repayments are affordable and match your current repayment abilities.
Benefits of our student loans
We provide additional benefits to our clients when they are working with us, such as ATM withdrawal, no minimum balance requirement, balance alert, free subscription to mobile, online banking to name a few.
Our student loans are available to students whose parents or sponsors who are employed full time, or if they are self-employed for a term that we accept is sustainable, and is able to afford the monthly repayments.
First National Bank – Student loan
Loan Type

Student loans

Interest Rate

from 6.5%

Loan Amount

up to R80,000

Repayment

3 months to 7 years
Benefits of First National Bank
Credit life insurance
Get personalised interest rates
Funding for further education
We cover all of your education financial needs
FNB has a bouquet of offerings for you when it comes to choosing the best loan.
We assess your financial situation and set it up based on what you can afford. If you're registered at a university and can't afford all the tuition, you might be in need of a student loan, university grant or education finance, and we offer them all!
How can an FNB student loan support your studies?
We're aware that the road to getting a university degree comes with many hurdles, not due to the level of difficulty of the studies, but due to the large sum of money that one must invest in, in higher education. However, don't despair, there is good news for you and It's that there are many ways to finance your education.
FNB student loans will evaluate this opportunity to guide and assist you in making a choice that is suitable for you and your needs. With us, you can expect reliability and customer service of the highest quality and our large variety personalised loan solutions are available to match the needs of all our clients.
How much can I borrow with a student loan?
With our FNB student loans, also known as Life Start loans, you can borrow as much as you need in order to pay for your studies. The minimum amount that one can borrow from us is R4 000 and beyond that is unlimited.
This means that you will always be able to afford the degree you choose to study. The total amount that will be granted to you will all depend on the cost of the tuition fees set for your programme by your tertiary institution of choice.
The maximum amount will also be determined by the credibility of your sponsor, and if they are able to repay the loan while you are studying. You and your sponsor can complete the online loan application together.
How to improve the chances of you getting a student loan?
The person that sponsors you can either be a parent or any other person who is of legal age and is willing to help you pay for your studies after school. Your sponsor must be employed full time, or they can be self-employed.
This is a flexible requirement, and your chances will be much higher in getting a student loan if your sponsor has been working for the same company for a long period of time. It is important that the sponsor's income meets the affordability criteria of the banks.
We offer some of the best student loans in the country
The interest rates on our FNB Student Loans are highly competitive in the market of today. Our clients can expect to receive an attractive offer, especially if the sponsor of the student has a good credit record.
The repayment of the student loans is specifically designed to suit the future plans of the student. While you are busy studying, the sponsor will be paying interest instalments each month. As soon as you have graduated, you will start to repay the principal plus the interest.
Some of the additional benefits that you can get with this personal loan include a subscription to online banking, cell phone banking and ATM withdrawal. First National Bank's student loans have been proven to be highly beneficial to students who are studying at a tertiary institution.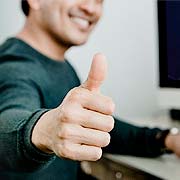 First National Bank is a trusted & reliable provider of student loans
In our review, First National Bank adheres to the compliance criteria in accordance with the National Credit Act, where the granting the loan will not cause financial distress to the consumer.
First National Bank is a registered credit provider in South Africa: NCRCP20
Customer Reviews & Testimonials
"
May 2018
I would like to commend the agents at FNB regarding my student loan. They were so patient with me throughout the entire loan application and they ensured that I get the best credit deal.
Penelope G
— Pietersburg —
December 2018
If you are looking for an affordable student loan, FNB is your best shot at getting a bargain on your academics!
Sithabile R
— Durban —
March 2019
Applying for an FNB student online is fast and easy when you use their website.
Jack B
— Parys —
October 2018
FNB ensured that I get a loan that will suit my budget.
Palesa M
— Sandton —
First National Bank Contact
Contact Number
E-Mail
Website
Physical Address
3, First Place, Pritchard St & Simmonds St, Bank City

Johannesburg

Gauteng

2000

South Africa
First National Bank Universal Branch Code
---
Postal Address
PO Box 1153, Johannesburg, 2000, South Africa
Opening Hours
Monday

08:00 – 17:30

Tuesday

08:00 – 17:30

Wednesday

09:00 – 17:30

Thursday

08:00 – 17:30

Friday

08:00 – 17:30

Saturday

08:00 – 13:00

Sunday

– Closed