Student loans up to R250,000
Low-interest starting from 27.75%
Repayment up to 60 months
In-page navigation
---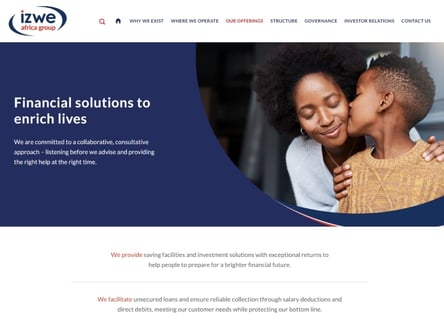 Author IZWE Loans. Screenshot of IZWE Loans website.


[Accessed January 31, 2023]
Izwe Loans - Quick student financing solutions
With a student loan from Iswe loans, you can get your desired education.
Their aim is to exceed their client's expectations and simplify their lives through their amazing customer dedication. The company is constantly growing and offers expert services in South Africa and other African countries.
Advice when you need it
Izwe Loans takes great joy in helping students who have a strong desire to study further at a tertiary institution in the pursuit of their dreams. You will be provided with the resources and support from an awesome and professional team of dedicated consultants that are ready to assist with your student loan needs.
They will give you the advice that you request and answer all the questions that you have.
Affordable student loans
Having a brighter future with a good bank account and the qualification of your choice is vital. It takes time to study, and it also takes a lot of financial assistance.
Izwe Loans is a responsible lender
By working closely with the National Credit Act, they are keeping their loans on track with government regulations. They have set their loan limits in such a way as to ensure that you don't end up with debt you can not afford.
Izwe Loans will not approve any amount more than what you can comfortably afford and repay each month.
Their service is highly recommended
If you need a student loan, Izwe Loans can help and will support you financially so you can go and study with ease.
Customised loans offer
Everyone's financial well-being is different, so all their services are customised to suit your budget and affordability.
You can apply for a student loan which is payable over a term of up to 60 months, with loan amounts of up to R250 000. This is a perfect loan to help you get the education you need, and it can be repaid with ease.
Faster processing times
They make use of a high-end technology system to improve the approval processes when it comes to online student loans. So, you can expect fast assistance and instant answers when you deal with them.
The calculator helps you make an informed choice
The online calculator is available to use and get the much-needed information before you apply. It will work out exactly what you will be able to borrow, and how much you can expect to repay each month.
It is better to be well-prepared before you apply for a loan, to ensure that you get a much faster response on your approval. Their online calculating tool can also help you with your budgeting.
IZWE Loans – Student loan
Loan Type

Student loans

Interest Rate

from 27.75%

Loan Amount

up to R250,000

Repayment

12 months to 60 months
Benefits of IZWE Loans
Accessible financial solutions
Flexible loan options
Quick and paperless loan applications
Izwe Loans - Affordable student loans
It has become quite costly to study and there is no way you can avoid it.
There are options available to help you study after school. A student loan is one of the most popular alternatives for those individuals who are unable to afford to pay for university.
All the information that you will need to apply is available online. It will be located in the application section on their website. Their online loan application platform is easy to use, and the application can be done in minutes.
Things to consider when applying for a Student loan
Determine whether a student loan will be ideal for you and if it will be compatible with your circumstances. If you don't have immediate cash to cover your study expenses then a loan like this would be a great option for you.
Educational expenses
Studying involves more than just sitting in lecture halls. Getting to classes means paying for transportation every day.
A loan can help to pay for accommodation if students stay too far from campuses and it can also be used to buy certain necessities, which are important for daily living. Some of these include textbooks, stationery, study guides and a tablet or laptop. A student loan can cover all these expenses.
Benefits Iswe Loans has to offer
Accessible financial solutions.
Flexible loan options.
Quick and paperless loan applications.
Loans up to R250 000.
Low-interest rates starting from 27,75%
Customer Reviews & Testimonials
"
January 2019
To my surprise, I got a response from my IZWE Loan on the very same day I applied for credit.
Brandon P
— Boksburg —
March 2019
IZWE Loans has some of the most affordable student's loans. Call them today to get a quote.
Shaaista D
— Carletonville —
April 2019
IZWE Loans gave me a student loan that gave me a head start on my academics.
Yonelisa P
— Cape Town —
April 2021
Izwe Loans helped me with a student loan that gave me a head start on my future. I would recommend them to anyone that needs a student loan.
Panda M
— Soweto —
May 2021
To my surprise, I got a response from them on the very same day I applied for credit. Their customer service was amazing and very helpful.
Shookoo S
— Port Elizabeth —
July 2021
A student loan from Iswe Loans opened a lot of doors to my future. They have made it possible for me to reach my dreams.
Kruger K
— Preto —
IZWE Loans Contact
Contact Number
E-Mail
Website
Physical Address
2 Osborn Road (Houghton Estate Office Park), Houghton Estate

Johannesburg

Gauteng

2198

South Africa
Opening Hours
Monday

08:00 – 17:00

Tuesday

08:00 – 17:00

Wednesday

08:00 – 17:00

Thursday

08:00 – 17:00

Friday

08:00 – 17:00

Saturday

– Closed

Sunday

– Closed