Quick loans up to R350,000
Low-interest up to 17.5%
Repayment up to 84 months
In-page navigation
---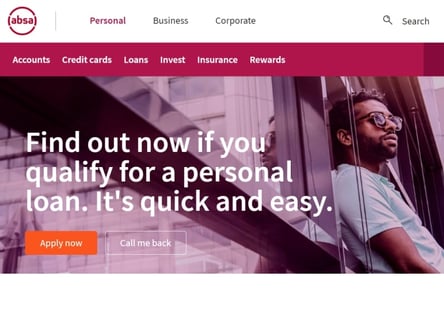 Author ABSA. Screenshot of ABSA website.


[Accessed March 27, 2023]
About ABSA
Absa is a financial services company based in South Africa that was founded in 1991. Initially, it was known as Amalgamated Banks of South Africa before it was rebranded in 2018.
They offer a range of financial services, including banking, insurance, and wealth management, to individuals, small businesses, corporations, and institutions.
Revolutionizing banking with innovative solutions
It has been a pioneer in the banking industry and is constantly pushing the boundaries of innovation. This is especially true when it comes to their approach to banking and credit.
They've introduced several innovative products and services that are tailored to meet the unique needs of their customers. One of the most notable examples of this is their quick or short-term loan offerings.
These loans are designed to provide customers with quick access to cash when they need it most, without the hassle of lengthy application processes or complex approval criteria.
Absa has also made it a priority to offer flexible repayment options, so customers can pay back their loans at a pace that suits them best. This commitment to innovation has helped Absa become one of the most trusted names in banking and credit today.
Investment areas for a brighter tomorrow
Absa's corporate social investment (CSI) focuses on three main areas: education, enterprise development, and health.
Through partnerships and initiatives, Absa aims to contribute to the development of communities by empowering individuals and small businesses to grow and thrive, as well as improving access to quality healthcare.
A dedicated team, at your service
Absa takes pride in its team of dedicated staff who are committed to helping customers in every way possible.
Their staff members are knowledgeable, friendly, and always willing to go the extra mile to assist customers with their financial needs.
They believe in building relationships with their customers, and their staff members are trained to provide personalized service to each client. Whether you need advice on a loan or want to open a new account, Absa's staff members are there to guide you every step of the way.
ABSA Services
Absa offers a wide range of financial products and services, including banking, insurance, and investment solutions.
They have a comprehensive range of financial services including personal and business banking, wealth management, insurance, and investment products.
They aim to provide you with innovative, convenient, and secure solutions to help you achieve your financial goals.
Their services are delivered by a team of dedicated and knowledgeable staff who are committed to providing exceptional customer service. Whether you're an individual, a small business owner, or a large corporation, Absa has the expertise and resources to meet your financial needs.
Quick loans designed to give you a boost
Absa offers quick, short-term loans ranging from R250 to R8,000 with repayment terms of 1 to 6 months.
These are designed to meet your financial needs and provide fast access to credit, with flexible repayment terms and competitive interest rates.
Potential benefits of an ABSA quick loan:
Convenient and fast application process
Flexible repayment terms
Competitive interest rates
Ability to apply for and manage loans online or via mobile app
Availability of loan calculators and other helpful tools
Personalised loan offers based on your credit profile and financial history
Expert support and guidance from ABSA's customer service team
Options to customize your loan to fit your specific needs and budget
Its quick loans stand out from the competition due to their unique features and benefits. The quick loan application process is straightforward, allowing you to receive funds in a matter of minutes.
Unlike other lenders, it also offers flexible repayment terms, allowing borrowers to choose a repayment plan that suits their needs and financial circumstances.
Additionally, Absa's quick loans come with competitive interest rates, ensuring that borrowers are not burdened with exorbitant fees and charges. The bank's customer-centric approach and commitment to responsible lending further add to the appeal of its quick loans.
ABSA – Quick loan
Loan Type

Quick loans

Interest Rate

17.5%

Loan Amount

up to R350,000

Repayment

12 months to 84 months
Benefits of ABSA
The interest rate is low
Range of quick loan options to choose from
Easy repayment terms
Get your quick loan approved fast with Absa: Here's how
Customers can apply for these loans online or in-branch, and Absa aims to provide a streamlined and hassle-free experience throughout the application process.
A copy of your South African ID or passport, which should be valid and up-to-date.
You'll need to provide proof of your residential address, such as a utility bill or bank statement. The document should be recent and not older than three months.
Proof of your income, such as your most recent payslip or bank statement. If you're self-employed, you'll need to provide your most recent financial statements.
Your most recent bank statements should show your income, expenses, and other financial transactions.
Employment details, such as the name of your employer, your job title, and your length of employment.
Absa may also check your credit history to determine your eligibility for a loan. You will need to provide permission for ABSA to access your credit report.
The process of applying for a quick loan from Absa: is it this easy?
Check if you're eligible: You must be a South African citizen or permanent resident, have a steady income, and be over 18 years old.
Choose an affordable loan amount and term: Based on your financial situation, choose a short-term loan amount and term that fits your budget.
Gather your docs: Get your ID, proof of income, bank statements, and proof of residence ready. Check with Absa for any additional requirements.
Apply online or in-person: Apply on the Absa website or visit a branch near you to apply in person.
Wait for a response: Absa will review your application and let you know if you're approved.
Accept the offer: If you're happy with the terms, accept the offer by signing a loan agreement and providing any additional required documents.
Get your funds: Once you've accepted the offer, the funds will be transferred to your bank account. The time it takes to clear depends on your bank.
Already an existing Absa customer? Here's how you'll apply
Log in to your ABSA online banking account or open the ABSA app on your smartphone.
Navigate to the "Apply" or "Loans" section and select "Quick Loan" or a similar option.
Choose the loan amount you require and the repayment period that suits your needs.
Fill in the necessary personal and financial information required for the loan application.
Submit your application and wait for a response from ABSA regarding the status of your loan.
If approved, sign the loan agreement and receive your funds

ABSA is a trusted & reliable provider of quick loans
In our review, ABSA adheres to the compliance criteria in accordance with the National Credit Act, where the granting the loan will not cause financial distress to the consumer.
✅ ABSA is a registered credit provider in South Africa: NCRCP7
Customer Reviews & Testimonials
"
August 2022
ABSA Bank's quick loans are amazing! I needed a loan urgently and they delivered. The application process was quick and easy, and the staff were very helpful.
Siphesihle N
— Port Elizabeth —
June 2022
I recently applied for a quick loan with ABSA Bank and was very impressed with their service. The process was very straightforward and I was able to get the money I needed within a short period o...
Thando Z
— Pretoria —
September 2022
I have been a customer of ABSA Bank for many years, and I recently applied for a quick loan. As always, the bank delivered on its promises. The interest rates were very reasonable and I was able ...
Jabulani M
— Johannesburg —
ABSA Contact
Contact Number
E-Mail
Website
Physical Address
15 Troye

Johannesburg

Gauteng

2000

South Africa
ABSA Universal Branch Code
Opening Hours
Monday

07:00 – 17:00

Tuesday

07:00 – 17:00

Wednesday

07:00 – 17:00

Thursday

07:00 – 17:00

Friday

07:00 – 17:00

Saturday

– Closed

Sunday

– Closed