Loans bad credit up to R100,000
Repayment up to 60 months
In-page navigation
---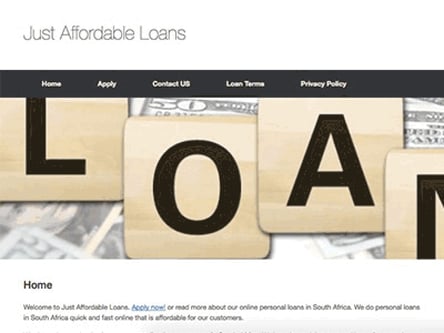 Author Just Affordable Loans. Screenshot of Just Affordable Loans website.


[Accessed January 30, 2023]
Just Affordable Loans - Get cash now!
Just Affordable Loans specialise in loans for clients with bad credit.
They are unique from their competing lenders by the use of their innovative technology that enables their loan processing times to be much faster.
Loans for clients who are blacklisted
Don't let one minor missed payment on an account set your credit score off on a poor path, resulting in bad credit or even potential blacklisting.
They want to help anyone who applies to them to obtain a loan for poor credit if they meet their loan criteria.
Innovative online technology
They use unique, innovative technology through their online platform that allows them to process short-term loans quicker, as well as bring you faster loan turnaround times.
They have an average loan turnaround time of only 2 hours, which means you get the cash you need fast.
Transparent, reliable lender
At Just Affordable Loans they pride themselves on being completely open and transparent with you. Your online loan application is made a priority from the time you apply until the term is over.
They ensure you complete confidentiality with regard to the loan agreement you sign with them. Their agents are standing by to assist you in any way possible so that you benefit in the best way possible through their loans.
They have the fastest loan application process
Do you have a bad credit history? No need to panic, they have a bad credit loan solution to assist you!
Their assessment process is one of the fastest that you can expect to find in the financial industry.
Debt consolidation loans
When you feel as though you cannot cope with your current debt situation, they'll step in and offer you a debt consolidation loan option.
They calculate all of your debt into one affordable monthly payment, and once you've rid yourself of debt, it's their main focus to keep you debt-free.
Apply online fast
They've designed their online application process to suit your busy lifestyle by shortening it courtesy of their unique online technology. You'll get instant feedback on the outcome of your loan application once you've submitted your application.
Loan terms
You can apply for an instant loan amount that ranges from R1 000 up to R100 000. However, you must be a South African citizen and at least 18 years old, and you should be permanently employed in order to qualify for a loan with them.
Along with your application, they'll need your personal documents in order to verify your details. Please include a copy of your South African ID, proof of residence, bank statements and a recent payslip.
Just Affordable Loans – Bad credit loan
Loan Type

Loans bad credit

Loan Amount

up to R100,000

Repayment

3 months to 60 months
Benefits of Just Affordable Loans
Student loans
Indirect loans
Instant cash loans
Consolidation loans
Long-term loans
Direct loans
Bad credit instant loans
Micro loans
Bad credit loan calculator
Just Affordable Loans – getting you the cash you need fast
In today's tough economy, many South Africans have poor credit record. Not only does this make life a little tougher, but it also prevents you from obtaining a loan from a bank or a major lender.
They're a small company specialising in bad credit loans to assist those who're already struggling by not turning you away but rather offering you the help you need.
They have partnerships with reputable lenders
They've entered into partnerships with respected lenders in the market. They'll help you choose between personal loan options and lenders in order to source a loan that best suits your financial needs.
Quick turnaround time
You'll know the outcome of your loan application within 2 hours after completing it. They understand that you need cash quickly in emergencies, and with their quick payouts, you'll have the cash in your account within 24 hours after applying.
This is one of the fastest turnaround times available in the industry. Two other benefits you can expect are low-interest rates and there are no hidden fees.
Loan options
They offer both secure and unsecured payday loan options depending on your situation and what you'd prefer. Their loan terms range between 3 and 60 months, and with their shorter loan terms, you'll get lower interest rates.
This makes your loan more affordable. They support responsible lending and as a result, they assess how much you can afford before deciding on your loan arrangement. They're unfortunately unable to help you with a loan if you're under debt review.
Affordability assessment
With your application, they'll conduct an affordability assessment to calculate the total amount you're able to put towards a monthly repayment on your loan.
At Just Affordable Loans, they aim to source the best fast cash loan possible for you and ensure you're taken care of.
Customer Reviews & Testimonials
"
July 2018
Nice quick and easy application that will not take long to complete.
Ronel P
— Despatch —
April 2019
They informed me quite soon after I had applied for my loan that I had been approved. I recommend using the company.
Nathan W
— Port Elizabeth —
Just Affordable Loans Contact
Contact Number
E-Mail
Website
Physical Address
377 Govan Mbeki Avenue

Port Elizabeth

Eastern Cape

6001

South Africa
Opening Hours
Monday

09:00 – 17:00

Tuesday

09:00 – 17:00

Wednesday

09:00 – 17:00

Thursday

09:00 – 17:00

Friday

09:00 – 17:00

Saturday

Closed –

Sunday

Closed –