Loans bad credit up to R300,000
Affordable loan options
Repayment up to 30 days
In-page navigation
---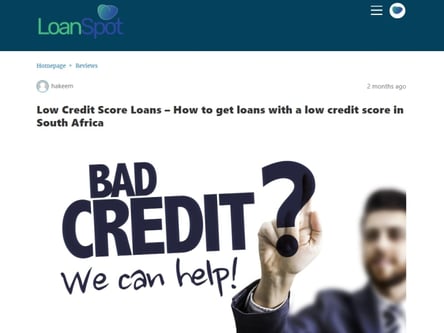 Author LoanSpot. Screenshot of LoanSpot website.


[Accessed January 30, 2023]
About LoanSpot
LoanSpot is a devoted and driven service provider. Their goal is to give you the best financial advice and assistance.
You can take advantage of a stress-free process since LoanSpot will be doing all the work for you.
A service provider you can count on
LoanSpot is committed to its clients and the services they provide. With years of experience and dedication towards reaching their end goal, they've been the bridge between borrowers and lenders for years.
Tailor-made solutions for your financial needs
Whatever your needs may be, LoanSpot will jump right in to save the day by not only getting you the most flexible and affordable loans.
Positive results for blacklisted individuals
LoanSpot believes in giving all individuals an equal opportunity to access credit, whether you might have a high credit score or none at all. You can be assured to receive the best financial service with the help of LoanSpot, they go the extra mile to ensure their client's needs are happily met.
Being blacklisted is not the end of the world, it's simply a small hiccup which can be solved with a bad credit loan from one of LoanSpot's lenders.
Reap the benefits of LoanSpot
LoanSpot is driven by the happiness of its clients and is known for delivering results within a short time frame. They have also proven to be trustworthy and respectful towards the privacy of their clients, therefore your confidentiality is guaranteed.
Over the years LoanSpot has helped about 180,000 individuals in accessing the right credit products. Don't wait a minute longer, when you can have your finances today.
LoanSpot Services
LoanSpot focuses on giving individuals access to the credit they need to make their lives a little easier. From nano loans to business loans, LoanSpot guarantees a solution to any of your financial problems.
Whether you need a personal loan for family emergencies or a simple bad credit loan to push yourself while going through a difficult time. You can be assured that your needs will be met quickly and efficiently.
When you need a bad credit loan
Sometimes you may not pay attention to the little details when you apply for a loan. In such cases, you may end up missing payments or getting into more debt without noticing how deeply indebted you already are.
Once you've been blacklisted or when you don't have a credit history, you can apply for a bad credit loan to assist in lifting your credit score. This process has proven to be difficult, but with help from LoanSpot, you can relax and enjoy the benefits.
Common reasons for being blacklisted:
Making late payments
Not being able to make the required minimum payment by the due dates
Increasing debt but decreasing repayments
Why you should choose LoanSpot
LoanSpot provides you with various options regarding your loan choice. They do all the research for you as well as the documentation.
From top-rated lenders to high payout amounts, you can enjoy the lowest interest rates as well as flexible repayments when making use of their services
LoanSpot – Bad credit loan
Loan Type

Loans bad credit

Loan Amount

up to R300,000

Repayment

30 days
Benefits of LoanSpot
Low-interest rates
Stress-free bad credit loan
Affordable repayment options
Bad credit loan calculator
Get approved for your bad credit loan today
With LoanSpot you can get instant cash even when you have bad credit. Don't wait a minute longer, get in contact with LoanSpot and get working on your financial plans.
Once you've decided upon the loan amount, you can access their application form and get the application process started.
Get your application going in minutes
Once you've accessed the LoanSpot website, you can sign up and submit your basic details and specify what amounts you need.
Upon the submission of your details, LoanSpot will reach out with custom loan options which you can choose from. You can be assured these options will be tailored to your specifications and needs. Disappointed won't be an option when making use of the LoanSpot services to obtain your bad credit loan.
Once you've selected your desired option, you can finalise the process by choosing the best interest rate and repayment structure to fit your financial needs.
Requirements when obtaining a bad credit loan
There are 3 basic requirements when applying for a bad credit loan. These requirements are necessary to ensure that you keep up with the payments and ensure a speedy application process.
A copy of your ID document
An active bank account that accepts debit orders
Your salary must be R3,000 or more
Bad credit loan amounts and rates
At LoanSpot you can access a bad credit loan of up to R300,000. With various available options, you can choose the one that suits you best. Keep in mind your repayment and interest rates are determined by your monthly income and the amount you need.
Take note that all amounts, rates and repayments will differ according to the lender you use. Once all details have been settled, and all documents have been verified you'll be able to put your credit to use within a few hours.
One application for various lenders
With every application that you submit, an enquiry is added to your credit report. Therefore it's important to not apply for just any loan. With LoanSpot you can apply once and they'll ensure that you get the best of the best, without affecting your credit report negatively.
Keep in mind that LoanSpot has your best interest at heart, therefore you can't go wrong with a bad credit loan from LoanSpot.
Customer Reviews & Testimonials
"
September 2021
Getting a bad credit loan from LoanSpot has made my life so much easier. Their loans are affordable and flexible. I am able to breathe again financially thanks to LoanSpot.
Andre V
— Pretoria —
August 2021
I was financially stressed and did not know where to turn when a friend told me about her success with Loan Spot. I applied for a bad credit loan from them and they were able to assist me.
Veronica S
— Braamfontein —
November 2021
I would like to take this opportunity to thank LoanSpot for approving my bad credit loan. It was feeling like there would be no way out of my financial situation but LoanSpot changed my situation...
Lesedi N
— Rustenburg —
LoanSpot Contact
Contact Number
E-Mail
Website
Physical Address
59 Burger Street

Lydenburg

Gauteng

1120

South Africa
Opening Hours
Monday

24 – Hours

Tuesday

24 – Hours

Wednesday

24 – Hours

Thursday

24 – Hours

Friday

24 – Hours

Saturday

24 – Hours

Sunday

24 – Hours