Quick loans up to R120,000
Low-interest up to 28%
Repayment up to 84 months
In-page navigation
---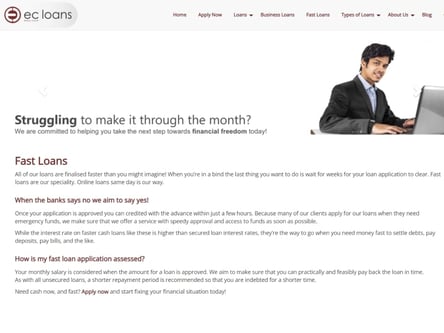 Author EC Loans. Screenshot of EC Loans website.


[Accessed January 30, 2023]
About EC Loans
EC Loans was launched in 2005 to provide online, short-term, fast, personal, and blacklisted loans.
Applying for EC Loans' credit products is a simple and quick process. EC Loans works with a number of credit providers to offer South African loans that are easily available on the web.
Regardless of your credit circumstances, EC Loans is devoted to finding you a fast loan that can meet your needs while keeping your budget in mind.
Remove unhealthy credit with EC Loans
EC Loans has a firm belief that every lending institution is responsible for investigating if an applicant can afford to repay the loan they've applied for. EC loans are known for helping many South Africans remove unhealthy credit.
To achieve this, EC Loans developed numerous loans which target your individual needs, but they didn't stop there. They also integrated financial support and guidance, so you can eliminate debt and build good money habits.
EC Loans' guiding principles
Transparency: There are no hidden fees, EC Loans shows you the exact amount you're supposed to pay
Responsibility: EC Loans takes full responsibility for any loan queries and concerns and looks to respond promptly
Fairness: EC Loans attends to your case professionally and treats you fairly and with respect
Zero upfront fees
EC Loans has zero upfront fees. The only time you're charged is at the end of the month and once your application has been processed. EC Loans will email you within 24 hours, requesting you to confirm your bank details, so your loan can be processed faster.
A once-off fee
EC Loans will then debit your account with a once-off fee of R249.99 to cover admin costs for searching for a loan for you. This fee is payable whether your loan is approved or not. If the fee of R249.99 is not available, EC loans will look to recover the funds by deducting your account for four months until the full amount is paid.
Improve your credit profile
If you're declined, EC Loans can help you by sending your details for debt restructuring, which can assist you in improving your credit profile. By having a clean financial history, you put yourself in line to apply for other loans such as vehicle finance and home loans. Please note that debt restructuring is not the same as debt review.
EC Loans Services
When you're facing financial pressure, getting a loan should be quick and simple.
At EC Loans, you're granted an opportunity to settle your outstanding debts and bad credit. If fast cash is what you need to sustain you until your pay date, a quick loan can assist you to get the money you need immediately.
When financial institutions decline, EC Loans approves
Immediately after you've been approved, you can expect your account to be credited. Since so many customers from EC Loans take out loans to attend to an unforeseeable expense. As much as interest fees on fast loans are much higher than on secured loans, they're a preferred choice when you require cash quickly to pay debts and emergency bills.
What happens when you miss payments?
EC Loans abide by the rules set by the National Credit Act and take accountability for your loan needs. In most cases, taking up a loan offer costs more when you dishonour your payment arrangement. Every time there are insufficient funds in your account, you're charged extra, therefore it's your responsibility to ensure funds are always available on your repayment date.
What does the renewal policy entail?
EC Loans also helps you if you have more than one loan, so long as your payment arrangements with their service providers are always paid on time.
If you've successfully made 3 consecutive payments on your existing loan, you can then be granted another loan. EC Loans will verify if you qualify for another loan according to the rules of the NCR.
Rebuild your credit
At EC Loans, you also receive a credit report with the relevant information on how to rebuild your credit. This is not a free service, however, the information that's included in your credit report is useful, so you can significantly improve your rating. You'll be assigned a consultant who'll take you through the entire process.
What else can EC Loans assist you with?
EC Loans have several options available for you. They can also help you find
A loan from various providers which are registered with the NCR
Insurance quotes
Medical aid quotes from several companies
EC Loans – Quick loan
Loan Type

Quick loans

Interest Rate

28%

Loan Amount

up to R120,000

Repayment

12 months to 84 months
Benefits of EC Loans
Bad credit loan options
Same day loan approval
Quick loans up to R120,000
What requirements are needed for you to apply?
EC Loans' financial and credit providers offer loans from R1000 to R100,000 which you can use to pay off any unexpected bill.
The repayment amount is structured to support your personal needs and budget. EC Loans also looks at how much your affordability and credit criteria currently stand.
To apply for a fast loan with EC loans, you should meet the following requirements
Be a South African citizen
Be 18 years and older
Have a valid South African ID document
Earn R1500 a month (minimum)
Show proof of residential address
Have a bank account where your basic income is deposited
Why are EC Loans better than others?
EC loans offer an online application form that's 100% secure
Approval rate of 90%
You're most likely to be successful at EC Loans, even if you've been declined at other lending institutions
Quick loans don't keep you waiting
EC loans offer quick loans that are approved fast. When you're cash-strapped, the one thing you don't want is to wait weeks and months on end to get approved for a loan. EC loans are professionals when it comes to providing you with fast loans. Quick loans are now the way to go as they don't keep you waiting.
EC Loan's loan calculator
EC Loan offers a loan calculator which is a guide to estimate your monthly repayments. As every person's case is unique, this means rates can change depending on whether you have a good credit score and existing debt which you've acknowledged to pay for three consecutive years.
Customer Reviews & Testimonials
"
February 2022
I heard about them from my friend and was not disappointed!
Kerri H
— Johannesburg —
September 2021
I had brilliant experience with EC Loans, I received great service and even better rates.
Shawn K
— Pretoria —
September 2022
I needed loan for my house, and EC gave me the best solution I could have been offered.'
Cleo M
— East London —
EC Loans Contact
Contact Number
E-Mail
Website
Physical Address
14 Bloem Street, Kraaifontein

Cape Town

Western Cape

7560

South Africa
Opening Hours
Monday

09:00 – 17:00

Tuesday

09:00 – 17:00

Wednesday

09:00 – 17:00

Thursday

09:00 – 17:00

Friday

09:00 – 17:00

Saturday

– Closed

Sunday

– Closed