Quick loans up to R8,000
Low-interest starting from 24%
Repayment up to 6 months
In-page navigation
---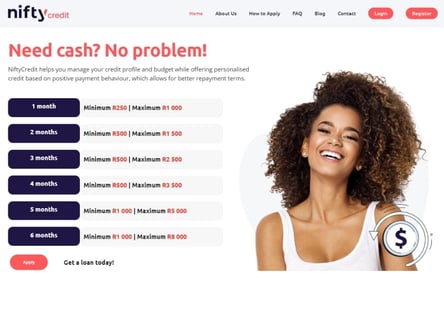 Author Nifty. Screenshot of Nifty website.


[Accessed January 30, 2023]
About Nifty
Quick loans can be a lifesaver when your car, washing machine, or toaster breaks down and payday is still two weeks away.
Finding the right service provider in a sea of online lenders can be daunting.
Nifty Credit puts you first
They've built their reputation on helping thousands of people just like you with fast and affordable financing options. They prioritise treating you with the dignity and respect you deserve while offering unparalleled service.
They aim to simplify the loan process from application to final repayment using cutting-edge technology. Nifty Credit seeks to improve your life by helping you restructure your debt and putting the power back in your hands.
Everything you need at your fingertips
Before you apply for a quick loan, you'll need to register and create your Nifty Credit profile. This makes it easier to upload documents, apply for a loan, and keep track of your payments.
They also reward you for showing positive payment behaviour. Making timely payments will be reflected on your profile, allowing you access to lower interest rates and more favourable terms on your next loan. All information shared on the Nifty Credit website is encrypted and kept safe. They won't share your private details with a third party unless you authorise it.
Nifty follows responsible lending guidelines
When you've registered, you'll be required to allow them to run a credit check and evaluate the loan's affordability. This ensures that any loan they extend won't be detrimental to your credit profile or put you in a worse financial state.
A low credit score may result in your application being denied or higher interest rates being attached to your loan. When comparing quotes from lenders, the APR is the most accurate way to see who's offering you more favourable repayment rates. You'll be offered an APR of between 24.75% and 60%. The Annual Percentage Rate includes what you'll be charged in fees and interest calculated over 12 months.
Nifty Services
Quick loans are a helpful tool to get you out of the corners life paints you into.
Whether you need to call in a plumber you didn't budget for or pay for a last-minute school trip, this product offers you a quick short-term solution.
Borrow up to R 8,000 over 6 months
The relatively low amount offered is another defining feature of a quick loan. With Nifty Credit, you can borrow between R250 and R8,000 depending on the affordability and credit check results.
The minimum term available is 3 months. You may need to choose a longer loan term to make the more significant loan amounts more affordable. If you select a 6-month repayment term, the interest, fees, and amount borrowed can be divided into bite-sized chunks that are easier to pay off and won't strangle your budget.
What credit life insurance is for
Nifty Credit offers you access to credit life insurance when you apply for a quick loan. It's an excellent way to protect you and the lender in case of death, disability, or retrenchment. The cost of this product will be included in the fees you're charged.
If you die or are permanently disabled, this policy will pay off your outstanding debt. In cases where your disability is temporary or if you're retrenched, it pays your instalments for a maximum of 12 months.
At the end of the day, this could help you in a time when the last thing you or your family need is looming debt.
No early settlement penalties
Settling your debt early is a fantastic way to keep your credit score healthy and create more room in your budget. Your settlement will consist of the remaining amount owed and whatever fees and interest are still outstanding.
If you opt to settle before the end of the term, Nifty Credit won't add any fees. You can go to your profile, check the settlement value at any time, and pay it via EFT, a debit order, or the QR code provided.
Nifty – Quick loan
Loan Type

Quick loans

Interest Rate

24 – 60% p/a

Loan Amount

up to R8,000

Repayment

1 months to 6 months

Monthly Service

R69
Benefits of Nifty
Flexible repayment plans
Transparent and stress-free loans
Fast online application
Nifty Credit offers one of the fastest and user-friendly platforms for online quick loans
You won't be charged any subscription fees or hidden costs associated with the application process.
Get financial relief in 4-easy steps
Create a user profile
Consent to terms and conditions
Consent to the credit and affordability checks
Receive a quote and apply
What you need for loan approval
You can only apply if you're a South African citizen over the age of 18 years. A copy of your ID, bank statements covering the last 90-days, and your latest payslip need to be uploaded to your profile during the application process.
Most online lenders will look past your bad credit score and base their decision on your ability to afford the loan you've applied for. However, if you're under administration, sequestration, or debt review, Nifty Credit won't be able to approve your application.
What to do when you're in a bind
If you notice you won't be able to meet your monthly instalment, the wisest thing to do is contact Nifty Credit's consultants. In a pinch, they can help you to restructure your loan agreement to make payments easier while you sort things out.
Non-payment of your loan will result in your profile on their site being blocked from applying for further credit, and the total amount of your loan, including fees, will be due immediately. Your credit score will be badly affected, which may result in Nifty credit taking legal action against you.
Customer Reviews & Testimonials
"
March 2022
Nifty Credit has been a lifesaver for me. They were able to grant me a quick loan in no time. I could pay for the things I needed to and not worry about getting behind. Thank you Nifty Credit.
Susan B
— Bloemfontein —
November 2021
Just when I thought there was no hope left to get a quick loan, a friend advised me to give Nifty Credit a try. They were quick and efficient and I would recommend them to anyone in need of cash.
Brendan S
— Roodepoort —
May 2022
Getting a quick loan has never been as easy as it is with Nifty Credit. They simplified the entire application process and made it understandable. They are a great lender.
Sandiswa B
— Potchefstroom —
Nifty Contact
Contact Number
E-Mail
Website
Physical Address
1st Floor, The Wedge, 43 Garsfontein Rd, Waterkloof

Pretoria

Gauteng

0045

South Africa
Opening Hours
Monday

07:00 – 18:00

Tuesday

07:00 – 18:00

Wednesday

07:00 – 18:00

Thursday

07:00 – 18:00

Friday

07:00 – 18:00

Saturday

09:00 – 12:00

Sunday

– Closed