Hassle-free finance
Insurance
Warranties
In-page navigation
---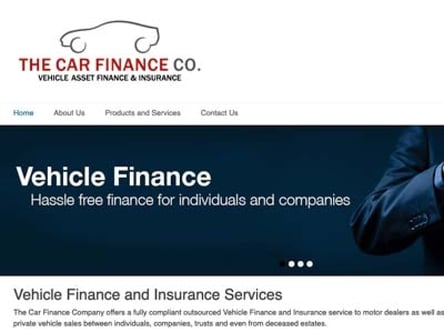 Author The Car Finance Company. Screenshot of The Car Finance Company website.


[Accessed January 30, 2023]
The Car Finance Company - They'll work hard for you
They've been around for over 50 years, and with a hardworking team of professionals, they'll help you find the right car, financing, and insurance.
They pride themselves on being industry leaders in finance, insurance, motor dealers, and private-to-private financing. They provide financial solutions to all car purchasers. They'll aid you in the purchase of your new or used vehicle with their personal loans.
Full personal attention
They started out as a small company, but have since grown to offer services to all South Africans online. They strive to treat you with a personalised customer support service, and their staff will pay full attention to you with their excellent communication skills.
Their friendly and highly efficient staff will help you through the application process and present you with the best deals they can find. Their car loans are flexible and affordable.
You'll get the best finance and insurance deals
They provide the best finance and insurance deals available and specialise in the provision of outsourced vehicle finance and insurance services to motor dealers.
Online application
The Car Financing Company works with new and used movable assets, including commercial vehicles and caravans. They've designed their online loan application to be quick and easy for the user. They offer complete finance and insurance solutions to meet your needs.
Their friendly consultants will help you through the processes, making it easier for you to choose among the financial, insurance, and vehicle options. They'll find the best deal to suit your budget, and with low-interest rates and helpful consultants, they'll save you the effort involved as well as benefit your cash flow.
The Car Finance Company – Vehicle finance
Loan Type

Vehicle finance
Benefits of The Car Finance Company
Quick and easy loan applications
Hassle-free finance for individuals & companies
Vehicle finance calculator
The Car Finance Company - You can trust them
Before deciding on the car you wish to buy, you need to consider the different options that are available. Not only where the car is concerned, but the finance you'll use as well as the insurance you'll require.
They've made comparing options easier by supplying you with all the necessary information on their online platform. Their consultants will advise you on different models of cars that'll fit your budget, the financing, and the insurance options you'll need when purchasing your dream car.
A trustworthy provider
Their job at the Car Finance Company is to provide you with car finance and insurance quotes. They're a registered provider of financial services. They have many customers who use their service and rate them as one of the best in the industry.
Private to private
The Car Finance Company offers special private-to-private vehicle finance solutions that make them stand out from its competitors. Their service will find and apply for a loan on your behalf. Their experts will inspect the car, transfer ownership, vehicle verification, and all other related administrative tasks.
They strive to make this service as effortless for you as possible and with professionals negotiating on your behalf, you can be sure that they'll find the best deals available and this may include loans for bad credit.
Personalised solutions
The fees that apply when using the services through them will be for re-registration, administration, and verification. This amount is R4 750. Another fee of R1 100 for licensing will also apply. Although it may seem like a costly service, it's worth it in the end when you consider the quality of service you're receiving.
The Car Finance Company will give you flexibility while being affordable. If you need fast loans and insurance with the best professional assistance in the industry, then the Car Finance Company is the best option for you.
The most suitable option
At the Car Finance Company, you can choose between an instalment sale, finance, or lease sale finance. With their personal loans, you can choose the most suitable car finance option for you. They use a wide range of online lenders and the interest rates are some of the best in the market. You may choose between fixed or variable rates depending on how much risk you're willing to accept.
Customer Reviews & Testimonials
"
April 2019
I was treated like I was part of the family and welcomed with open arms. I was amazed at how easy it was to apply for a loan and that you helped me through every step of the process from start to...
Nolitha S
— Swellendam —
April 2019
I was on a very tight budget and didn't think that I would be able to afford to buy a car. I decided to apply for financing just to see how much I could qualify for and was pleasantly surprised. ...
Sophie B
— Bisho —
The Car Finance Company Contact
Contact Number
E-Mail
Website
Physical Address
5 Verbana Road, Glen Park

Pinetown

KwaZulu-Natal

3610

South Africa
Opening Hours
Monday

08:00 – 17:30

Tuesday

08:00 – 17:30

Wednesday

08:00 – 17:30

Thursday

08:00 – 17:30

Friday

09:00 – 17:00

Saturday

11:00 – 15:30

Sunday

– Closed