Loans bad credit up to R150,000
In-page navigation
---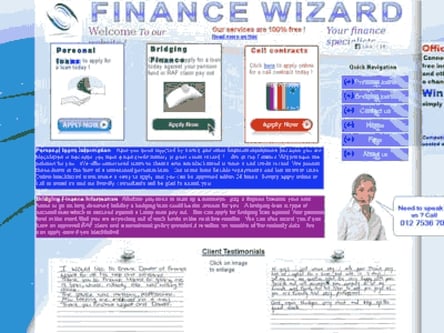 Author Finance Wizard. Screenshot of Finance Wizard website.


[Accessed January 30, 2023]
Cutting-edge financial services with Finance Wizard
Finance Wizard was established in 2004 by Dover Ramlall. They strive to bring you cutting-edge financial products for all your bad credit requirements.
Their loan solutions are designed to assist clients who've experienced rejection by South African banks and other financial institutions. They offer fast and easy pre-approval processes that'll give you instant satisfied results.
Their service is hassle-free
With their 10 years of experience in the finance industry, they aim to ensure the service you receive is hassle-free. They specialise in personal loans for bad credit and their number one priority is to help you with bad credit obtain a loan that suits your individual budget.
They care about you
They're a reliable and reputable lender in the market. Their staff has years of experience and ensures that you experience your loan process in a friendly and helpful manner. They strive to give you the best service delivery available in the industry.
After having helped countless South Africans obtain a quick loan, they've been rated highly and are referred by their clients. Their employees are passionate about finance and this quality shines through and benefits you.
Confidentiality guaranteed
We understand that your privacy is a concern where bad credit loans are concerned.
What we do, is use innovative technology on our online platform to guarantee that your personal details and documents are secure with us and that they will never be available to any third parties.
Your loan application will be processed with the highest priority, ensuring that we get you the cash you need in the shortest time.
They specialise in bad credit loans
They treat all South Africans who apply for a loan equally regardless of their credit score.
They specialise in giving loans for bad credit as well as offering debt consolidation loans.
Their consultants will guide and help you choose the best loan option for your budget and needs.
Loans for clients with bad credit
They understand that a simple missed payment on an account can have a negative effect on your credit rating.
At Finance Wizard they don't look at your credit score, they instead do an affordability assessment to calculate the disposable income you have after expenses from your monthly gross salary. From that, they deduce your affordability for loan repayment.
Debt consolidation loan
When you feel like you're drowning in debt, they're there to offer you a life jacket in the form of a debt consolidation loan.
They'll calculate all of your current debt and restructure it into one affordable monthly payment.
Their aim is to help you get out of debt and remain out of debt.
Fast turnaround times
Due to their innovative technology, your online loan application will be processed with the highest priority, ensuring that they get you the funds you need in the shortest time.
They have one of the fastest loan turnaround times and their rates are competitive in the market.
Finance Wizard strives to help you reach your financial goals in the shortest time possible, leading you to a suitable financial situation sooner than later!
Finance Wizard – Bad credit loan
Loan Type

Loans bad credit

Loan Amount

up to R150,000
Benefits of Finance Wizard
Instant loans
Indirect loans
Consolidation loans
Long-term loans
Direct loans
Bad credit instant loans
Micro loans
Student loans
Bad credit loan calculator
Finance Wizard - Apply online now
Visit their website and apply for a bad credit loan. It'll only take you a few minutes to apply and you'll receive prompt feedback on the status of the loan.
Once you've agreed to the loan terms and conditions, the funds will be paid into your account to use at your own discretion. Their primary aim is to get the loan you need to be paid into your account as quickly as possible.
Loan qualification criteria
To qualify for an instant loan you must be a South African citizen with a permanent job. You must be at least 18 years of age but younger than 63 years old. Your monthly earning must exceed R3 000.
In order for them to verify your personal details, please bring along with you the following personal documents: a copy of your South African ID, a current proof of address, bank statements and 3 months' recent pay slips.
Value-added services
Their service will cost you R99 to use. You'll receive a value-added credit fix toolkit e-book as part of the package.
Applying for short-term loans with many lenders will have a negative effect on your credit score, but if you apply through them, they'll apply to lenders on your behalf and you can be sure that they'll find a loan that suits your individual financial needs. They use reputable lenders that specialise in giving credit to clients who have bad credit.
Loan options
The loan options that they have available include unsecured personal loans, bridging finance, home loans and emergency cash. With a list of reputable lenders and loan options, you'll also enjoy the benefits of flexible repayment terms and lower interest rates.
At Finance Wizard, they'll find you the perfect loan regardless of your credit score. With their value-added credit fix toolkit, they'll also help you to improve your credit score. If you need cash fast then Finance Wizzard is the best option for you.
Customer Reviews & Testimonials
"
March 2019
I applied for my loan even though I had a low credit score I was able to get my loan approved and paid into my account the same day.
Avish P
— Duran —
October 2018
I filled in my application and was called minutes later to finalize my application for my loan.
John S
— Pretoria —
January 2019
They will have the loan for you I know even with a low credit score they helped me get my loan.
Jackie S
— Cape Town —
Finance Wizard Contact
Contact Number
E-Mail
Website
Physical Address
83 Hatfield St, Highveld, Pretoria, 0083

South Africa
Opening Hours
Monday

08:00 – 16:00

Tuesday

08:00 – 16:00

Wednesday

08:00 – 16:00

Thursday

08:00 – 16:00

Friday

08:00 – 15:00

Saturday

Closed –

Sunday

Closed –