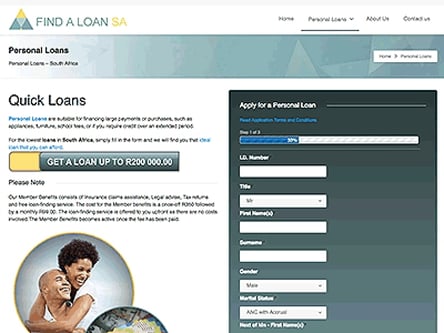 Author Find a Loan SA. Screenshot of Find a Loan SA website.


[Accessed January 30, 2023]
Find a Loan SA - Expert loan finding services
Find a Loan SA has partnerships with many reputable lenders to supply South Africans with a loan-searching service to suit their needs.
They strive to help all South Africans with loan options. When you're blacklisted or have bad credit they'll assist you in achieving your financial goals. They're unfortunately unable to help clients who are under debt review.
Convenient loans
They provide you with loan options without you having to do the hard work. They'll negotiate your loan and interest rates on your behalf. Their loan searching process has your convenience in mind and the loan process is designed to be easy.
The loan application can be completed from your home or office. The application process only takes a few minutes and you'll receive feedback on your application within an hour of applying.
They supply loans to clients who are blacklisted
Most banks and lenders will refuse to help you get a loan when you are blacklisted. They, at Find a Loan SA, strive to help you find a bad credit loan that suits your needs and loans that's affordable for you at the same time.
They don't look at your credit score but rather they look at the amount you can afford in monthly repayments. As long as you're not under debt review, finding a loan is as simple as completing the application form.
They'll assist you in finding a quick loan in the shortest possible time and they have value-added services that accompany their service.
You'll get low interest rates
At Find a Loan SA, they're proud to announce that over the years they've grown into a reputable loan-finding service.
They strive to supply you with the best loan options at the lowest interest rates available in the industry. They have some of the most affordable repayment terms available in the financial industry.
They have a variety of loan options which include, cash loans, payday loans, and consolidation loans. They can help almost anyone get an affordable loan.
Loan application
In order to qualify for a loan, you must be 18 years and older and earn a salary of at least R1 500 per month. You must be a South African resident with an active bank account. Visit their website and complete the simple online loan application form.
You'll receive feedback on your loan application within an hour of applying. After you've agreed to the loan term they'll deposit the money into your account. Your monthly loan repayments will be collected via debit order.
Short term loans
At Find a Loan SA, loans for bad credit are offered on a short-term basis. If you've repaid your loan in full and require another cash boost they'll be able to assist you with another loan.
Repaying your current loan before the set upon date will reflect positively on your credit score. Payday loans are a popular loan choice and they're paid back the next time you receive your salary, they have very low-interest rates.
Find a Loan SA – Bad credit loan
Loan Type

Loans bad credit
Benefits of Find a Loan SA
Bad credit loan calculator
Find a Loan SA – Finance made easy
They're a loan find service striving to find you a loan that will both suit your needs and be affordable enough in monthly instalments.
They understand that life can be expensive and that cash emergencies can happen at any time. They want to help you achieve financial freedom again. Their loans find service, application process and turnaround times are the fastest in the financial industry.
Unsecured loans
Their loan options are unsecured, you do not need to use any of your valuables as security in order to apply for a loan. Their loan application process is 100% online and paperless.
You can simply visit their website and complete the short application form. They'll verify your personal details and apply to reputable lenders on your behalf. Their interest rates are some of the lowest you can find in the financial industry today.
Privacy guaranteed
They understand that your privacy is a big concern. They use online encryption technology to keep you safe when browsing their website as well as keeping your personal details safe from any third parties.
Your short-term loan application will be processed with the highest priority and confidentiality. They don't run any credit checks or do any invasive verification of your personal details. They help you if you can afford monthly instalments without breaking your budget.
Their service fees
They have a once-off fee of R350 and thereafter the fee will be R79 per month. This fee is payable regardless of the outcome of your bad credit loan.
Debt consolidation loans
The debt consolidation loan option combines all of your debt into one manageable monthly payment, this option helps you increase your cash amount and over time resolve all of your debt. You deserve financial freedom and at Find a Loan SA, they'll help you achieve your goals.
Quick and easy loans online
A loan for clients that have been on ITC is now possible with their loan-finding service. Regardless of your credit score, they're there to help you. Your first step is to apply. They'll find a quality loan product for you and the difference between them and other lenders and banks, they offer you low-interest rates on our bad credit loans.
If you need cash now but you're blacklisted, Find a Loan SA is the best option for you. Apply today and get feedback and credit today.
Customer Reviews & Testimonials
"
February 2019
If you looking for the prefect loan look no further! You can't go wrong with the company.
Bongiwe M
— Durban —
December 2017
I got my loan with a low credit score they still helped me to get a loan that will help me.
David M
— Pretoria —
December 2018
I was called by one of the consultants about my application that I had submitted an hour before they helped me finalize my loan.
Martin K
— Stellenbosch —
Find a Loan SA Contact
Contact Number
E-Mail
Website
Physical Address
5 Tiptol Cl, Vermont

Cape Town

Western Cape

7201

South Africa
Opening Hours
Monday

08:30 – 16:30

Tuesday

08:30 – 16:30

Wednesday

08:30 – 16:30

Thursday

08:30 – 16:30

Friday

08:30 – 16:30

Saturday

Closed –

Sunday

Closed –