Loans bad credit up to R50,000
Repayment up to 60 months
In-page navigation
---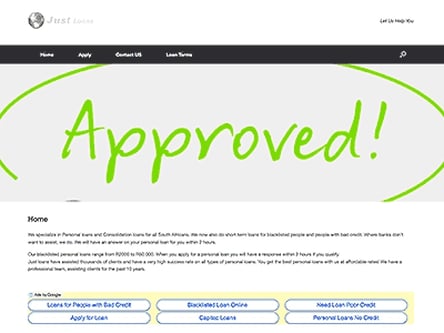 Author Just Loans. Screenshot of Just Loans website.


[Accessed January 30, 2023]
Just Loans - Your bad credit loan specialist
At Just Loans, they've been aiding South Africans in need of loans for more than 10 years.
During this time, they accomplished personal achievements and are proud to announce that they specialise in delivering loans to clients who have bad credit and also specialise in consolidation loans.
Short term loans
They offer short-term loans which you can benefit from, as this shorter repayment term means getting lower interest rates, making the loans more affordable. Their loan service has been designed to offer you convenience at its best. You can apply for a loan from anywhere in the world, and the process is quick and easy.
Loans for clients with bad credit
Having bad credit isn't a good thing, but it doesn't always have to be such a bad thing either. At Just Loans, they help South Africans obtain a loan despite the credit record they have in their name.
They strive to assist all those who meet their criteria for getting a bad credit loan. They'll do an assessment to determine affordability and will provide you with a loan that best fits your budget.
Meet the Just Loans team
Their company has 10 years of experience in the financial industry and they use their experience to give you the best payday loan service available. Their team is professional and they'll guide you throughout the loan process.
With their expertise, they're able to offer you a loan with a turnaround time of only 2 hours. They understand that your privacy is a big concern, hence they ensure you that your details will be processed with your privacy in mind.
Their loans are tailor-made
At Just Loans, they have a variety of loan options available for selection. Their loans are tailor-made to suit your individual needs and budget.
Regardless of the situation, you are financially in, they've designed options to cater to all your needs. Their loan options include loans for clients with bad credit, personal loans, cash loans and consolidation loans.
Loans for clients with bad credit
Their bad credit loans range between R2 000 and R50 000 which you can take out typically to settle debts, however, can use them at your will.
The best advantage of their loans is the shorter repayment terms that result in lower interest rates.
They offer consolidation loans
Where debt consolidation loans are concerned, they calculate all of your debt and restructure it into one affordable monthly repayment.
They strive to help you achieve financial freedom and remain in that status even after the loan term is complete. That's why their consolidation loan is a very popular choice.
Online application
It's a simple process to apply for a loan with them. Just hop on their website, navigate to the application section and follow the easy steps. For your convenience, they've designed their loan process to take place completely online.
Qualifying means being of age at 18 years old and having a permanent monthly income. They'll do an affordability assessment to determine the amount you're able to repay per month towards a loan.
Just Loans – Bad credit loan
Loan Type

Loans bad credit

Loan Amount

up to R50,000

Repayment

3 months to 60 months
Benefits of Just Loans
Debt consolidation
Short-term loans
Cash loans
Personal loans
Bad credit loan calculator
Just Loans - They make getting a loan easy
They pride themselves on the simplicity of their loan process. Getting a loan from them is easy and their service delivery has been rated highly by their clients.
Easy application process
Once your application is submitted, a consultant will contact you with the outcome of your quick loan application. You'll need to produce the necessary documents in the form of proof where your identity, address and statements are concerned.
Your details are secure in their hands, and they don't ever disclose your personal details where third parties are concerned. You can trust in the fact that your loan will be processed confidentially.
Their turnaround times
They're proud of the fact that they have one of the fastest loan turnaround times available in the industry. Your loan will be paid into your account within 2 hours after your loan has been approved.
Loan options
They offer both secure and unsecured loans for bad credit to clients needing a loan and ensure that they cover a term range that suits everyone, by applying from 3 to 60 months.
With their shorter loan terms, you can expect lower interest rates, so it's always best to choose the option that best suits your needs whether it is a longer or shorter term. They only engage in responsible lending.
Reliable and transparent loans
Expect complete transparency with Just Loans, as they constantly strive to uphold this key quality of the business. As soon as your long or short-term loan has been approved, they contact you to inform you of the terms and rates, and don't expect to be surprised by any hidden fees, as there aren't any!
The loan application only takes a few minutes to complete, and you'll be informed immediately of the outcome. The loan amount is to be paid into your account within two hours if all is approved and this is still considered one of the fastest loan turnaround times in the industry!
Should you be blacklisted, have bad credit and looking for a fresh start, or just need access to instant cash loans, then Just Loans is here for you. Apply now and experience the best service in the shortest time!
Customer Reviews & Testimonials
"
December 2018
I required assistance with my loan and sent them an email and they contacted me back. Great and fast service and they take the time to listen and advice.
Fikiswa M
— Port Elizabeth —
February 2019
I have sure found the company for me they have taken the time to help me get my finances in order so that I will be able to start saving, with the smart budgeting techniques they give you, you ca...
Akhona K
— Uitenhage —
Just Loans Contact
Contact Number
E-Mail
Website
Physical Address
377 Govan Mbeki Ave, Port Elizabeth Central

Port Elizabeth

Eastern Cape

6001

South Africa