Low-interest starting from 10.71%
Repayment up to 60 months
In-page navigation
---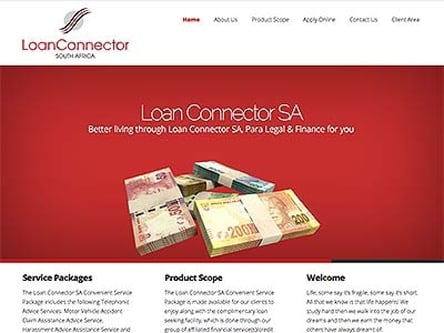 Author Loan Connector SA. Screenshot of Loan Connector SA website.


[Accessed January 30, 2023]
Loan Connector SA - They have a wide variety of loan options
At Loan Connector SA, they have partnerships with a vast variety of lenders who come with plenty of loan options for you.
With their extensive experience in the financial industry and partnerships with reputable lenders, they've helped many South Africans who were in need of bad credit loan services to suit their financial needs regardless of what their credit score was.
Loan options to suit your needs
When you apply for a loan with them and set your loan requirements, they'll sift through their lenders and source a loan option that'll fit your budget and your financial requirements.
They guarantee you that through their partnerships you'll also get the most competitive interest rates available in the industry.
Customer care
They have a team of highly qualified consultants who strive to give you excellent customer service.
Their consultants have years of experience in the loan-finding industry and they'll guide you through the loan application and advise you on the best personal loan types and options at your disposal.
They're on standby to answer any questions you may have. Alongside their professional consultants, they also have a hardworking team of expert legal advisors.
Their legal advisors can be reached telephonically at any time when you most need them.
Value-added benefits
With their legal package, you'll have access to so many benefits, and the complimentary payday loan searching service is one of the biggest benefits.
You can subscribe to their legal package by visiting their online website.
They've combined financial services with expert legal services to create a value-added package for you, as they understand the convenience you crave when going through this process.
They have an expert legal team and great loan options
They offer online loan-finding services to anyone in South Africa who requires a loan immediately and effortlessly.
Don't let your credit rating weigh heavy on your shoulders, they don't look at it. They choose to look at your current financial situation and how much you can afford monthly in payments after expenses have been paid.
Loans for clients with bad credit
When you have bad credit, it can be difficult to obtain a loan. Many banks and other lenders will show you away when you apply because you come with a red flag as high risk due to bad credit.
With a wide variety of reputable lenders on their online platform, they guarantee that you'll find a loan that suits you, regardless of the credit score you've accrued in recent times. They strive to help you reach your financial goals, and their qualified consultants will do all the tedious and difficult work for you, lastly is presenting you with the best loan for bad credit options that suit your requirements.
Expert legal team
Their legal team is always at your disposal. They're on standby to receive your call and will advise you on your next step regardless of what your legal issue is. They cover many legal issues including harassment, domestic violence, criminal law, litigation, will and testament and others.
If you're interested, you'll find a full description of their service package on their website. Should you have any questions regarding their services you can contact one of their consultants and your query will be resolved in a professional and friendly manner.
Expert financial advice
With their legal package, you'll receive a complimentary long and short-term loan finding service. Their main goal is to save you time and effort when applying for a bad credit loan and when you need expert financial advice, Loan Connector SA has the solution for you. They provide you with a full package of value-added benefits for only R429 for the first month and then R99 per month thereafter.
They've combined technology, financial tools, and an expert legal team to offer you a premium service unlike any other in South Africa, and all of these services will be available to you as soon as you sign up with them.
Loan Connector SA – Bad credit loan
Loan Type

Loans bad credit

Interest Rate

10.71 – 21.55% p/a

Repayment

3 months to 60 months
Benefits of Loan Connector SA
Personal loans
Blacklisted loans
Bad credit loan calculator
Loan Connector SA – the best loan options
Their main objective is to continue delivering quality products with the best legal service available to you.
If you have bad credit, they want to help you reach your financial goals.
Loan requirements
They only grant loans for bad credit to applicants who are South African citizens with permanent employment. You must be at least 18 years old or older and you can apply for a loan whether you are blacklisted or have bad credit.
At Loan Connector SA, they're not allowed to grant loans to anyone who's under debt review. Apply for a loan on their website and complete their application form, and they'll determine whether you qualify for a loan based on the details you furnish them with. Make sure you have all your particulars and statements and proof of income handy.
Responsible lending
At Loan Connector SA they work in line with the stipulations set by the National Credit Act. They support responsible lending, and together with their lending partners, they'll only grant you a loan that you can afford.
Apply online
Expect prompt feedback on the outcome of your loan once you have submitted it to them. If you've been approved, they'll discuss the various loan options with you until they find an instant loan that meets your expectations. Once decided, the loan amount will be paid into your account within 48 hours.
So, if you're in an unfavourable position with bad credit and need cash fast, then they're the best choice for you!
Customer Reviews & Testimonials
"
November 2018
You can contact for advice like I did, they are super helpful and yes you can get a loan if you have bad credit. I am really excited to apply for my loan in the future and staying with a company ...
Lorraine Z
— Johannesburg —
March 2019
I applied for my loan even though I have bad credit and I was approved and got my loan with three months to pay it back in.
Ruan S
— Cape Town —
May 2019
I applied for my loan within minutes and was able to pay for it days later with very little interest.
Kathy C
— Randburg —
Loan Connector SA Contact
Contact Number
E-Mail
Website
Physical Address
N Bank Ln, Century City

Cape Town

Western Cape

7441

South Africa
---
Postal Address
PO Box 569, Century City, 7446, South Africa
Opening Hours
Monday

08:00 – 17:00

Tuesday

08:00 – 17:00

Wednesday

08:00 – 17:00

Thursday

08:00 – 17:00

Friday

08:00 – 17:00

Saturday

Closed –

Sunday

Closed –