Loans bad credit up to R150,000
Low-interest starting from 32.1%
Repayment up to 60 months
In-page navigation
---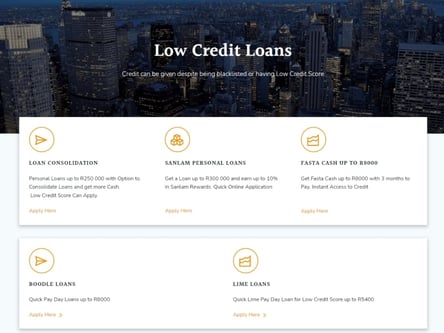 Author Low Credit Loans. Screenshot of Low Credit Loans website.


[Accessed January 30, 2023]
Low Credit Loans - Affordable bad credit loans
Too often people are faced with financial difficulty. Life is becoming harder by the day and many people are falling behind on financial responsibilities.
This is not a unique thing to happen in South Africa. On the flip side, you don't need to lose hope because you have a bad credit record. Low Credit Loans are there to offer you the help you deserve.
When finding the financing you need seems impossible, Low Credit Loans can assist you with a bad credit loan.
The chance that you deserve
Many mainstream lenders do not offer financial assistance to people who have bad credit as they see this as high-risk lending.
Sometimes people just need a push in the right direction to get the chance to regain control over their finances. Low Credit Loans has realised this and decided to bring people the chance they deserve. With a bad credit loan and the great support and advice that Low Credit Loans offers you, you'll be back on track in no time.
What makes Low Credit Loans Successful
They have seen a growing need there is for people with bad credit and actively started to change the way financing works.
By partnering with multiple lenders, they have made it easy for you to get the credit you need when you need it. Some of their lenders have a lower credit requirement which enables them to provide financing to a variety of people with bad credit.
Loans between R1000 and R150 000
They have made it their greatest mission to provide people with second chances and they understand that the stress related to debt can become too much at times.
For this reason, they have made financing available to everyone, including individuals who are blacklisted. Low Credit Loans are making a positive change in people's lives and this continues to give them the drive that makes them successful.
Bad credit loan options
At Low Credit Loans, they understand that some problems are bigger than others. For this, they have made available three loan options.
You can opt for a long-term loan which will give you 72 months to repay your loan. There is a short-term loan that will offer you up to R8 000 and a repayment term of between 3 and 6 months.
They also offer a payday loan for those uninvited surprises All of these are available as bad credit loans.
Why you should choose Low Credit Loans
They want to make life as easy as they possibly can and they do this by finding you credit providers that can offer quick and easy online assistance.
Low Credit Loans finds you all the options available and lets you choose the one that best suits your pocket. No obligation and no hidden costs.
Give yourself the break you deserve and apply for your bad credit loan online. It is safe, easy, and more convenient than ever.
Low Credit Loans – Bad credit loan
Loan Type

Loans bad credit

Interest Rate

32.1 – 60% p/a

Loan Amount

up to R150,000

Repayment

6 months to 60 months
Benefits of Low Credit Loans
Fast, secure finance
Blacklisted loans available
Up to R150 000 available for loan
100% free service
A wide panel of responsible lenders
Bad credit loan calculator
Low Credit Loans – the best option for blacklisted clients
On the webpage, there are different bad credit loan options to choose from. Simply find the option that is best suited for your situation and click on it.
You will then be directed to the page that contains the easy-to-use loan calculator. Make use of the sliders to indicate the amount you would like to borrow as well as the repayment term.
You will then be presented with an estimate of what you will be repaying over your specified term. If you are satisfied with the amount you can click on the apply now button.
Documents needed:
Your original ID document or a clear copy thereof.
You need to be of legal age.
Access to internet banking is required.
You need to verify your income for the last three months.
When you have clicked on apply now, you will be directed to the application page. There you will complete the quick and easy application form by answering a few personal questions.
The entire process is automated for speed and convenience. After you have completed the application you may submit it for review along with the documents.
Your information will be processed and you will be presented with all available bad credit loan options. As soon as you have decided on the one you may accept the offer.
As soon as the necessary documentation has been signed you will have your money in your account in no time.
Let Low Credit Loans help you
There is no reason to fall into debt further when there is a company that has made it its mission to make life easier. They can assist you to get the financial relief that you deserve.
Come to a trusted company today and start getting back control of your finances. Let them help you get rid of debt and improve your credit score in no time.
Low Credit Loans benefits
It is easy to apply.
They pay your money into your bank account.
They give loans even if you are blacklisted.
Customer Reviews & Testimonials
"
September 2018
I got my loan just minutes after applying and I was in complete shock I would recommend them any day of the week to anyone who would like a loan.
John S
— East London —
January 2019
Signing in is super easy and quick.
Sam S
— Cape Town —
April 2019
You can choose your own amount and date that you will be paying it back its a great way of loaning for a few days.
Kyle C
— Johannesburg —
October 2021
I was in financial difficulty and could not get a loan from any of the mainstream banks. My low credit has made it difficult to get a bad credit loan to rectify my financial situation. Low Credit...
Letsatsi B
— Rustenburg —
October 2021
My mother told me to try and get a loan from Low Credit Loans. They had success with getting a bad credit loan from them in the past. I applied online and the entire process was quick and easy.
Moloi S
— West Rand —
November 2021
I would like to thank Low Credit Loans for the great service that they are providing. I had lost all hope when a friend referred me to them. They were able to give me a bad credit loan so I could...
Cilliers S
— West Rand —
Low Credit Loans Contact
Contact Number
E-Mail
Website
Physical Address
106 Adderley St, Cape Town City Centre

Cape Town

Western Cape

8000

South Africa