Get multiple quotes
Online pre-approval
The bond experts
In-page navigation
---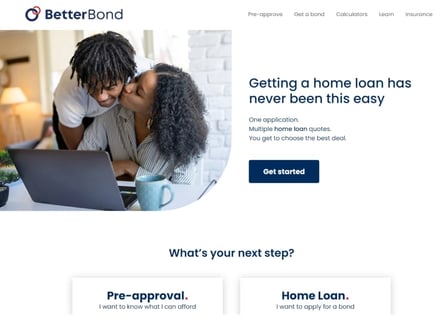 Author Better Bond. Screenshot of Better Bond website.


[Accessed January 31, 2023]
About Better Bond
Are you dreaming of owning your own home but have no idea how to make it happen?
Better Bond is the homebuyer's trusted partner in property financing that's in the business of designing a better life for all South Africans by facilitating homeownership.
It's the country's leading home loan provider and is renowned for its cutting-edge financial products and solutions that unlock the dreams of ordinary South Africans.
Founded in 2004, the company is one of the leading providers of mortgage solutions in South Africa and has helped many first-time home buyers access affordable home loans.
A network you can trust
By utilising the latest technology, they offer you a hassle-free home-buying experience. By submitting a single application, you'll be able to choose the best loan options from multiple quotes.
BetterBond takes immense pride in its knowledgeable workforce and operates in partnership with an extensive network of realtors and property professionals, as well as leading banks in South Africa. You can therefore expect the latest home-loan products, the leading offers, and excellent customer service.
A bond for life
BetterBond has already enabled more than 700 clients countrywide to get their title deeds through its Khay Lam initiative, established in 2013.
Homeownership has now become a reality for more than 20 million South Africans, who previously had no hope of ever owning their own home.
People who've lived in these homes for many years as tenants, now enjoy the benefits of ownership. It has opened the door to homeownership for millions of South Africans who, previously, didn't have the security that comes with owning their own house.
Every bond contributes to changing the lives of the previously disadvantaged.
Countrywide expertise
BetterBond's network of over 20 branches across the country, coupled with its vast knowledge of the property market, now makes it possible for first-time buyers to open their front door to a bright new future.
Each client's assured of expert guidance and continuous support throughout the purchase process.
Better Bond Services
Pre-approval takes the sting out of buying a home BetterBond's pre-approval service saves you a lot of time and effort and streamlines the buying process for you. You only have to take the following steps to get approved:
Look for a home to suit your budget. Pre-approval enables you to search for a suitable property in your price bracket, as it provides you with the amount you qualify for.
You now have to design an offer that'll catch the eye of the seller. It's vital to show the seller that you're very serious about the purchase.
It's crucial to properly and comprehensively assess all the costs involved in the deal. Make sure your budget is accurate, as that'll give you a clear indication of what you can afford.
Your credit record is vital. Get a credit check done to get your score and establish if you need any assistance in improving it.
By getting pre-approved, estate agents will see that you're invested in the process and enjoy the backing of finance institutions. This makes you a more attractive prospect to sellers too. And the best part is that the BetterBond pre-approval service is completely free.
Mathematics made easy
BetterBond offers a number of online calculators to use when deciding on the perfect home to buy. These include:
Affordability calculator: Gives you an estimated loan amount for your budget.
Bond and transfer calculator: Indicates your bond and transfer costs.
Additional payment calculator: It adds the additional payments on your bond to indicate how much you would be able to save in time and money.
Deposit and savings calculator: This gives an estimate of the time it'll take to save for your deposit.
Amortisation calculator: Indicates the percentages directed toward capital and toward interest.
A calculated plan of action
The online bond repayment calculator combines the property purchase price with the latest interest rate to calculate your loan amount and repayments on an average term of 20 years. You'll know exactly how much you need to borrow to finance your property.
Health is wealth
The healthier your finances, the lower your interest rate will be. A lower interest rate will:
Enable considerable savings
Create lower monthly loan repayments
Decrease the total loan amount if you add additional funds to your repayment
Benefits of Better Bond
Get a better rate
Reliable and affordable home loans
Big savings on home loans
---
Get the key to your future in a few simple steps
BetterBond's technological expertise enables a swift and seamless online application process.
They'll guide you on the needed documentation and assist you with the completion of your loan application form.
They'll submit your application for financing to a variety of banking institutions for you.
They're experts in negotiations and will take great care to secure the best deal on the market.
You'll be presented with all your loan options, enabling you to choose the best one to suit your needs.
Upon acceptance, they'll process all the paperwork. All that's left for you to do is turn the key and open the door to your new house.
They've got you covered
BetterSure Homeowners Cover gives you added value and the peace of mind that you and your family are protected against risks associated with unforeseen events such as storm and fire damage, to name but a few.
This cover includes:
Comprehensive cover for life's eventualities.
Property owner's liability cover of up to R5 million, in the event of injury or damage to a third party while on your property.
Home emergencies such as plumbing and electrical problems, and much more.
Personal Assist: You get your own assistant to process your claim up to submission.
Legal Assist: Free telephonic legal advice and reference.
Ensure that you fully understand the following terms pertaining to your loan application:
Repo rate: The rate at which the South African Reserve Bank lends money to commercial banks.
Prime lending rate: The amount banks add to the repo rate when lending money to clients. This covers their additional expenses and currently stands at 10.5 %. Your financial history will determine your prime lending rate.
Interest rate: This refers to the interest rate on your home loan and differs from bank to bank. It's vital therefore to do your homework before deciding on a lender.
It's time to take that first step to create the life that you've always been dreaming about. A BetterBond representative stands ready 24/7 to assist you on this journey.

Better Bond is a trusted & reliable provider of home loans
In our review, Better Bond adheres to the compliance criteria in accordance with the National Credit Act, where the granting the loan will not cause financial distress to the consumer.
✅ Better Bond is a registered credit provider in South Africa: FSP24015
Customer Reviews & Testimonials
"
May 2021
At Better Bond, you have access to home loans, pre-approved loans, short-term loans and an array of other options. I guarantee that whatever your financial needs are you will find what you are lo...
Travis O
— Boksburg —
February 2021
With the help of Better Bond, I could get a small mortgage to assist in fixing up of our home. My wife and I have been planning renovations for a long time and we finally found a way to get that ...
Michael S
— Kimberley —
September 2021
For fair and affordable interest rates I would definitely recommend going to Better Bond. Their rates are definitely designed to fit your budget.
Michaela A
— George —
Better Bond Contact
Contact Number
E-Mail
Website
Physical Address
1 Tritonia Rd, Table View

Milnerton

Cape Town

7441

South Africa
Opening Hours
Monday

08:30 – 17:30

Tuesday

08:30 – 17:30

Wednesday

08:30 – 17:30

Thursday

08:30 – 17:30

Friday

09:00 – 17:30

Saturday

09:30 – 13:00

Sunday

– Closed