Low-interest up to 10.25%
Repayment up to 20 years
In-page navigation
---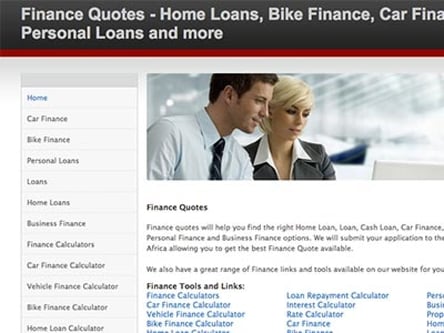 Author Finance Quotes. Screenshot of Finance Quotes website.


[Accessed January 31, 2023]
Finance Quotes - They will help you find the most affordable home loan
Finance quotes are there to assist you in finding the loan you need when you need it most.
They can assist you whether you are looking for a home loan, vehicle financing, business financing or some emergency cash. Whatever your need or desire is possible, let one of their experts, experienced consultants assist you. They will find you the most affordable interest rates and repayment terms to suit your individual needs.
Source quotes in an instant
The days of phoning around for quotes or driving around and wasting your time to get quotes from different businesses are over. Why should you put through so much trouble if they can help you source all the property finance quotes that you need in an instant?
They find the quotes you need for you, and once you have chosen who you would like to make use of, they will contact the provider and put them in touch with you directly. Their online platform allows you to compare quotes and gives you the choice so that you are satisfied with your results.
Helpful tools and links
Their website offers clients helpful calculators and useful links to make their user experience as easy and convenient as possible. Convenience and customer satisfaction is the key to their business.
Business loans
Their competitive business loans offer attractive interest rates that are competitive to get you the best deal possible. Their consultants are on hand to help you through the entire process and answer any questions that might arise. They understand that in business time, means money so they guarantee fast service and expert advice.
Compare quotes and save money
Finance quotes pride itself on getting you the quote you need when you need it most.
Compare and save
Using their service ensures that you will receive competitive quotes in a timely manner. They do the running around so that you don't have to. They make it easy for you to click and compare the quotes that you need so that you can make the choice of who you want to use while saving time and money.
How do you apply?
To apply, visit their website and fill out a short, straightforward online loan application form, they will ask you to provide your personal details and what kind of loan you are interested in. Once you have filled in the application they will submit it on your behalf and the quotes from the service providers will be sent directly to you so that you can compare them easily. This service is free to use and can be used 24 hours a day. The quotes will be sent to you as soon as possible.
Obligation free
Their service is completely obligation free if you don't find the deal that you are looking for, you are under no obligation to accept any of the quotes sent to you. If you do find a deal that appeals to you then they will put you in touch with the supplier so that you can continue forward with the deal.
Home loans
If you are a first-time buyer and you have found the home of your dreams and now you are looking for some property financing to help you purchase your dream home, they can help you by putting you in touch with a service provider that will give you the best possible interest rate and repayment terms available.
Finance Quotes – Home loan
Loan Type

Home loans

Interest Rate

10.25%

Repayment

5 years to 20 years
Benefits of Finance Quotes
---
Finance Quotes - Knowledge is power
Knowledge is power and when it comes to your home that is no different.
There are different options available to you when it comes to your home. Would you like to rent a place? Or buy your own property? Maybe you would prefer to build your house from the ground up? These are all questions you need to ask yourself before applying for a home loan. You will need to weigh the pros and cons carefully and see which option will suit you best.
Benefits of owning property
If you are in the financial position to be able to purchase your own property there are many benefits. You will feel a sense of accomplishment. You will be paying off your own property and not paying off someone else's bond that you are renting from. You will also be able to use your home as an asset that you can use to secure personal cash loans or as collateral for business loans.
Understand your finances
Understanding your finances is very important. The best way to find out your credit score is to request a credit report. This report will help you determine your affordability and alert you to any financial issues that may have occurred, such as a bounced debit order or missed payment on an account.
Get rid of any debt
If at all possible, try to consolidate your debt into one easy-to-manage payment plan. Or if you are in the financial position to pay off your debts then do so. The less debt that you have, the more likely it is that your home loan will be approved. The less debt you have, the higher the loan amount you will be able to qualify for.
Chose the correct lender
Make sure to read all the quotes very carefully and make sure that there are no hidden fees or clauses and that you fully understand what you are signing for. Make sure that you understand the difference between the interest rates, fees that apply and the repayment schedule.
Get your deposit ready
Every lender will expect you to have a deposit to pay for the home loan. The larger the deposit that you can put down, the lower the interest rate will become. You will also not have to borrow such a large amount. A larger deposit will make your application more favourable and increase your chances of approval.
Try to get pre-approved
Try to get pre-approved for a home loan by one of the online lenders or South African banks, this will give other lenders a deal to beat and may help you save money. By getting pre-approved, you will know exactly how much you qualify for and not fall in love with a property that might be out of your financial reach.
Customer Reviews & Testimonials
"
February 2019
Thanks to Finance Quotes I was able to get a great deal on a mortgage! They put their experienced hands to use and found me the home loan that changed my life.
Michael B
— Port Nolloth —
April 2019
Finance Quotes definitely understands the importance of fast finance. They work with the greatest efficiency and have a very short turnaround time. After a few calls, I was well on my way to the ...
Staci H
— Pietermaritzburg —
Finance Quotes Contact
Contact Number
E-Mail
Website
Opening Hours
Monday

08:30 – 17:30

Tuesday

08:30 – 17:30

Wednesday

08:30 – 17:30

Thursday

08:30 – 17:30

Friday

09:00 – 17:30

Saturday

09:30 – 13:00

Sunday

Closed –