Remortgaging
Mortgage brokers
Expert consultants
In-page navigation
---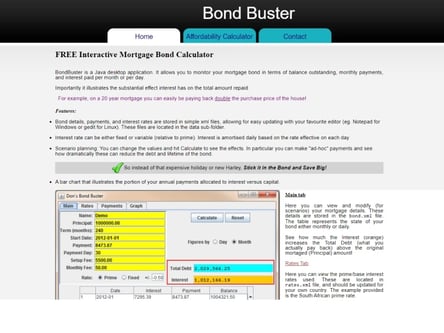 Author Bond Busters. Screenshot of Bond Busters website.


[Accessed January 31, 2023]
Bond Busters - Independent mortgage broker
Bond Busters is an independent mortgage broker that focuses on getting homeowners a better deal on their current bond.
They can help existing bondholders save on their interest rates as they have extensive relationships with all major banking institutions and release equity due to the increase in the value of their property.
They are there to assist you
They will investigate your individual circumstances and save you money on your existing property loan by getting you the best interest rate possible and making your bond work for you. They will handle all of the paperwork for you so you just need to sit back and let them take care of everything.
Their motto
They believe that their clients are the key to their success so they pride themselves in putting you first and giving you the best experience possible. They aim to save you money. In life paying for your own home is one of the biggest expenses that you will have as well as your biggest asset.
Debt buster
Their debt buster service is a debt counselling and management division that offers debt counselling to clients that are struggling with managing their finances. They will assist you with managing your debt and provide expert advice and experience to help you take charge of your financial situation.
Their trusted partners
Absa bank
FNB bank
Integer credit
Nedbank
SA Home Loans
They have a free service
Using Bond Buster is a completely free service. They make their money by charging commissions from whichever bank you decide to use.
The bank you decide to choose will pay them so that you don't have to. This means you save on your interest rate and any other charges you would normally pay for administrative costs.
They offer the following services:
1. Mortgage Guide
Their mortgage guide will help you understand exactly what a mortgage is and how it works. Choosing a mortgage is a very important financial decision and it shouldn't be taken lightly. They work for you and are completely independent of banks. This ensures that they bring you the best deal for your individual circumstances.
2. Debt consolidation
Their debt consolidation service will assist you in using your home loan to consolidate your debt. They will help you by moving your current debt from many different accounts into one easy-to-manage account. They will assist you in lowering the interest rate you are paying and reducing your monthly instalments.
The two options available are:
Through an unsecured consolidation loan – This loan is not reliant on collateral and is more suitable for smaller amounts of debt of under R50 000 that can be paid off over a shorter period of time.
Through a secured consolidation loan – this would, for example, use your property as collateral. Consolidation on your home loan is only possible if there is available equity available. This means the property has increased in value and there is a surplus of funds available. The market value of your property would need to be more than your mortgage loan. You can use the secured consolidation to consolidate other debt as well. These can include your credit card, store cards, unsecured short-term loans and car loans.
Benefits of Bond Busters
Remortgaging advice
The best deals on home loans
Consolidate short-term debts
High quality of service and advice
---
Bond Busters - Buy your dream home today
Buying your first home is very exciting, expensive and confusing. They are there to assist you with any questions that you might have or that might arise during the process.
They will explain who the parties involved are and what their function is.
Parties involved include:
The seller
The estate agent
The buyer
The mortgage broker
Transferring attorney
Home loan attorney
Cancellation attorney – They will be appointed by the bank in the case that your home loan is cancelled by the seller.
A single attorney could handle all the functions, but there are usually at least two appointed for each home loan.
The buyer and seller sign the office to purchase that set the terms of the sale.
Mortgage home loan application
There are four stages of applying for a home loan.
Submission – The mortgage broker will submit your application to the various lenders that are available to try and get approval for your loan.
Valuation – this process is carried out to value your property. This is a computer aggregate based on the property description and other recent sales in the area.
Final approval – once your application has been approved the bank will grant the loan. The chosen lender will then approach the relevant home loan attorney and start the registration process.
Property transfer
The seller will request that the transferring attorney transfers the property into the buyer's name. Once the transfer documents have been signed the respective attorney will lodge the application with the deeds office.
Deeds office
The deeds office will check all the relevant documentation – this usually takes about 2 – 3 working days.
The bank pays out the loan
Once all the steps have been followed the bank will pay out the loan. This can take at least 3 months from the date of the online loan application to the registration and transfer of the home to be completed.
Clean credit record
In order to make use of the consolidation service, you will need to have a clean credit record. This includes paying your accounts on time and not missing or being late on payments. Even a simple thing such as a bounced cheque can negatively affect your credit score. If you have any financial issues that might have affected your credit rating, please contact Bond Buster and one of their consultants will assist you with remedying the problem through the debt solutions that they have on offer.
Contact them
Contact Bond Buster today by calling 086 999 0735 or dropping them a mail on info@bondbuster.co.za
Customer Reviews & Testimonials
"
March 2019
As an independent mortgage broker, Bond Busters is able to find the cheapest mortgage among their panel of lenders to suit your circumstances and preferences. Give them a call, you won't be disap...
Maverick B
— Worcester —
February 2019
As if getting a trusted broker to do all the legwork for you while you sit back and relax is not already a good enough deal, Bond Busters steps up the game even more! They offer their expert advi...
Michelle G
— Paarl —
June 2018
The great news about Bond Buster is that you can even apply for a debt consolidation loan using one of their bonds! This is a great way to repay all of your current debts and obtain a low interes...
Jenny F
— Knysna —
Bond Busters Contact
Contact Number
E-Mail
Website
Physical Address
144 Buitengracht St, Cape Town City Centre

Cape Town

Western Cape

8000

South Africa
Opening Hours
Monday

08:00 – 17:30

Tuesday

08:00 – 17:30

Wednesday

08:00 – 17:30

Thursday

08:00 – 17:30

Friday

09:00 – 17:30

Saturday

– Closed

Sunday

– Closed