Flexible home loans
Low rates and fees
Fast online application
In-page navigation
---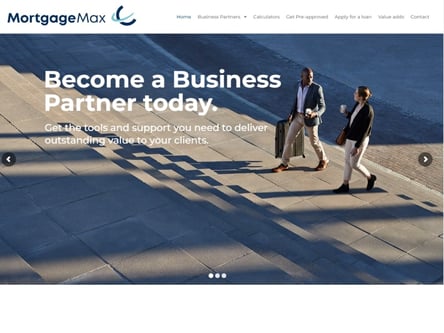 Author Mortgage Max Pro. Screenshot of Mortgage Max Pro website.


[Accessed January 31, 2023]
Mortgage Max Pro - Effective home loans
Mortgage Max is part of the BetterLife Group and was launched to offer South African citizens the best home loan deal that they can so that they can get the home of their dreams.
They strive to deliver expert service and advice, together with the businesses that they partner with they bring you the best deal to benefit you and their business partners.
Their aim is to bring you the best home loan service and get you the most affordable mortgage. Their offices are based in Johannesburg but because they offer an online service they can reach everyone in South Africa.
Why chose them to find you a home loan?
Buying a house is a very exciting time in any person's life, it's a stepping stone and something everyone dreams of. Unfortunately because of the weak economy and the high prices of things it might not be as easy as it was in the past to purchase your own home.
Just because it's more difficult these days, does not mean that your dream is unachievable. You might just need a little help to make your dreams come true.
A home loan can help you to purchase the property that you have always wanted complete with a white picketed fence if that's what you desire and can offer you an additional personal loan if you're looking to conduct repairs.
It's all about choice
You wouldn't just buy the first house that you went to look at, would you? Then why would you take the first home loan that you are offered?
Their service gets you a large number of quotes from different online loan providers and banks so that you can choose which one would best suit what you are looking for. Just like you show around for your dream home, you should compare quotes on home loans and make sure that you get the best deal.
Home loans for first time buyers
They will find the home loan you need when you need it.
This service is great for:
First-time home buyers
House buying
First-time investment
Home financing
Select your own terms
They have partnered with the leading home loan experts to bring you the most competitive rates and lowest fees they can.
They will give you your home loan at 1% lower than the lowest offer from any of their lenders just for using their service.
You can choose if you want a fixed interest rate or a variable interest rate.
You can choose your term of how long you need to pay back the loan it can be up to 25 years.
Advantages of using their service
The advantages of using their service include:
Friendly helpful service through every step of the process
Assistance filling out the online loan application form
Easily compare many different quotes very easily
The chances of being approved will be higher
They will get up the lowest fees and interest rates
They will save you 1% on fees from your home loan
Your dream home can become a reality!
Mortgage Max Pro – Home loan
Benefits of Mortgage Max Pro
Quick and easy online loan applications
Compare home loan products
---
Should you rent or buy a home
When you are considering moving into a new home there are two different options. Either you can purchase your home and become a homeowner, or you can rent a house.
Renting a house means that you stay in someone else's home and pay them an agreed-upon fee.
There are benefits and disadvantages to both of the options and you should think very carefully about which option would suit your needs best.
If you are in the financial position to be able to buy your own property it is advisable that you do as it is much more difficult to build your wealth when you are renting a house and paying off someone else's bond.
Happily ever after
If you are married you can apply for property finance with your spouse. The home loan lender will use your combined income on your application. This could help lower your fees and interest rate and helps you stand a better chance of being approved for a home loan. If you are married and want to get a bigger house so that you can have kids then this is a perfect time to apply for a home loan.
What steps should you take before you apply?
If you are thinking of applying for a home loan, you should make sure that you know exactly what you are looking for and that you are not over-indebted with short-term loans and credit card debts.
Be informed and get a copy of your credit report, this will let you know your credit score and you will find out if you are classified as a high-risk or a low-risk client. If there are any errors on your credit report you will be able to rectify them.
Customer Reviews & Testimonials
"
January 2019
It is not easy in today's economy to find the perfect home with the perfect price. For this reason, I decided to allow Mortgage Max Pro to take the wheel. I feel better knowing that the pros are ...
Vincent S
— Kimberley —
May 2019
At Mortgage Max Pro you can select your own terms even if you are a first-time buyer. This gave me a lot of freedom to fill my financial needs and preferences.
Andrea M
— George —
November 2018
The staff at Mortgage Max Pro is really a cut above the rest. Once you have dealt with them once you will not want to visit another lender again in your life. Their staff is knowledgeable, friend...
Francessca G
— Cape Town —
Mortgage Max Pro Contact
Contact Number
E-Mail
Website
Physical Address
20 Sparrow Dr

Sandton

Gauteng

2067

South Africa
Opening Hours
Monday

08:30 – 17:30

Tuesday

08:30 – 17:30

Wednesday

08:30 – 17:30

Thursday

08:30 – 17:30

Friday

09:00 – 17:30

Saturday

09:30 – 13:00

Sunday

Closed –