Tailor-made loans
Flexible options
Affordable rates
In-page navigation
---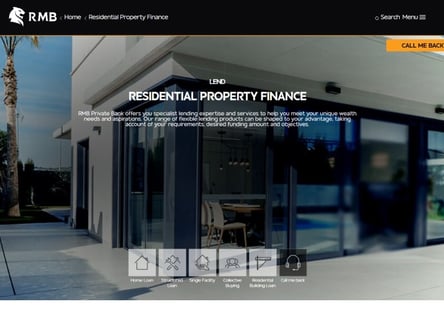 Author RMB Bank. Screenshot of RMB Bank website.


[Accessed January 31, 2023]
RMB - Financial and wealth management
Manage your money properly and buy a property through RMB.
RMB is a team of financial and wealth management specialists that focus on wealth and legacy management.
They listen to needs and help you manage, protect and grow your wealth. Their main focus is you and they strive to employ staff that hold the same ideals and values.
You're guaranteed the best banking products and services that are on offer. To ensure that they will suit your individual needs they will adapt their solutions to you and each client they assist.
The First Rand family
They are part of the FirstRand family. Being part of this family gives them to some of the country's most brilliant minds and professionals.
Since the creation of First Rand in 1998, the group has grown in earnings, assets, and dividends. First Rand believes in sustainability as well as probability. To date, they have invested more than R1 billion in social investment projects since 1998.
Their banking family includes:
Rand Merchant Bank
FNB insurance brokers
FNB securities
eBucks rewards
First National Bank
Wesbank
Ashburton
Flexible and convenient home loans
You can expect only excellent service, advice, and innovative solutions from RMB.
With them, you can enjoy a team that is dedicated to you and that will find you only specialised property finance solutions. You will have access to your own private banker that will help you understand your balance .0sheet and guide you on your wealth, portfolio management, stockbroking, and fiduciary requirements.
Switching your bond
If you already have an existing home loan, you can easily switch to the RMB private bank to gain all of the benefits offered.
They will help you to streamline the process and they will pay for any switching costs that might be charged. Just speak to your private banker to find out what steps you should follow.
Reliable property finance
Commercial property is a very sound investment and is not typically influenced by the swings that are so prevalent in the residential property market.
With them, you can finance your commercial property with ease and enjoy exclusive offers for office, industrial, retail or residential properties. They are there to guide you when considering other factors such as the tenant, the type of lease that is taken, and the debt usability.
Benefits of RMB Bank
Affordable home loan deals
Competitive interest rates
---
RMB - They have reliable property finance
Each client will have different financing needs and goals in mind.
That is why RMB tailor-made property loan solutions that will be perfect for you and your individual circumstances. They will structure your repayment terms to suit your pocket and make sure that you get the best deal available to you.
Documents you need to apply
Your completed online loan application form
Offer to purchase
ID or passport
Proof address
Assets and liabilities statement
Business financial statements
Bank statements
What kind of properties you can apply for
Owner-occupied properties
Commercial investment properties
Commercial, industrial, or retail property developments
Residential and upmarket housing developments
Other ways to apply
Contacting your private banker
You can also get in touch with the RMB private bank service suite
Keep your balance while earning interest
Once you have taken a mortgage you will be able to switch to a single facility. This is "one" account. How this works is that your debt (the loan amount) will be consolidated and added to your credit balance. This process enables your account to act as a debit and credit balance and allows you a preferential interest rate.
The great benefit of this is that there will then be no need to have two separate accounts and everything will be combined with one single balance. On a daily basis, your interest will be calculated on the outstanding balance. This will help you to save money on interest when your outstanding balance is reduced.
Are you a recognised property investor?
If you are a recognised property investor or developer, they can design a unique business loan solution custom-made to suit your needs. They will assist you by using their vast experience in reading the property markets and using their available resources. They will help you to further enhance and optimise your investment.
Flexible and convenient home loans
Owning your own home or buying property is a great investment opportunity. Enjoy the flexibility and convenience of having a dedicated service.
If you would like to contact them, please call your private banker directly for more information. Alternatively, you could just visit or contact them as they are available 24 hours a day.
You could also visit their website or download the RMB private bank app on your cell phone. Contact them today for your exclusive and unique financing solution.
You reap the following benefits:
A choice of different mortgage interest rate options.
Contact messaging that alerts you to activity on your account.
A dedicated service for your day-to-day banking requirements that is available 24 hours a day.
You will be assigned a private banker.
You will be given access to a team of Fiduciary lending and wealth management specialists.
Free digital banking.
Free card delivery.
No annual card fees or additional card fees.
Free debit orders and salary switching.
Discounted prices on smart devices.
Up to 40% discount on selected eBucks products.
Discount on flights and domestic car hire.
With their flexible options, you can have a financial management facility that gives you convenient access to your surplus funds from your home loan account through their online banking available 24 hours a day.
Customer Reviews & Testimonials
"
October 2018
RMB has designed its entire lending and banking process around the creation of wealth for its customers. All of their products and services have fair interest rates and affordable charges making ...
Stephen M
— Bloemfontein —
March 2019
Even though I had my mortgage at a different bank I could swap everything over to RMB Bank. Thank you for handling everything on my behalf and making the entire transition smooth!
Rebecca A
— Benoni —
January 2021
We are grateful for a company that understands the difference between money and wealth and that was able to assist us in a proper way.
Masondo L
— Bryanston —
March 2021
Having the right banking group to help grow and manage your portfolio can change the difference between making a success or losing it all.
Williamson P
— Paarl —
September 2021
Great experience working with people that understand your way of thinking, especially when you are buying more than one property.
Pieterse C
— Bloemfontein —
RMB Bank Contact
Contact Number
E-Mail
Website
Physical Address
No 5 Merchant Place, 9 Fredman Drive, Sandton

Johannesburg

2196

South Africa
---
Postal Address
PO Box 785611, Sandton, Johannesburg, 2146, South Africa
Opening Hours
Monday

08:00 – 17:00

Tuesday

08:00 – 17:00

Wednesday

08:00 – 17:00

Thursday

08:00 – 17:00

Friday

08:00 – 17:00

Saturday

– Closed

Sunday

– Closed