Home loans up to R120,000
Low-interest starting from 24.95%
Repayment up to 48 months
In-page navigation
---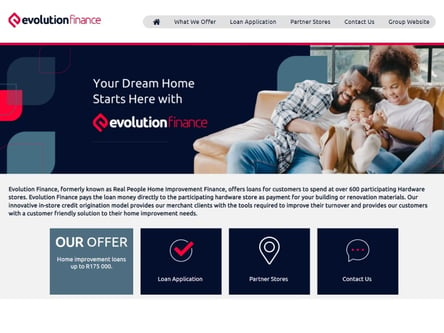 Author Real People. Screenshot of Real People website.


[Accessed January 31, 2023]
Real People - Homeloans up to R120 000
Perhaps you have just taken out a home loan and moved into your new house.
Renovating might be a necessity and this is where Real People can help you out. They strive to make life easier specifically for new homeowners.
The Flexibuild loan explained
Real people know that you might already have a lot of expenses with your new home loan in place and therefore gives you flexibility across the first half of your loan term with them. You will be able to purchase all the building materials you need in a simple process so you can purchase materials as you complete each step of your home instead of needing to purchase everything all at once.
During these 6 months, you will only be charged for the interest on part of the loan that you have already utilised. Thereafter, your loan interest will be based on the entire amount due and will revert to a fixed monthly repayment until the loan is paid off.
Let Real People help you finance your home
If you are thinking of building yourself a new home or extending or renovating your existing home, you should apply for a loan from Real People home loans. They offer you the convenience of financing all your building materials from your choice of participating hardware store in order to help you complete your dream home.
Unique 30% cash out options
Real People understand that you are a real person and not just a sum of your data and a risk profile.
They offer quick loans of up to R120 000 for clients spending at over 600 participating hardware stores that will give you all the tools and materials you need for your dream home.
How does it work
Their company pays the loan amount directly to the hardware store of your choice. You will then be able to visit the store and purchase products, tools, and materials for all your building or renovation needs to the value of the loan amount.
You can obtain a short-term loan between as little as R1 000 for small renovation jobs to as much as R120 000 for when you have a bigger project and need a long-term loan. You will be given up to 48 months to repay the loan and will know if you have been approved or not within 2 hours after they have received your completed application form and all supporting documents.
Unique 30% cash-out options
One of their unique product features is their 30% cash-out option.
You can receive up to 30% of the total home loan amount in cash. This can be used to help pay for builders, labour, and other expenses that are related to the industry
Real People – Home loan
Loan Type

Home loans

Interest Rate

from 24.95%

Loan Amount

up to R120,000

Repayment

12 months to 48 months
Benefits of Real People
Get approved in 2 hours
Home improvement finance up to R120 000
---
Real People - Let them help you finance your home
Real people will pay the hardware store directly and you can shop up to the loan amount you qualified for.
What you need to apply
A valid South African ID or driver's license
A copy of your latest payslips or bank statements that reflect your last 3 salary deposits
Your last 3 payslips
Three months' bank statements if you are self-employed
How do you apply
You will then be asked to complete their online loan application form with the following details:
First names
Surname
ID number
Cell number
E-mail address
Education level
Resident status
Years at that address
Number of dependants
Marital status
Can you apply in-store
For added convenience, you can now apply at your nearest participating store simply:
Step 1:
Visit a participating store
Step 2:
Ask the consultant about a Real People loan
Step 3:
Check the loan amount that you will qualify for
An added benefit here is that once you have chosen the tools and materials that you need, you will be given a quotation, this quotation is just to give you a basic idea of what your project might cost.
Step 4:
Choose the building materials you need in the store
Step 5:
Complete the Real People loan application form in store
You will be given an answer regarding your approval for a personal loan within 2 hours subject to all relevant supporting documentation being received.
Real people will pay the hardware store directly and you can shop up to the loan amount you qualified for.
Do you qualify
To qualify you will need to meet certain criteria such as:
Ages of 18 to 64 can apply
You will need to be employed or self-employed
Earn at least R2 000 per month
Have a South African bank account that your salary is paid into every month
Benefits of a Real People home renovations loan
You won't have to buy everything at once and can buy as you build
You'll only have to pay interest for the first 6 months
Affordable, flexible, and simple solutions
Over 600 stores for you to choose from
Customer Reviews & Testimonials
"
March 2019
At Real People you get treated like a real person. At my previous lender I felt like a number in the system and a means to make a quick buck but that is definitely not the case at Real People. Th...
Anelisa M
— Pretoria —
November 2018
With Real People's flexible loan option we were able to purchase our building materials and build our new home over a six month period before we had to start paying maximum interest. Great opport...
Samkelisiwe D
— Germiston —
February 2019
Applying has never been simpler than now with the online application process for Real People. I could complete the application from the comfort of my home and set the ball rolling before having t...
Sisipho K
— Johannesburg —
May 2021
It is such a convenience to work with a Real People loan and to build as I go.
Khozana J
— Middelburg —
June 2021
This is a great initiative and a well-organized service.
Van Standen N
— Pretoria —
September 2021
As a new homeowner, I have found this service very helpful and affordable too.
James K
— Jeffreys Bay —
Real People Contact
Contact Number
E-Mail
Website
Physical Address
160 Jan Smuts Ave

Rosebank

Johannesburg

2196

South Africa
Opening Hours
Monday

08:00 – 17:00

Tuesday

08:00 – 17:00

Wednesday

08:00 – 17:00

Thursday

08:00 – 17:00

Friday

08:00 – 17:00

Saturday

09:00 – 13:00

Sunday

– Closed