Flexible loan options
Compare loan quotes
Free credit reports
In-page navigation
---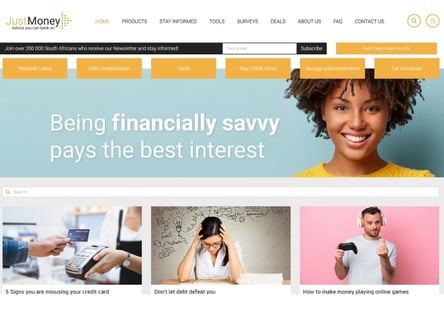 Author Justmoney. Screenshot of Justmoney website.


[Accessed January 31, 2023]
Just Money - They compare home loans
Their service is independent and unbiased and they aim to help South African citizens through the money maze.
Buying a home and getting the right home loan is a big decision, Justmoney.co.za is your ultimate guide to help you find the best loan in SA.
This is how they can help you:
Save your money
Compare the best deals
Inform you about all the latest product developments
Help you find the correct financial services to suit your individual needs
Just Money will compare home loans for you
The great part about them is that their service is 100% free of charge and you will not be forced into registering to use any of their comparison tools on the website.
All the guides and calculators are there for you to use and are 100% free. If you do register, they will send you updates and the latest product information as well as monthly newsletters.
How www.justmoney.co.za makes money
If the service is free to clients, then where do they get their money? Simple, they charge providers to partner with them. When you click the Apply button the providers pay them a small fee for having helped secure a client.
The other way that they make money is from the commission if you decide to use one of their partners that they have suggested for you.
They will compare home loans for you
As a fair comparison site, they do not give any provider special advantages and pride themselves on their independent and unbiased approach. Helping you is their first priority.
Comparison tools
Their amazing comparison tools that are found on their website can help you to compare charges between different bank accounts, credit cards, and savings accounts. With this information at your fingertips, you will be able to determine which accounts will save you money and which option would suit you best.
Shop-around and compare
Justmoney.co.za lets you "shop around" and compare. With them, you'll have ample options for home loans and insurance products. Their partners are carefully selected and they work hand in hand with them to bring you the best deals that are available.
You get to view all the deals and choose the product that is most suitable for you. Their easy-to-use guides make it easy for you to get a better understanding of each product so that you can make an informed decision.
Informative financial guidance to help you save money
Financial service providers in South Africa are generally quite expensive and often complicated and difficult to understand. That is why Just Money wants to make it easier for you not only to save money but to understand the industry and help your money work for you.
They believe that you need to know your rights as a consumer and not be tricked into signing up for something that you don't fully understand.
Benefits of Justmoney
Get a free credit report
Competitive interest rates
Trusted home loan products
---
Just Money - They will guide you through the process of purchasing a home
If you are looking for a property loan, Just Money is the go-to place.
They've made it very easy for you to apply. You can simply visit their website and fill in the online loan application form with the following details:
Your first name
Surname
Contact number
E-mail address
If you are applying as an individual or if your partner is also applying.
The details of the property
Current property value
New mortgage required
Combined monthly income
Insurance information
If you need any assistance filling out the online loan application form or if you have any questions, you can also contact their partner Bond Busters for immediate assistance.
Guidance through the entire process of purchasing a home
The helpful guides that are on their website are available for free and are there in an easy-to-download format for you to access.
If you have difficulty understanding any of the guides or have any questions then you can ask their experts or post a question and they will get you an answer.
Your guide to home loans
If you are planning on applying for a home loan they strongly suggest that you download this document. They cover the following topics that will be helpful in determining exactly what you need.
Topics include:
What is a mortgage?
How long will my repayment term be?
What happens if I skip a payment?
How do lenders structure mortgages?
How much can I borrow?
How does the way that I get paid affect my loan application?
Is it easy to get a mortgage?
Is a deposit required to buy a house?
Can I qualify for a no-deposit home loan?
Can I get help paying the deposit?
Does the size of the deposit matter?
In addition to home loans, they also have other loan products available. Justmoney.co.za has partnered with Direct Axis, and they offer personal loans, student loans, and much more.
A personal loan will help you when you need a bit of extra cash for those unbudgeted expenses that might creep up or just if you are looking for some quick cash.
Loans guide
To help you take the guesswork out of loans, they have developed an easy-to-understand and downloadable loan guide. These guides will help explain the different loan options available to you as well as answer other questions that you might need to clarify.
They partner with all the leading home loan service providers to bring you the best deal that is available to you.
SA Home loans
Absa
Nedbank
FNB
Ooba
Contact them today
You can easily get in touch with them by filling out their online contact form, remember to include your e-mail address so that they can get back to you as soon as possible.
Benefits of finding your Home loan through the help of Just Money
Fast and reliable site for your convenience.
A free and helpful service at your fingertips.
They do the comparison for you and will help you to save effort, time and money.
Customer Reviews & Testimonials
"
April 2019
At Just Money finance is about you and helping you get the best out of your money. Whether they are helping you save money or find the best mortgage deal I guarantee that you will be satisfied wi...
Jack M
— Uitenhage —
October 2018
With their wide range of comparison tools, Just Money makes the borrowing process simpler and more convenient. I enjoy knowing what the in's and out's of my finance are which is why their loan ca...
Chantelle V
— Port Elizabeth —
December 2018
Just Money and their online applications are the salvation to my problems! I find it very difficult to find the time to step out of the office. For this reason their online applications save me a...
Pieter V
— Stellenbosch —
May 2019
With a budget of up to five million, you can definitely find the perfect home to suit your preferences and style. Or you can even get your perfect home built just the way you like it. That's exac...
Arnold K
— Ladysmith —
May 2021
I always make use of them whenever I look for a loan, this time I'm buying my very first house and Just Money has once again delivered a great service to me.
Mazuku M
— Midrand —
June 2021
This site is amazing and has helped me to access the greatest home loan deals available. With their help, I was able to make the best financial decision.
Van Tonder M
— George —
August 2021
A great service that is free to use and it just makes it easy to navigate to what you need very quickly. Love this site.
Patel J
— Newcastle —
Justmoney Contact
Contact Number
E-Mail
Website
Physical Address
186 Loop St, Cape Town City Centre

Cape Town

Western Cape

8001

South Africa
Opening Hours
Monday

08:00 – 17:30

Tuesday

08:00 – 17:30

Wednesday

08:00 – 17:30

Thursday

08:00 – 17:30

Friday

09:00 – 17:30

Saturday

– Closed

Sunday

– Closed