Home loans up to R320,000
Reliable bridging loans
Apply 100% online
In-page navigation
---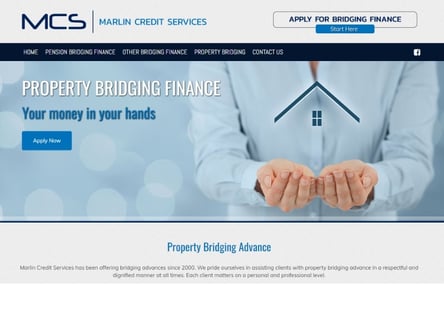 Author Marlin Credit. Screenshot of Marlin Credit website.


[Accessed January 31, 2023]
Marlin Credit - Expert bringing finance
Marlin credit services offer bridging finance solutions for the individual.
They offer investment payouts, personal loans and property bridging finance. They specialise in providing loans to people who are awaiting payouts from a pension, provident, package payouts or property proceeds.
Bridging loans for individuals
If you are expecting a large payout Marlin Credit service may be able to assist you with a cash payout while you wait. Their property loans are available to clients who are expecting a minimum benefit of R20 000 or up to a maximum benefit of R320 000 depending on the client's unique affordability.
If you are expecting a payout for any of the following, you might quality so contact them today:
Death claims
Disability claims
Medically bordered
Dismissed
Divorce claims
Investment payouts
Policy payouts
Resigned and awaiting a payout
Retirement annuities
Retrenched
What interest fee will you be charged?
Marlin credit services charge an interest rate and fees as prescribed by the National Credit Act and all their dealings are regulated by the National Credit Regulator.
The fees are calculated as follows
Short term – these transactions are @ 5% interest per month
Unsecured – these transactions @ 35.4% per annum or 2.95% per month
Service fee – this is capped at R50 per month with VAT added of R57 per month
Initiation fee – this fee is R150 on the first R100 capita + 10% of the total capital above R1 000. To a maximum fee of R1 000 + VAT = R1 140
The bridging finance you need
If you have already sold your property or you are switching between bonds, or awaiting an agent commission fee, Marlin Credit can assist you in advancing the money that you are expecting.
If you have funds from the property sale or transaction you will need to give them proof. Then we will be able to give you up to 80% of the proceeds that are due to be paid to you.
Their typical clients include:
Sellers on a property sale
Buyers on a property sale (linked transaction)
Agent on a property sale
Bond switch
Further bond
Apply online by filling out their obligation-free online loan application form to find out if you qualify.
Bridging finance
If you are awaiting a payout Marlin credit service may be able to assist you to get some money into your pocket without you having to wait for your home loan payout. If you are waiting for the minimum amount of R20 000 or the maximum amount of up to R320 000 they will be able to give you cash in hand while you wait for your payout. They will need proof that the money is coming to you, and then they will loan you up to 10% of the total amount in cash so that you don't have to wait, based on your affordability.
Their typical clients include:
People waiting for payouts from death claims – beneficiaries of a loved one's pension
Disability claims – if you have been medically boarded
Dismissed from your job
Divorce claims – if you are awaiting your share of your ex-spouse's pension payout
Investments – if you are expecting an investment policy payout
Policy payout – if you are expecting a policy to pay out soon
Resigned – if you have left your job and are expecting a pension payout
Retirement annuity – if you are turning 55 and expecting a pension payout
Retrenched – if your company has closed or scaled down
Marlin Credit – Home loan
Loan Type

Home loans

Loan Amount

up to R320,000
Benefits of Marlin Credit
Pension bridging finance
Property bridging finance
---
Marlin Credit - Easy application
To apply for bridging finance is very simple. Go to their website and fill in the application form online.
By filling out the application form you are asking to know more, you are under no obligation to go ahead with the deal unless you want to. Someone from Marlin Credit will be in contact with you to explain the procedure and let you know of any supporting documents that you will need to send them, as well as answer any questions that you might have.
To apply, please supply them with the following details:
Your title
Your full name
Your surname
Cellphone number
E-mail address
Region
Category
Details of your approved mortgage
Then submit your form, once they have received it, someone will give you a callback.
Money in your hands when you need it most
No one likes waiting for money for a payout that can sometimes take months. Contact Marlin Credit to see if the claim that you are waiting for qualified and you could get the quick cash loan you need now instead of waiting for your policy payout.
Contact them
They have regional Agents to assist you in the following regions:
KwaZulu Natal
Eastern Cape
Western Cape
Northern Cape
Free State
North West (North)
North West (South)
Gauteng, JHB Central
Gauteng, Pretoria and East Rand
Mpumalanga and Limpopo
Alternatively please contact them via their online application form or the contact form, available on their website.
Customer Reviews & Testimonials
"
March 2019
With the assistance of Marlin Credit, I was able to get the finance that I needed to purchase my dream home. As a first time buyer, I was really nervous about the entire process but they eased me...
Steve S
— Sasolburg —
December 2018
Marlin is very upfront about all of their costs and charges. They are available right on their website! So you need not worry about any hidden fees because everything is right there in the open.
Bernice V
— Parys —
October 2018
If you are waiting for your home to sell and find yourself a bit short this month then apply for bridging finance at Marlin. They helped to get me through the month until my home sale went throug...
Rochelle S
— Odendaalsrus —
March 2019
If you are looking for a finance provider that cares about the wellbeing of its clients then MCS is definitely the company for you. When I was applying for my home loan most of the admin was cond...
Susan W
— Bloemfontein —
Marlin Credit Contact
Contact Number
E-Mail
Website
Physical Address
Monument Rd

Kempton Park

Gauteng

1619

South Africa
Opening Hours
Monday

08:00 – 17:30

Tuesday

08:00 – 17:30

Wednesday

08:00 – 17:30

Thursday

08:00 – 17:30

Friday

09:00 – 17:30

Saturday

– Closed

Sunday

– Closed