Home loans up to R20,000,000
No deposit loans
Online pre-approval
In-page navigation
---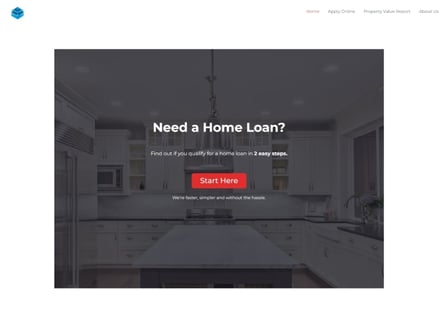 Author GPF Mortgage. Screenshot of GPF Mortgage website.


[Accessed January 31, 2023]
GPF Mortgage - Financing you can trust
Zuleika van Heerden is the owner of GPF Mortgage and has been in the business for over 14 years. Overall these years I have seen people miss out on their dream homes because of various reasons.
The majority of these are declined home loan applications that could have been approved if the home buyers went through the correct channels and didn't run straight to their bank.
Home loan experts
Getting a home loan expert to help you through the red tape is extremely beneficial and they will strive to get you the best interest rate possible. There is no need for you to waste your time and fight with staff in call centres or sit for hours waiting in lines in banks. They will do the running around for you and get you the property finance you need and deserve. Their experience has taught them how to structure your application to ensure that you will not be turned away and they will do everything in their power to get you the loan.
Why should you choose them to help you secure your home loan?
By using their professional service you will gain the following benefits:
They give you up to 110% of home loans
They won't charge you any bond fees
They will save you money
Their service allows you to compare up to 8 different online lenders
Free quotes
They won't charge you an initial deposit
They guarantee a 48-hour turnaround time
They have the highest home loan approval rating
They have over 15 years of experience and a proven track record
They give the best rates and terms
They will save you thousands of rands on your home loans
The best home loan options
Their business is getting you the home loan that you need and lucky for you, that is what they do best.
They work for you, their client and not for the bank, this saves you money and cuts your costs while giving you the professional service and expert advice you need in order to be approved.
They allow you to easily compare different home loan options. Your home loan is guaranteed to be approved faster, more easily and more affordable.
They offer the following services
Home loans for first-time buyers – with up to 110% home loans
Support when buying a new home - with up to 100% off bond registration fees
Refinancing and second bonds – this can be used for cash flow or home improvements
Home loan calculators – these easy-to-use calculators will make it simple to calculate your repayments
Rent versus buy calculator – This will help you determine if buying or renting would be a better solution for you.
What do you need to apply?
To apply for a no-cost home loan you will need to have an established credit record. They would like to recommend getting a credit report from your credit bureaus to ensure you know where you stand and of any pitfalls that make affect your online loan application.
If you have had bad credit in the past and you have since paid off your debt and your listing has been removed from the credit bureau you could still qualify for a mortgage bond
GPF Mortgage – Home loan
Loan Type

Home loans

Loan Amount

up to R20,000,000
Benefits of GPF Mortgage
Home loans up to R20 million
Support for property developers
---
GPF Mortgage - Save on your bond fees
Pay zero bond fees
If you are a first-time buyer wishing to purchase your new home, they can help you save 100% on your bond fees if one of their attorneys handles your bond registration. They can help you secure a loan if you are looking to buy or build your own home. If you have a good credit record, you could qualify for a home loan below the prime interest rate.
To obtain your free quote simply visit their website and provide them with the following details:
Your full name
E-mail address
Type of band you are applying for eg: buying a house
The value of the property or the purchase price
Let them know about your credit record
How do you get the best rates on your home loan that beat the bank?
Most clients have first thought to approach their bank to get a home loan, unfortunately, this is one of the biggest mistakes that you can make. Your bank has a great marketing department that's job is to make you believe you are getting the best deal possible, but your bank is there to make money first and foremost.
Banks have to make certain targets and meet strict profit margins, but in fact, they are not there to save you money. By using a bank to secure your home loan you will be paying more in the long run and you will be charged extra fees, prepayment penalties and you will be subjected other money making tricks.
Do I qualify?
To find out if you qualify, simply apply for your free quote and we will contact you within 2 hours to let you know if you qualify or not. We will confirm how much you qualify for and let you know what we need from you in order to proceed with your application. Once you have sent us all of your supporting documents we will get back to you within 3 – 5 working days and advise you of your status.
Building loans
If you would prefer to build your dream home, we can get you a building loan of up to 100% for first-time buyers and save you 100 % in bond fees. Registration fees and transfer fees.This is only applicable if you are building a house in a residential area.
The benefits of using us to secure a building home loan are as follows
Quick and easy building finance
We simplify the process of getting a building loan
Less hassle and more approvals
We have over 15 years of experience
You save 100% on bond fees
We have a proven track record
Contact us
Contact us today either by visiting our website or give us a call on 0861 106 204 or drop us an e-mail at info@gpfmortgage.co.za
Customer Reviews & Testimonials
"
August 2018
The employees at GPF are home loan experts. In the past I was denied a home loan simply because I didn't go through the correct channels. But GPF assured me that they will make the entire process...
Matthew H
— Paarl —
February 2019
When you collaborate with GPF you are the employer; they work for you and not the bank which means that they will do whatever is in their power to save you money and cut costs. They give the prof...
Betty W
— Stellenbosch —
May 2019
When you apply for a home loan through GPF you do not require hundreds of documents nor do you need to sign many papers. Most of their application is completed online which saves you both time an...
Kate V
— Simon's Town —
October 2018
The great thing about GPF is that they adapt their investment solutions to suit each customer. No matter what your preferences and financial situation are they will do their best to adapt their p...
Nathan D
— Port Elizabeth —
GPF Mortgage Contact
Contact Number
E-Mail
Website
Physical Address
Bellville

Cape Town

Western Cape

7530

South Africa
Opening Hours
Monday

09:00 – 16:00

Tuesday

09:00 – 16:00

Wednesday

09:00 – 16:00

Thursday

09:00 – 16:00

Friday

09:00 – 15:30

Saturday

– Closed

Sunday

– Closed