Payday loans up to R4,000
Quick Easy Loans
Repayment up to 31 days
In-page navigation
---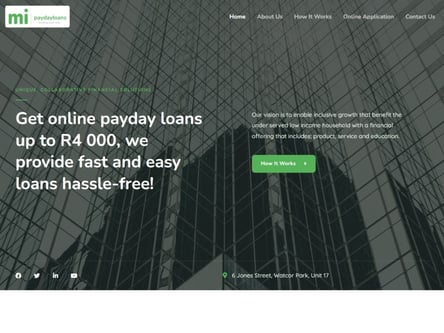 Author Mipaydayloans. Screenshot of Mipaydayloans website.


[Accessed March 1, 2023]
About Mipaydayloans
Mipaydayloans is a proud online brand ambassador for WestPRO Finance (Pty) Ltd. They've been assisting low and medium-income households to access financing for the last five years.
It's a well-known fact that low and medium-income households across South Africa often don't have access to financing. Mipaydayloans entered the industry to change the way loans were granted to people who previously could not get funding.
Uncomplicated payday loans
They've simplified the process of payday loans and they've come up with a different approach to applying for and granting loans.
They've made it possible for South Africans who could previously not get a loan, to enjoy access to the funding they need. This allows them to drive inclusive financial growth for all.
Mipaydayloans's respectable vision
The vision at Mipaydayloans is to allow the under-served, low and medium-income households to grow financially. You can benefit from great products and services and expert financial education to help you grow.
The Mipaydayloans mission
Mipaydayloans is on a constant mission to provide unique and collective capital that's up-to-date and innovative. They strive to create an inclusive solution that keeps up with current financial trends.
Passionate about inclusive growth
The team at Mipaydayloans entered the payday loan market with a dream. The dream was to provide South Africans who'd previously not been eligible for funding, with a financial lifeline.
They set out to bring change to the lives of low and mid-income households with their vast knowledge of the loans industry. They've turned the dream into a working passion.
Mipaydayloans Services
Mipaydayloans has set the bar on outstanding customer service and satisfaction.
They're passionate about their cause and they value each customer like family. This has given them a great advantage in the industry as people value how they're treated.
What is a payday loan?
A payday loan is a quick solution to a financial problem you may have encountered. It essentially allows you access to unsecured quick cash. These loans are usually easy to apply for and mostly payout within 24 hours of approval.
For all those mid-month financial difficulties, an unexpected bill arriving, or even just to improve your mid-month cash flow, a payday loan could help you through it.
When you opt for funding from Mipaydayloans, you'll be glad to hear that you could enjoy amounts ranging from R100 upwards to a maximum of R4,000. You have a repayment period of up to 31 days or your next payday.
Payday loan example:
On a payday loan of R500 with a repayment period of 15 days, you can expect to pay an interest of R14.70. The total fees payable will be R168.68 which will bring your total payday loan repayment to R698.93.
On a larger loan of R4,000 with a repayment period of 31 days, your interest will be R372.00. The total fees will amount to R827.96 which will give you a total loan repayment amount of R5,200.00.
Calculate your borrowing power
Mipaydayloans is serious about assisting you to get the financial solution that fits you best. Because they're a responsible lender that complies with the National Credit Act, they've put a loan calculator on their homepage for your convenience.
You can calculate your borrowing power and see what you'll be repaying before you complete the application.
Mipaydayloans – Payday loan
Loan Type

Payday loans

Loan Amount

up to R4,000

Repayment

1 day to 31 days
Benefits of Mipaydayloans
Fast online loan applications
Online loan calculator
Loans payout within 72 hours
A simple online process
Get the funding you need in a few easy steps
Getting a payday loan from Mipaydayloans is hassle-free.
They've compiled a complete list of the information you're required to provide when you apply for a loan. This information enables them to verify who you are and to calculate affordability.
Documents required to apply for a Mipaydayloans solution
Your banking details
Contact details
Your physical and postal address
Employer details
A complete breakdown of income and expenses
Your South African ID document/Smart card
Their easy loan application process
The first step in applying for a Mipaydayloans loan is to use the loan calculator on their homepage to indicate precisely how much you'd like to borrow and when you prefer to repay. You'll be presented with the interest and fees payable.
If the amounts are in line with your affordability, and you've read, understood, and agreed to the terms and conditions, you can tick the box and proceed to the application form via the complete application button.
You're now ready to complete the application form. The application consists of four sections. You're required to enter all fields of the form in full. Below the form are links to where you can upload the requested documents.
Once you've done this and checked the boxes, you can click on submit application. The necessary checks and verification are done and you're notified if your payday loan is approved.
Mipaydayloans will send you the loan contract to sign and your money will be paid into your chosen bank account within 72 hours of approval.
What makes Mipaydayloans great?
They're passionate
Easy online application
72-hour payouts
Payday loans for low to mid-income earners
They can assist you too if you need quick cash and you're not eligible for a loan from major lenders. Let them lighten your load with a payday loan today.

Mipaydayloans is a trusted & reliable provider of payday loans
In our review, Mipaydayloans adheres to the compliance criteria in accordance with the National Credit Act, where the granting the loan will not cause financial distress to the consumer.
✅ Mipaydayloans is a registered credit provider in South Africa: NCRCP12128
Customer Reviews & Testimonials
"
August 2022
I've been trying to obtain financing from my bank to no avail. I read online about Mipaydayloans and completed the application form. They assisted me with a payday loan within 72 hours of approva...
Jermaine D
— Cape Town —
August 2022
Mipaydayloans has been a lifeline for me and many of my family and friends. They've been assisting me with payday loans over the years and have always made me feel valued.
Sandra V
— George —
October 2022
I would like to take this opportunity to extend many thanks to Mipaydayloans for always understanding. They go the extra mile with their payday loans. They're my lifeline.
Jonty P
— Albertinia —
Mipaydayloans Contact
Contact Number
E-Mail
Website
Physical Address
Unit 17, 6 Jones Street Watcor Park

Cape Town

7490

7490

South Africa