Personal loans up to R150,000
Low-interest starting from 28%
Repayment up to 72 months
In-page navigation
---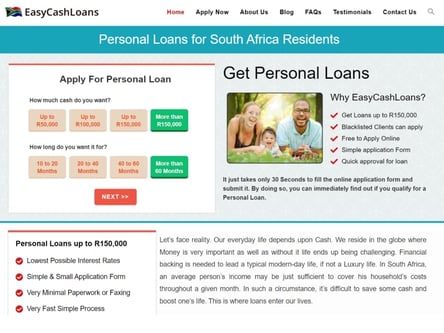 Author Easy Cash Loans. Screenshot of Easy Cash Loans website.


[Accessed January 30, 2023]
Easy Cash Loan – Reliable quick loans
Easy Cash Loans have been in operation since 1999 to provide personal and short-term loan options to South Africans.
They have branches in Carletonville, Rustenburg, Klerksdorp, Orkney, Mokopane and Vanderbijlpark.
The Easy Cash Loans vision
Their vision is to grow and become the preferred lender to all South Africans when they need assistance with their finances.
They offer the best customer service while their consultants will help provide expert advice on which online loan product would best suit your needs. They want to help you in your time of need and help you take back financial control of your life.
Their core mission
They aim to deliver financial solutions to lower and middle-income citizens that might not usually be granted financial assistance. As their business continues to grow and they understand your needs better they adapt to bring you the services that you need at a price that you can afford.
Easy Cash Loans train only the best staff and make sure that they're ready to attend to your needs. They're friendly and knowledgeable and aim to put you first. They aim to help you by providing financial assistance when you need it most.
To ensure that you understand the contract you're signing and don't get taken advantage of all their long and short-term loans are explained by their experts. They also comply with all the rules set out by the National Credit Act and are subject to all their terms and conditions.
Easy application for new and existing customers
If you apply for one of Easy Cash Loans' personal loans they'll ask you to provide consent for a credit check. If your credit score is bad your loan application may be declined, but this is not always the case.
They'll contact you and assist you in finding out why your loan application was denied and help you rectify the problem as best they can.
They also offer debt counseling and expert advice to get back on top of your finances. Everyone needs money and no one wants to be in debt, so if they can help you in any way they'll do their best to provide assistance.
Easy Cash Loans application requirements
To apply for one a personal loan, simply fill in their online application form with the following details:
Full name and surname
Email address
Phone number
Address
Loan amount
The repayment terms
Latest technology
Using the latest technology, Easy Cash Loans can determine the best loan to suit your needs and accurately assess your affordability.
They'll make sure that you're able to repay the bad credit loan and offer very easy repayment terms that won't push you further into debt.
Easy Cash Loans – Personal loan
Loan Type

Personal loans

Interest Rate

from 28%

Loan Amount

up to R150,000

Repayment

12 months to 72 months
Benefits of Easy Cash Loans
Bad credit friendly
Fast turnaround and approval
Affordable personal loans
Easy Cash Loans – For any credit score
Your credit score is a number that represents the risk a lender will need to take on in order to grant you a loan.
This number is determined by how often you make payments on time and if you've missed payments or have a lot of debt.
Your credit score explained
Different lenders have different criteria for determining if your credit score is good or bad. A healthy credit score is 700 or higher on a scale of 300 to 850.
If you have a good credit score you're seen as a lower risk while if your credit score is bad you are seen as a higher-risk client and it'll be more difficult for you to be granted a quick loan.
Your credit score is based on your payment information and will never discriminate against you for your race, gender, religious beliefs, or marital status. Knowing your credit score is very important and it's your responsibility to make sure that the information listed here is correct.
How to determine my credit score
To find out what your credit score is there are many different companies that can assist you as well as many free online websites. You'll need to give them your ID number and consent to a credit check.
Some websites even offer an online alert system that will notify you via e-mail or SMS if there are any significant changes in your credit score. This protects you from fraud and helps you quickly notify the correct authorities should you suspect something fishy going on.
What being blacklisted means
Being blacklisted means that you've failed to pay your outstanding debt or have missed payments on accounts.
Once you're blacklisted it is much more difficult for you to obtain further credit due to the fact that you could not honour your first financial commitment.
You're seen as a very high-risk client and if you're granted a bad credit loan the interest rate wll typically be less favourable.
It's not advisable to take a loan out if you've been blacklisted as you could put yourself deeper into debt.
Seek professional assistance in the form of a debt counselor if you're having financial difficulty and get the expert advice you need to take back control of your financial situation.
Fast payment straight into your account
Once you've applied for your personal loan via their website, they'll run a credit check to make sure that you'll be able to pay back the loan.
You can expect the payment very soon after your application has been approved and they'll pay the money straight into your South African bank account.
What it means to be in default
If your credit report shows that you're in default it means that you've missed a number of payments and these accounts have been handed over to attorneys that will sue you to get the lender back the money that you owe them.
These attorneys usually add all sorts of late fees and handling fees making the amount you owe more than it was originally.
Written off
If your credit report shows that your debt has been written off it means that the debt collector has given up on getting the money back from you.
This usually happens if the creditors feel there is no way in order to get back their money this could be due to you losing your job or your inability to pay back the short-term loan.
Customer Reviews & Testimonials
"
September 2018
Easy Cash Loans is exactly that, fast credit provider that is always seeking the best interest for the client.
Daniel M
— Port Elizabeth —
April 2019
I am paying affordable interest rates at Easy Cash Loans. I can still afford to pay my other financial obligations.
Roxanne C
— Newtown —
Easy Cash Loans Contact
Contact Number
E-Mail
Website