Personal loans up to R250,000
Low-interest starting from 15%
Repayment up to 60 months
In-page navigation
---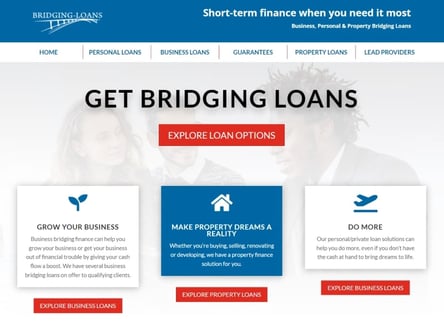 Author Bridging Finance. Screenshot of Bridging Finance website.


[Accessed January 30, 2023]
Bridging Finance - A unique approach to access funds fast
A unique approach to getting money fast.
Bridging finance is a money-advancing service. They'll lend you money right now, using money that is owed to you as security.
Have you just sold your property or cashed out your pension fund? Technically, you have the money – but the money could take a while before it appears in your bank account. They'll lend you the money you need until your funds become available.
Their security
Lenders are taking a risk by lending you the money on a guarantee or promise that you have the funds available but are just not able to access them as yet.
However, if things go wrong or you encounter a problem along the way, they will need to ensure there is recourse available. For this reason, you'll need to guarantee and provide security to prove that you can provide adequate security for your personal loan.
Personal loans using moveable assets
A movable asset can be used to secure your long or short-term loan. These assets are non-property assets and can include assets such as jewellery, commercial and personal vehicles, insurance plans, planes, and other equipment.
These must be valued at over R50 000 but can reach the value of R50 million or more. They'll then store the moveable asset in a secure warehouse and the asset will remain their property until the debt has been repaid in full.
Bridging the gap when you need it most
Bridging Finance has different types of bridging loans available, in each case, an asset or guarantee will need to be put in place to secure credit.
The main categories of business and personal loans they'll assist with, fall into the following categoies:
Property
Business
Guarantees
Personal
Bridging loans for estate agents
If you're in the business of buying and selling houses, you'll know how horrible it is to have to wait for your commission for 2 months or more. They can bridge the gap by offering you a personal loan while you wait for your commission.
Finance for your bond
With them, you'll be able to borrow up to 80% of the approved bond amount if you're selling, switching your bond, or have been granted a second bond.
Pension bridging loans: This type of bridging finance is available once you've resigned, been retrenched, or been fired from your current employment where you have the option of cashing out your pension fund. This can sometimes take a while to payout. In this case, you can use this as a guarantee to get a loan until the funds are available.
Road accident fund: If you have a successful claim at the Road Accident Fund (third-party claim), you can access up to 80% of the RAF payout owed to you.
Property secured finance: These loans use your property as equity to secure your loan. Bridging Finance will then give you an advance using your home as security for the loan.
Bridging Finance – Personal loan
Loan Type

Personal loans

Interest Rate

15 – 27% p/a

Loan Amount

up to R250,000

Repayment

12 months to 60 months
Benefits of Bridging Finance
Get a loan in 3 easy steps
Expert bridging finance
Bridging Finance - when you need money now
All inquiries they receive will automatically be redirected to a specialist credit provider, unfortunately, they are only a facilitation service and cannot provide any advice to their clients.
Only if your application is successful will they be paid a fee by the lender, this amount will be included in your loan agreement.
How it works
Once you've specified which bridging loan you'd like to apply for, you'll need to fill in the online loan application. Carefully select the correct category and click apply.
Fill in your details as required. Be extra careful when you're selecting your category because if you enter the incorrect information per category – your application will be declined immediately.
Once you've applied, Bridging Finance will call you and offer you a deal. Once you've accepted the quote and signed the agreement you can expect the money in your account within 24 hours.
Conditions for when applying for a loan against your property
The loan taken must be for at least R250,000
Your property must not have a bond attached to it
Your equity must be at least R 500,000
You must list the reasons why you need the loan
You must be able to repay the loan within 24 months
You'll have to use a registered borrower
When should I apply for a personal loan with Bridging Finance?
Endowment policies such as your pension policy, provident fund, retirement annuity, or investment can be used as a bridging advance.
They should be set to mature within the next 4 months and make up a portion of the funds owing to you. These policies must be with a reputable company.
Benefits of a Bridging Finance personal loan
You don't have to wait for your money to pay out
Fast and affordable assistance
You won't have to make any repayments while you're awaiting your money
Customer Reviews & Testimonials
"
December 2018
Bridging Finance ensured that I get a loan I can afford to pay without complicating my budget.
Dimakatso M
— Potchefstroom —
February 2019
If you looking for a credit provider that responds in the quickest turnaround time, Bridging Finance is your best shot.
Radon N
— Durban —
January 2019
Thanks to Bridging Finance, I was able to attend to my financial emergency on the same day I applied for credit.
Thato M
— Limpopo —
August 2021
I was recently retrenched and was left with a huge unexpected gap in my budget as I did not receive any money for like 2 months. Bridging Finance came to my rescue in a very fast and professional...
Sandler J
— Centurion —
September 2021
They deliver a great service. They totally saved my life during a very difficult financial time.
Mobuhle R
— Pretoria —
November 2021
Thanks to them I was able to renovate my new house while waiting for my previous one's money.
Nel S
— Bellville —
Bridging Finance Contact
Contact Number
E-Mail
Website
Physical Address
No.5, 11A Kruger Ave

Vereeniging

Gauteng

1939

South Africa
---
Postal Address
PO Box 1583, Wandsebeck, 3631, South Africa
Opening Hours
Monday

08:00 – 17:30

Tuesday

08:00 – 17:30

Wednesday

08:00 – 17:30

Thursday

08:00 – 17:30

Friday

09:00 – 17:30

Saturday

– Closed

Sunday

– Closed