Personal loans up to R8,000
Low-interest starting from 24.50%
Repayment up to 6 months
In-page navigation
---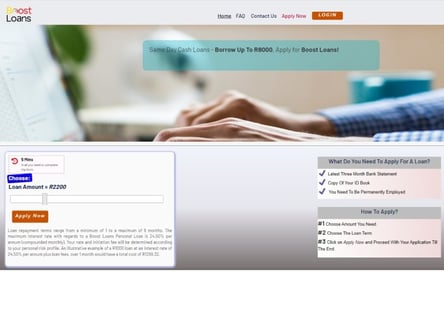 Author Boost Loans. Screenshot of Boost Loans website.


[Accessed June 15, 2023]
About Boost Loans
Boost Loans is a trusted and well-established provider of quick online loans, offering borrowers a simple and convenient application process.
Boost Loans caters to a wide range of financial needs and is a rising lender that has great customer reviews on all platforms.
A reliable lender ready to serve
Emphasis on transparency
Boost Loans places a strong emphasis on transparency, ensuring that all fees and charges associated with their personal loans are clearly communicated upfront.
This commitment empowers borrowers to make informed decisions and have a clear understanding of the costs involved.
The maximum interest rate for Boost Loans' personal loans stands at 24.50% per annum, compounded monthly. Individual rates and initiation fees are determined based on the borrower's risk profile, ensuring fair and personalised terms.
Peace of mind and customer trust
By incorporating DebiCheck into their loan processing system, Boost Loans aims to provide peace of mind to their customers. The use of this advanced security measure demonstrates their commitment to protecting customers' financial information and ensuring a secure lending environment.
Compliance and reliability
Boost Loans operates as a registered credit provider in full compliance with the regulations set by the National Credit Regulator. Their unwavering dedication to transparency, customer-centricity, and accessibility makes them a reliable choice for individuals in South Africa seeking fast online loans.
In fact, they've been trending in search engine results for a good while and show no signs of slowing down. This sustained interest reflects the positive experiences and satisfaction expressed by their customers. Boost Loans has consistently demonstrated reliability and has shown no signs of slowing down in the industry.
Boost Loans show great promise as an up-and-coming lender
This lender provides a trusted and reliable platform for individuals in South Africa to access quick online loans.
Their emphasis on transparency, streamlined application process, and commitment to customer satisfaction sets them apart in the lending industry. By offering flexible terms and a convenient application process, Boost Loans aims to meet the diverse financial needs of its customers.
Boost Loans Services
Boost Loans offers personal loans tailored to meet the financial needs of individuals in South Africa. These loans provide a convenient and accessible solution for those seeking quick access to funds.
Loan amounts and repayment terms
With Boost Loans, borrowers can obtain short-term loans ranging from a minimum of R500 up to a maximum limit of R8000. The repayment terms for these loans range from a minimum of 1 month to a maximum of 6 months, providing flexibility to you to choose a repayment period that suits your financial circumstances.
Why choose Boost Loans
Responsible lending practices and interest rates
Boost Loans adheres to responsible lending practices to ensure you can manage your loan repayments effectively. The maximum interest rate for their personal loans is 24.50% per annum, compounded monthly.
However, it's important to note that individual interest rates and initiation fees are determined based on the borrower's personal risk profile. This means that borrowers with a favourable risk profile may enjoy more competitive rates and fees.
Transparency and customer-centric approach
Boost Loans is committed to transparency and a customer-centric approach. They ensure that there are no hidden fees or upfront charges, communicating all fees clearly to borrowers before they accept the loan. This transparency empowers borrowers to make informed decisions and understand the total cost of their loan.
Registered Credit Provider
Boost Loans is a registered credit provider, operating in compliance with the regulations set by the National Credit Regulator. This provides you with the assurance that you're working with a reputable and trustworthy lender.
Providing financial education resources
In addition to their personal loan offerings, Boost Loans recognises the importance of providing general financial information and resources. While the available text does not provide specific details, it's likely that they offer educational materials or access to financial literacy resources to help borrowers make informed financial decisions.
Boost Loans' personal loans offer a reliable and accessible solution for individuals in South Africa who require quick access to funds. With transparent terms, flexible repayment options, and a commitment to customer satisfaction, Boost Loans strives to provide a positive borrowing experience for their clients.
Boost Loans – Personal loan
Loan Type

Personal loans

Interest Rate

from 24.50%

Loan Amount

up to R8,000

Repayment

1 month to 6 months
Benefits of Boost Loans
Flexible repayment terms
Low interest rates
Simple online application
Eligibility for a Boost Loans personal loan
Boost Loans has straightforward eligibility criteria to ensure that individuals who meet certain requirements can apply for their personal loans.
Boost Loans: Eligibility and supporting documents required
To be eligible for a short-term loan, you must:
Be a South African citizen or permanent resident
Be at least 18 years old
Have a valid South African ID book
Provide proof of permanent employment and a monthly income
Possess a valid South African bank account
Meeting these eligibility criteria allows applicants to proceed with the loan application process.
Required documents for loan application
To apply for a personal loan with Boost Loans, you must gather and provide the following documents:
Latest three-month bank statement: Applicants need to submit their most recent three-month bank statement. This document helps Boost Loans assess the applicant's financial stability and repayment capacity.
Copy of ID book: A copy of the applicant's South African ID book is required for verification purposes. This ensures that the applicant is a citizen or permanent resident of South Africa.
Proof of permanent employment: Applicants must provide proof of permanent employment, such as a recent payslip or employment contract. This demonstrates their ability to repay the loan.
Ensuring that these documents are readily available can expedite the loan application process and help you proceed smoothly.
Streamlined application process
Boost Loans aims to provide a seamless and efficient application process for their personal loans. The application process typically involves the following steps:
Start by visiting their website and completing the online application form. The form requires basic personal and financial information.
Choose your desired loan amount within the available range of R500 to R8000. They also select a suitable repayment term ranging from 1 to 6 months.
Once the application form is completed, you must submit it for review. Boost Loans verifies the provided information and documents to assess your eligibility and repayment capacity.
Upon approval, they'll process the loan and initiate the disbursement. The funds are typically transferred to your verified bank account within 24 hours, ensuring quick access to the loaned amount.
Boost Loans' streamlined application process allows individuals to apply for personal loans conveniently and efficiently, saving time and effort.
By meeting the eligibility requirements, gathering the necessary documents, and following the simple application process, you can take advantage of their fast online loans to meet your financial needs with ease.

Boost Loans is a trusted & reliable provider of personal loans
In our review, Boost Loans adheres to the compliance criteria in accordance with the National Credit Act, where the granting the loan will not cause financial distress to the consumer.
✅ Boost Loans is a registered credit provider in South Africa: NCRCP13607
Customer Reviews & Testimonials
"
March 2023
I recently had a financial emergency and needed some quick cash to cover unexpected expenses. Boost Loans came to my rescue! Their application process was straightforward and easy to complete onl...
Chris T
— Pretoria —
April 2023
I had a positive experience with Boost Loans when I needed a quick loan for home repairs. What impressed me the most was their flexibility in terms of loan options and repayment plans. They allow...
Alice R
— Sandton —
November 2022
Boost Loans truly lived up to its name and boosted me during a financial crisis. I was facing unexpected medical bills and needed a quick loan to cover them. From the moment I submitted my applic...
Caroline T
— East London —
Boost Loans Contact
Contact Number
E-Mail
Website