Quick loans up to R8,000
Low-interest starting from 10.71%
Repayment up to 60 months
In-page navigation
---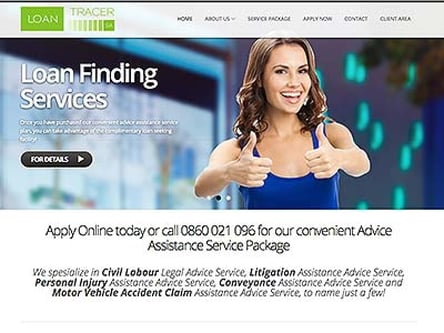 Author Loan Tracer. Screenshot of Loan Tracer website.


[Accessed January 30, 2023]
Loan Tracer - Effortless online loans
What makes them unique? They're a national-based telephonic service centre.
What makes Loan Tracer SA unique? Loan Tracker SA is a national-based telephonic service centre that assists you with paralegal advice assistance services.
Furthermore, they also provide a loan-finding service through accredited financial service (s) /credit provider(s), as well as credit reports available on request. Their IT team has made sure of a tougher infrastructure that allows you to apply for a loan online or telephonically on a daily basis.
State-of-the-art infrastructure
Loan Tracker SA is equipped with state-of-the-art infrastructure, well-trained staff and a service offering that'll help in your everyday life. This is why Loan Tracer SA renders unique customer service to you as a client. All this also ensures that your quick loan application for our convenient service package will be a safe and confidential process.
Effortless service
The world wide web has made it so difficult to find the right and trustworthy payday loan provider. The sole purpose of Loan Tracer SA is to supply South Africa with effortless online convenient services to every individual.
They understand that costs are rising and you cannot manage your budget due to all the unforeseen events that take place. Help is a few clicks away. Apply now.
Their product
In a nutshell, legal and financial woes can either make or break people. Unfortunately, all good things come at a price, luckily they offer multi-functional and convenient advice.
The assistance service plan product has been set up to be affordable to the majority of South Africans. At the end of the day, it's both financial and legal peace of mind that everyone seeks as these are the circumstances that could affect their future.
Get financial freedom
The time has come for you to move forward, you're one step closer to the freedom that you're worthy of. Times are hard-hitting and it's getting tougher.
The debt just never ends with a car loan payment, petrol prices on the rise, credit cards to pay and the list has been never-ending. Will it ever end? So now they welcome you to Loan Tracer SA, they'll give you that helping hand that you deserve.
They can help you today
What happens when you're involved in a motor vehicle accident? As luck will have it your insurance now refuses to pay out for those damages, damages are costly and don't come cheap.
Now your vehicle is damaged and you have no means of getting around, be it work or an appointment, with all this going on, you don't have any legal advice to assist you, it makes life difficult for the man on the street. Then out of the blue, you hear about Loan Tracer SA, many folks have said that the company's legal advice is impeccable and very affordable.
A complimentary personal loan tracking service is also provided by Loan Tracker SA, which offers financial services/credit providers to help you with that much-needed loan. Loan Tracer SA has excellent advice, and an assistance package tailored to your specific needs. In other words, your service package will assist you legally as well as financially.
Loan Tracker is able and willing to assist you. They have a team that'll offer you personalised services, give them a call today they're keen to make your goals a reality. There is absolutely no need to waste time shopping around for any kind of fast cash loan as their advice and assistance service package can assist in this regard.
Stress & success
Life becomes very challenging as things become more and more expensive, people get judged on materialistic possessions, the cars they drive, the house they live in and even their carriers and so they're under tremendous pressure to stay ahead of the Jones. These types of pressures are very stressful and put people under a lot of pressure, they start overspending and when they wipe their eyes out they're in a financial fix.
Loan Tracer – Quick loan
Loan Type

Quick loans

Interest Rate

10.71 – 60 % p/a

Loan Amount

up to R8,000

Repayment

3 months to 60 months
Loan Tracer SA can help!
There are many people that are unemployed, but there's also a large number of people that have a good credit rating and banks are pre-approving a vast amount of customers for quick loans and or financial services.
Unfortunately, there are many people who're not aware of how the financial industry works so when they're aware that they do qualify, they tend to accept any offer that's presented to them without doing an analysis of their financial status. Allow Loan Tracer SA to assist in this regard.
They're there to help
They offer a speedy service so that you're able to sleep better. Be sure to only loan the amount required and ensure that you're able to make the payments timeously as per your agreement. Elevate those worries by applying for a short-term loan with Loan Tracer SA today.
People face many challenges such as legal battles because of unpaid debt, child maintenance perhaps an injury, or maybe a work-related issue.
They've put together a very convenient product that's been analysed by the Protection Act Specialists. They're pleased to inform you that this product is available to all South African customers who have permanent residence.
Put your mind at ease with the simple fact that you're aware that legal assistance is available, and would also assist with your financial status quo. This product offers customers Civil Labour legal advice, Personal Injury Plan, and much more.
Less stress, more success
They're sure it's safe to say that financial predicaments occur when you least expect them and most of the time it causes great embarrassment. At Loan Tracer SA, they understand these types of situations and they're willing to help by offering affordable instant loans.
Customer Reviews & Testimonials
"
February 2019
I liked what I got from Loan Tracer – financial services that actually make a difference.
Melvin C
— Johannesburg —
January 2019
I was able to pay off all my loan and did it with ease, and Loan Tracer helped me to achieve that.
Jeandre M
— Pretoria —
October 2018
I received an amazing response and excellent service from Loan Tracer.
Lesedi L
— Germiston —
Loan Tracer Contact
Contact Number
E-Mail
Website
Physical Address
N Bank Ln

Cape Town

Century City

7441

South Africa
---
Postal Address
PO Box 569, Century City, 7446, South Africa