Fast online applications
Get cash fast
Trade policy
In-page navigation
---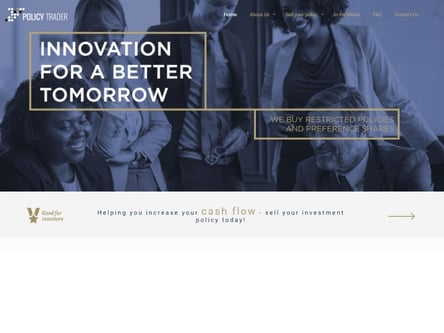 Author Policy Trader. Screenshot of Policy Trader website.


[Accessed January 30, 2023]
Policy Trader - Get cash from your policies
Over the years they've helped many South Africans turn their restricted policies into cash.
This is a good alternative to a fast loan. After 25 years of policy trading in South Africa, they've helped many South Africans get cash when they can't get it through policyholders or other lenders.
Don't wait for your policy to mature
They can get you the cash you need, you don't have to wait for your policy to mature before you apply with them. They can assist you immediately. After a 5-year maturity plan on policies, you'll get a lump sum payout. This can restrict you from getting a payout when you need it most.
They're an independent financial advisor
With their policy payouts don't require any repayments or interest charges. You simply get what you're entitled to. They work alongside some of the best policy investors, namely Liberty, ABSA and Discovery.
They provide a competitive service in the financial market. They deliver a quality-driven service that meets your financial needs. If you're having financial trouble and you need an instant cash boost, they're there to help you.
Free no obligation consultation
They have the top name in the policy industry. Over the years they've made their mark by helping you sell your policies for cash.
You approach them when you need cash in your restricted policies, and they offer you a quick cash payout instantly. It's a simple yet effective way to receive money when you're in financial trouble.
Get your no-obligation free consultation
You're often given little or no options when you need cash for your policies. For this reason, they've created an effective way to get a payout immediately.
If you're unsure if you qualify for this service they'll give you a free no-obligation consultation. They'll be able to tell you if you qualify to receive cash in your policy. They can even tell you how much your policy is worth if you're looking to cash out.
You need cash now
Their online platform has a vast amount of information regarding policies. Just register online and one of their consultants will contact you. As soon as you've been approved, you'll receive the money you need instantly.
Policy Trader – Quick loan
Benefits of Policy Trader
Policies for cash
Quick online applications
Policy Trader – They turn policies into cash
They help you to access cash from your policies and lend you money using your policy as security.
The process is simple and fast. They strive to see you reach your financial goals and they have the financial backing that will help you do it.
Financial freedom
When you need a quick loan fast, you need a trusted partner. With their years of experience in the policy trading industry, they're able to advise you on your best options. Selling your policy is easy and fast. Visit their website and follow the simple application process. They can help you get back your financial freedom.
Expert advice
Their consultants are passionate about helping you get the short-term loan you need. They'll be able to guide you throughout the process as well as give you valuable information and answer any questions you may have. You can only benefit from getting your no-obligation-free consultation.
Evaluate your policy
They'll send you an offer to purchase your policy after you complete an online credit application
Once you've accepted the offer, you can sign the document and send it back to them
They'll check all documents for errors or mistakes and send them to the processing office
They'll receive a payout in less than 48 hours after they've received the documents
If you have a restricted policy and you need urgent cash, turn to them at Policy Trader. They have an effective and fast service to turn your policy into cash. Don't delay getting your free consultation today, and best of all it's free.
Customer Reviews & Testimonials
"
July 2018
I needed immediate money from my policies and thanks to Policy trader, I was able to get it in no time!
Sarah B
— Durban —
May 2018
They don't just give you money, but they free you from your financial troubles.
Lilly M
— Johannesburg —
November 2018
I have received satisfactory service from them and recommended it to all my friends!
Kiara J
— Germiston —
Policy Trader Contact
Contact Number
E-Mail
Website
Physical Address
Unit 223, The Quays, Park Lane, Grand Central, Century City

Cape Town

Western Cape

7441

South Africa
---
Postal Address
PO Box 744, Edgemead, 7407, South Africa