Quick loans up to R3,000
Low-interest up to 60%
Repayment up to 37 days
In-page navigation
---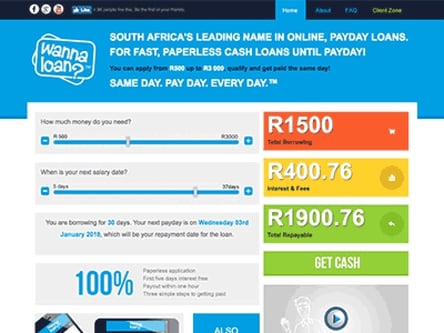 Author Wanna Loan. Screenshot of Wanna Loan website.


[Accessed January 30, 2023]
Wanna Loan - Quality services and loans
Wanna Loans head office is cushioned in the beautiful sunny City of Cape Town South Africa.
They have a diligent team that provides quick loan solutions to all South Africans. Wanna Loan is part of the pioneering company Blackbird Group and is a recognised leader in the financial industry.
They'll lift your financial burden
They detected that there was a number of struggling South Africans and that it's on the increase thus, their mission is to lift those burdens of being denied credit for those little important things that you need by providing you with the option to apply for a short-term loan, payable in a short period of time.
And so they became South Africa's leading payday lending company, Wanna Loan was created for this sole purpose.
Quality-driven customer experience
Wanna Loan will continually strive to support the customer experience even though they're automated and communication is instant. As per the founder of Wanna Loan "Nathan January".
They're a uniquely South African Company and they commit to responsible payday loan lending, their advice to you is to only borrow as much as needed as well as consider affordability.
They deliver quality services
Their service delivery is of a high standard, their business ethics are fair and transparent.
Wanna Loan will constantly develop and develop its model, enabling South Africans to access instant loans for their everyday requirements. They'll strive to invest in their company to make sure that the growth will be to your benefit.
How to apply for a loan
Log onto their website and specify how much cash you would need to borrow and when your next payday is. Once you've completed the selection, enter the get cash option.
For your online loan application to be completed, you'll need to provide your personal information, this enables them to see if you're creditworthy and that you can afford the repayment.
Now sit back, relax
When you've been approved, one last verification check needs to be done. Should all go well, their target will be to deposit your cash into your bank account within the hour.
Keep in mind that you can use the quick cash loan in any way you want, once the loan has been paid back you automatically qualify for further finance.
Wanna Loan – Quick loan
Loan Type

Quick loans

Interest Rate

60%

Loan Amount

up to R3,000

Repayment

5 days to 37 days
Benefits of Wanna Loan
A fair and transparent service
Quick loans up to R3 000
Repayment term up to 37 days
Get a loan in 60 minutes
Wanna Loan - Get your quick cash loan now
When there's an unexpected emergency or an unforeseen expense, is an evident reason why you would need a fast loan that'll assist you to meet that gap by means of financial assistance.
Whatever the circumstances may be, a fast loan is an advantage when needed.
Fast loans are quick and easy, no wonder they're so sought after. Nothing like applying for a traditional personal loan from your local bank or other lenders, with fast loans you get an answer by the end of the day. Using a traditional lender could take up to one week for a yay or nay. If you're in a financial fix one week can seem like a lifetime right?
No complex paperwork
Another plus is that you don't have to go into a branch of some sort and go through complex paperwork, to apply for a fast loan.
The nice thing about instant loans is that almost anyone can qualify, bearing in mind that you need to be over the age of 18 to be employed and have an active bank account in your name. You could receive the borrowed cash into your bank account within a couple of hours.
Fast loans
Wanna Loan understands if you're in a predicament and not able to pay your agreed amount on time, they'll allow a bit of leniency to pay off the debt.
There are some lending establishments that do not run a credit check, which means that should you have a bad credit rating you could still obtain a bad credit loan, the lender will check when your next payday is instead of the credit check.
A fast loan sounds good so far, doesn't it? Not everything that glitter is gold that's life. A fast loan does have some disadvantages, as a borrower, you should be aware of them
Suitable solutions for you
The shortcoming of a fast loan is the amount of interest charged, lenders charge different interest rates, some interest rates may be higher than others, not like the interest rate charged by most banks.
So bear in mind that when you do apply for a fast loan you're able to make repayment on the agreed amount of time so that you don't have those extra fees charged on late repayments as the fees can be high. This is why Wanna Loan is there to create a suitable solution for you.
Wanna Loan is one of the best, most dependable, and most reliable fast loan lenders. They're proudly South African and committed to responsible lending.
Is a payday loan right for you?
It's impossible to predict your financial status from month to month, after you've received your salary, you paid the rent, and electricity and followed through on your budget and unexpected expenses accrue such as an emergency that needs your abrupt financial attention, what do you do?
The thought of a loan crosses your mind, but you realise that it could take a while before approval and you need the cash immediately. Why not consider a payday loan?
Hundreds of South Africans make use of an online loan which is a short-term loan that ultimately is due with their next paycheck.
The lender will charge you a fee in exchange for lending you the cash that's why it's called a payday loan. Borrow just enough for that emergency so that you're able to get through to the next payday when the repayment will be due.
Customer Reviews & Testimonials
"
October 2018
There is no extra paperwork involved, it saved me from a lot of trouble.
Allison J
— Johannesburg —
November 2018
I found Wanna Loan in good time, I was able to get a loan approved for my house repairs and everything got sorted really fast.
Lebo M
— Durban —
February 2019
Wanna Loan comes up with best solutions for us, optimal and suitable.
Tshiamo P
— Johannesburg —
Wanna Loan Contact
Contact Number
E-Mail
Website
Physical Address
1 Willie van Schoor Drive, Bellville

Cape Town

Western Cape

7530

South Africa
---
Postal Address
PO Box 378, Cape Gate, 7506, South Africa
Opening Hours
Monday

08:00 – 18:00

Tuesday

08:00 – 18:00

Wednesday

08:00 – 18:00

Thursday

08:00 – 18:00

Friday

08:00 – 18:00

Saturday

– Closed

Sunday

– Closed