Online loan application
Low interest rates
Repayment up to 12 months
In-page navigation
---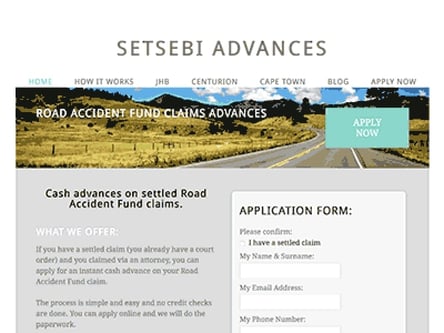 Author Setsebi Advances. Screenshot of Setsebi Advances website.


[Accessed January 30, 2023]
Setsebi Advance - Get your RAF advance
They're a well-established company in South Africa and they specialise in quick cash advances and short-term loans.
They use their years of experience to bring you quick loans faster than any other lender and best of all they do no credit checks.
Road accident fund claims
With them, you can get an advance on your road accident fund claim until you get your payout. They understand that getting your money from the road accident fund can take some time and that you need money to support yourself while you wait for a short-term loan.
They'll give you an advance as soon as you can prove to them that your claim has been processed.
They help South Africans only
They supply expert financial solutions to local South Africans. Over the years they've helped many clients with financing in order to better their financial situation.
In many cases, an accident can leave you with a disability and loss of work hours. They want to help you with an instant advance so that you can keep on living life.
They have the highest quality loans and services
They guarantee the highest quality service and financial products in order for you to get everything you need.
All of their services are overseen by their expert legal team to ensure that their processes are seamless. They understand your needs and they strive to get you a fast cash loan in the fastest possible way.
Quick cash advances
Their payday loan advances process is fast and easy, ensuring you get the financing you need in no time. Unexpected circumstances can lead to an urgent need for cash, and they're there to provide the solution.
Do you Qualify
In order to qualify, you must have settled a road accident fund claim and claimed the money through an attorney.
Fast application processes
Contact them by visiting their website, email, phone, or Whatsapp (0813509709), fill in the online loan application form and their expert team will process your request for a cash advance. Your application will be processed within one business day.
Setsebi Advances – Quick loan
Loan Type

Quick loans

Repayment

3 months to 12 months
Benefits of Setsebi Advances
Road accident fund advance
Setsebi Advance – When you need cash now, they have the financial backing to help you
Waiting for claims to pay out can be long and tedious. In the meantime, you still need to support yourself and maybe your family members.
They have the solution to your financial troubles with their quick loan on your road accident fund claims.
No credit checks
They don't conduct any credit checks when they process your application for an advance on your road accident fund claim. No matter what your credit score is they can help you with a bad credit loan quickly and easily. What makes their service so desirable is the fact they don't charge you any monthly subscription fees.
Road accident fund advance agreements
They ensure a professional look at the advance agreement. They'll complete the road accident fund advance application in PDF format using the information that you provide them with.
When you're ready to proceed, you can sign the pre-filled application form and email it back to them. This ensures that there are no mistakes when you receive your personal loan from them.
Waiting for a claim to payout? Need money now? Contact Setsebi Advance and let their professional team help you get an advance on your claim. Get living better now, apply today.
Professional assistance
With Setsebi Advance you'll encounter helpful, professional staff. They're there to help you through the money advance process.
Customer Reviews & Testimonials
"
April 2018
I was unsure about the matters of loans but coming to Setsebi has allowed me to be at ease.
Kaylee N
— Durban —
November 2018
They helped me after a terrible road accident. I was able to receive the money and solve the situation.
Pitsi T
— Johannesburg —
July 2018
The application goes really fast. They value your time, and it shows.
Ramsha K
— Port Elizabeth —
Setsebi Advances Contact
Contact Number
E-Mail
Website
Physical Address
Old Castle Brewery Lower Church St

Woodstock

Cape Town

7915

South Africa