Short-term loans up to R3,000
Low-interest up to 60%
Repayment up to 40 days
In-page navigation
---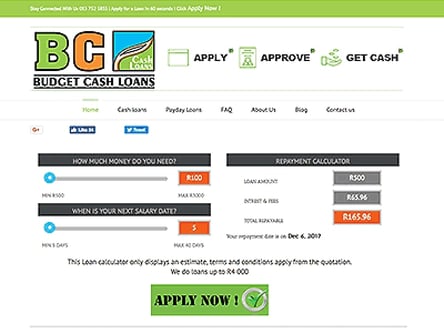 Author Budget Cash Loans. Screenshot of Budget Cash Loans website.


[Accessed January 30, 2023]
Budget Cash Loans - Fast short-term loans
Budget cash loans were established in 2002 in Nelspruit and have since granted loans to hundreds of satisfied clients. As the business grows, they expand further to new provinces.
Thanks to technology they can reach you even if you're further away from the power of the internet. Even if your credit score is less than desirable and you're blacklisted, they might still be able to help you secure a bad credit loan.
Short term loans
They offer short-term loans to you if you need cash in a hurry, their loans are perfect for when there's an emergency and you need cash in a hurry.
They have 8 branches around the low veld so if you want to see a consultant, feel free to visit one of their branches. All their loans are reliable and secure and your information will be treated as confidential.
Credit check
To ensure that you don't take a loan that you cannot afford to pay back, they'll run a credit check to see how much you would be able to spend on repaying a loan.
Even if your credit score is bad, they may still be able to assist you with obtaining financing. They want to make sure that you do not come dependent on taking payday loans and that the loan is used to help your financial situation and not drive you into debt.
You are protected
They follow all rules and regulations set out by the National Credit Act. You'll only be charged an interest rate that is suggested by the NCA and doesn't charge in excess of a certain amount.
Easy to apply
It's so easy to apply for a personal loan. Simply visit one of their branches and speak to one of their friendly consultants or visit their website and fill in the online application form.
They have easy-to-use online calculators that you can slide up and down to see how much you want to borrow and how long you would need to pay it back. This will give you a basic idea of how much you can comfortably borrow.
Payday loans up to R3 000
Budget Cash Loans are the loan provider to turn to when you need a short-term loan in a hurry. They also offer fast cash loans, Payday loans, consolidation loans, home loans, bridge loans and blacklisted loans.
Blacklisted loans
Most lenders view people that are blacklisted as very high-risk clients and will very seldom grant them a loan as they fear that the loan will not be paid back and they'll lose their money.
They understand that life is sometimes difficult and when you need help because of your bad credit score you can't get a loan when you need it most. They offer loans for bad credit to clients that are blacklisted and tailor-made payment terms to suit your financial situation.
Payday loans
Another type of short-term loan option is the Payday loan. This is a loan that is usually granted on the same day as it's applied for. Choose to borrow as little as R500 to as much as R3 000. These loans are approved quickly and are very easy to obtain.
The only problem with these types of loans is that the entire amount that you borrowed needs to be paid back in one payment on your next payday.
To make a payment in instalments is normally much easier on your pocket than to have to pay the entire amount off at once.
These loans can become a debt trap as you need to take another one to make up the money you paid back in the first place and so the cycle continues.
Same day payment
As soon as your online loan application form has been approved, the money will be paid directly into your account on the same day that you applied. This makes their service great for emergencies and very convenient.
No credit check for payday loans
As a payday loan needs to be approved very quickly they don't run a credit check. They'll only confirm that you're still permanently employed and earning a salary in order for you to be granted the payday loan.
Budget Cash Loans – Short-term loan
Loan Type

Short-term loans

Interest Rate

60%

Loan Amount

up to R3,000

Repayment

5 days to 40 days
Benefits of Budget Cash Loans
Bad credit? No problem
Loan terms for all budgets
Loans available of up to R3 500
Payout within 24 hours
Short-term loan calculator
Budget Cash Loans - Affordable loans
If you're unable to pay back the loan due to unforeseen circumstances then please contact them so that they can assist you.
Call them on 013 758 5855 or send them an e-mail at loans@budgetcash.co.za and they'll help you make short-term loan arrangements that you'll be able to manage.
Can you apply for a loan if you're under debt review?
If you're under debt review, debt counselling, debt administration or if you've been sequestrated you'll unfortunately not be able to qualify for any of their loans, products or services.
Home loans
Another type of loan that they offer you is home loans. Buying your own property is very exciting and very expensive. If you need a loan to secure a new home you have come to the right place.
It's very simple to apply, to find out more information, please visit their webpage and check out their guides that'll assist you in making the correct decision for your financial future.

Budget Cash Loans is a trusted & reliable provider of short-term loans
In our review, Budget Cash Loans adheres to the compliance criteria in accordance with the National Credit Act, where the granting the loan will not cause financial distress to the consumer.
✅ Budget Cash Loans is a registered credit provider in South Africa: NCRCP471
Customer Reviews & Testimonials
"
August 2018
Even with a poor credit record my application was considered. Previously other lenders were too afraid to lend to me because I was considered a credit risk. Budget Cash assured me that they are d...
Pieter V
— Nelspruit —
October 2018
I am more the type of person who enjoys consulting about my finances face-to-face which is why Budget Cash is perfect for me. I went and sat inside their offices, had a good chat with their emplo...
Danielle M
— Secunda —
February 2019
Budget does not restrict you according to what their loans can be used for which is wonderful! I used the money that I applied for to complete the building of my new garage, retile the kitchen an...
David M
— Nelspruit —
Budget Cash Loans Contact
Contact Number
E-Mail
Website
Physical Address
38 Nel St

Nelspruit

Mpumalanga

1200

South Africa
---
Postal Address
P.O Box 8280, Nelspruit, 1200, South Africa
Opening Hours
Monday

08:00 – 16:00

Tuesday

08:00 – 16:00

Wednesday

08:00 – 16:00

Thursday

08:00 – 16:00

Friday

08:00 – 16:00

Saturday

– Closed

Sunday

– Closed