Short-term loans up to R200,000
Apply online
Better cash flow
In-page navigation
---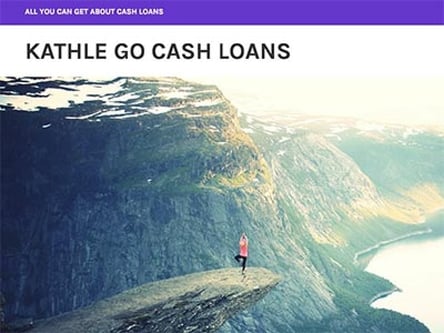 Author Kathlego Cash Loans. Screenshot of Kathlego Cash Loans website.


[Accessed January 30, 2023]
Kathlego Cash Loans - They'll help you stretch your budget
Kathlego has been assisting South Africans with short-term loans since 2010.
If you're a first-time customer with them, you have access to a short-term loan of up to R3 000 that can be repaid over a period of 3 months. As soon as your initial cash loan has been paid in full, you're able to take out an additional loan immediately afterwards.
They're accredited
Due to them being an accredited online lending company, they're unable to lend you money if you're undergoing debt review or are blacklisted.
They do however look into your credit scores prior to deciding whether your loan is approved or not. They're still new in the financial industry, but in this short time they've gained a wealth of knowledge, and this reflects the excellent service they deliver to you.
They offer the best loan products suitable to your financial needs. They can have your online application approved within minutes and provide you with the funds within an hour.
Getting a loan is quick and easy with them
Through the years they've built strong, long-lasting relationships with their clients and have set standards in the lending world that are tough to beat! They're a guaranteed lending partner with extremely competitive rates and fast personal loan processing times that suit your financial life.
Quick online loans
When you find yourself in a position that requires money immediately and you won't be able to make it until your next payday, they're there to help you make it through the month.
They dedicate a lot of time to organising quick online loans for you if you're employed full-time at work and earn enough to repay their loan instalment each month.
Short-term cash loans
Their short-term loan is available to assist those who are struggling to keep up financially until their next payday. Or perhaps you've attracted some unexpected bills and accounts that you need to pay, but aren't able to afford it.
Their simple, quick and secure loaning platform allows you to apply for a loan in the comfort of your own home or office and receive an approval within minutes after having submitted your online loan application.
Apply now and get the funds within 1 working day
In today's economy with expenses that are increasing while wages remain minimal, you often don't have the capacity to budget for months when unexpected payments are required.
Everyone needs a quick cash boost time and again
Hence why their loans on offer to you are in the form of a payday loan, merely to assist you during those harsh financial times.
Kathlego Cash Loans – Short-term loan
Loan Type

Short-term loans

Loan Amount

up to R200,000
Benefits of Kathlego Cash Loans
Quick cash loans
Free credit checks
Reduced interest rates
Short-term loan calculator
Kathlego Cash Loans - They get you emergency cash fast
They've spoken about short-term loans on offer, but they also have something called an R3 000 same-day loan which might suit you better.
They have online cash loans which you can process online and their terms on offer are 3 months to repay. They accept you with bad credit by offering bad credit loans and those that might just be after a cash emergency fund to get you out of trouble.
Dependable, fast and hassle-free loans to employees
They offer short-term cash loans for employees that are in need of a little extra money to get themselves through until the end of the month.
They work together with employers and employees to create a well-functioning and secured lending platform that allows you to apply for a short-term loan when you need it the most.
By assisting you to have control over the lending structure, they empower you to afford to pay those unexpected bills and thus ensure the company is not running low on a budget due to staff debts. These loans are ideal for the days your staff comes to you looking for a loan.
Simple and fast processes
All first-time clients are offered a maximum amount of R3 000 that's repayable over a period of 3 months. They offer their first-time clients this maximum amount so that you don't end up in a deep debt trap, thus forbidding them to lend more money immediately upon settling your first quick loan.
You're their number one priority and they ensure that your loans are customised according to your credit profile, affordability and the specific loaning amount you require.
Remain clear of all future financial issues
They offer you a solution that'll help you get through tough times, especially when your bank balance is looking a little worse for wear. If you get the feeling that there's no possible solution to your problems, you'll now have peace of mind knowing that they're there for you and can offer a personal loan solution.
It's also important to note that they constantly support responsible lending therefore not lending you more than you can afford.
Once your application has been approved, you'll have access to your short-term loan within 24 hours, with no security needed. They're always available to answer your questions and assist you, and offer advanced industrial products that'll suit your individual needs.
They can approve your online application quickly so that you have access to funds in your account in less than 60 minutes.
With guaranteed deals that suit all your financial needs, if you have a cash shortage, why not contact them today?
Customer Reviews & Testimonials
"
February 2019
Kethlego helped see me through the month. Once I received the unexpected medical bill I had no idea how I would make the payment with my current expenses and very little savings. Thanks to Kathle...
Babalwa T
— Constantia —
January 2019
Even with my less than desirable credit record I was able to obtain finance from Kathelgo. Many financial lenders have turned me away in the past but they changed that for me today. I now have th...
Bradley H
— George —
February 2019
Because everything is online I was able to get my finance fast. I simply completed my application, signed the documentation and had the cash paid into my account. For simple and fast lending I wi...
Chantel V
— Worcester —
Kathlego Cash Loans Contact
Contact Number
E-Mail
Website
Physical Address
11 Union St, Virginia, 9430

Virginia

Free State

9430

South Africa
Opening Hours
Monday

08:00 – 17:00

Tuesday

08:00 – 17:00

Wednesday

08:00 – 17:00

Thursday

08:00 – 17:00

Friday

08:00 – 17:00

Saturday

08:00 – 17:00

Sunday

08:00 – 17:00