Get financial freedom
Short-term loans up to R10,000
Repayment up to 12 months
In-page navigation
---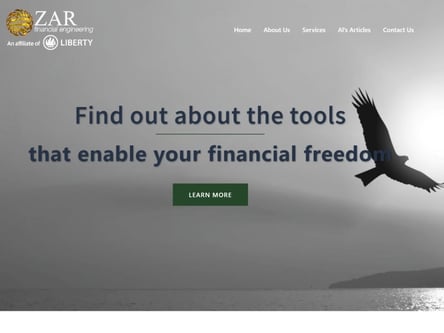 Author ZAR Financial. Screenshot of ZAR Financial website.


[Accessed January 30, 2023]
ZARFIN - The most affordable payday loans
ZARfin is an expert in dealing with creditors and that's why they offer one of the most affordable payday loans in South Africa.
At ZARfin they'll locate the perfect short-term loan opportunity for you whereby approval criteria are the most lenient. They also assist you with tapping into credit opportunities from other banks.
They have excellent interest rates
When a bank has given you a good amount of credit, but is not willing to offer you anymore, ZARfin will find micro lenders that source highly attractive offers that come with outstanding interest rates and terms and conditions.
They specialise in matching you with the best suitable online loans that fit your financial situation. Through their network, they're able to source the best opportunity in the credit market and motivate your application to increase your chances of being approved for a loan.
If you're blacklisted, you'll be happy to know that they cater to you as well as they can source bad credit loans as well.
Loans from R500 up to R10 000
If you're in desperate need of cash, ZARfin is there to help.
Do you have creditors that are constantly contacting you because of the accounts that need to be paid? Then a short-term loan from ZARfin is what you need. With all consideration of your cash needs, the experts at ZARfin will work out the best option for you. They offer cash loans from R500 to R10 000, and you're able to repay the loan between 1 to 12 months.
Apply with them today
What makes them so great is that anyone who is 18 years or older can qualify for a ZARfin payday loan, even if you're blacklisted or have a poor credit score.
They can save you time by applying for a loan with them by using their easy-to-use online application platform. You can send them a please call me and one of their consultants will call you back.
The great thing about them is that they do all the paperwork and call on your behalf. Their consultants will approach several institutions until they're satisfied that you've received the best personal loan deal.
ZAR Financial – Short-term loan
Loan Type

Short-term loans

Loan Amount

up to R10,000

Repayment

30 days to 12 months
Benefits of ZAR Financial
Consolidation loans
Bad credit loans
Short-term loans
Short-term loan calculator
ZARfin - get a cash loan now
Their payday loans range from R500 to as much as R10 000 and you can repay these loans within a period of 12 months.
Anyone can qualify for a payday loan
If you're searching for a home loan, why not let them help you with that? They're in partnership with Mortgage Max. They can help you finance the purchase of your dream home once the Offer to Purchase has been signed.
They'll process your online loan application and motivate it so that you receive a favourable response. Due to them having a wide network of banks and other financial institutions, they can use their leverage to help get the best loan solution for you.
You can resolve any cash emergencies with ZARfin's Payday loans.
If you find yourself in a situation where you're blacklisted, or you have a bad credit score, then it isn't the end of the world. The first thing you should do is get your credit report and make sure that there are no mistakes. By fixing mistakes on your credit report you can improve your credit rating, making yourself more attractive to lenders.
If you're blacklisted, you'll have a higher chance of securing a loan if you place collateral forward. By doing this the lender will be more willing to extend the loan. This means that you might end up with a lower interest rate on your loan as well.
This is a helpful solution because the amount that you must pay each month will be less. Short-term advances and personal loans can be given to those who are blacklisted, with a loan up to R120 000 with repayments over a period of 6 to 72 months.
The benefits you can expect to get from them
Because they're on a Creditor Mediation Program, you'll not be listed on ITC. Your ITC score gets boosted in just a few months of the Creditor Mediation Program. You only have to pay on a month-to-month basis with instalments on all your debts.
You'll have more time to focus on the important things in life, like spending time with your family, rather than worrying about paying the bills. Keeping you happy and satisfied with their services is their number one priority!
Contact them now!
PH: (021) 761 4926 / (021) 823 9798
Fax: 0865 352 551
Email: keagan@zarfin.co.za
Email: janine@zarfin.co.za
Customer Reviews & Testimonials
"
December 2018
When I started collaborating with ZARFin I could sit back and relax knowing that they would take care of everything for me. After a short chat they began evaluating my situation and found the len...
Cherise B
— Musina —
November 2018
With such affordable and competitive rates you will not need to look for any other lender than ZARFin. They will find you the most affordable rate for your circumstances, type of loan and income....
Donovan T
— Polokwane —
September 2018
Even with my less than desirable credit record I was able to get the finance that I needed with the assistance of ZARFin. Because they locate the most suitable lender for you, they were able to f...
Prince M
— Seshego —
ZAR Financial Contact
Contact Number
E-Mail
Website
Physical Address
5 Greyville Cl

Milnerton Ridge

Cape Town

7441

South Africa
Opening Hours
Monday

08:30 – 17:30

Tuesday

08:30 – 17:30

Wednesday

08:30 – 17:30

Thursday

08:30 – 17:30

Friday

09:00 – 17:30

Saturday

09:30 – 13:00

Sunday

Closed –