Vehicle finance up to R5,000,000
Reliable Vehicle Finance
Repayment up to 72 months
In-page navigation
---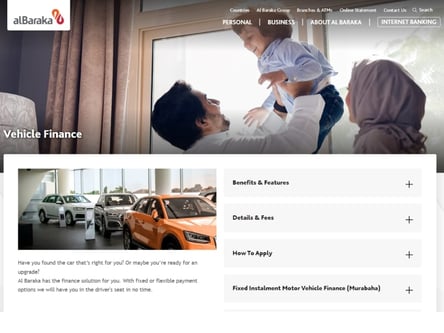 Author Al Baraka Bank. Screenshot of Al Baraka Bank website.


[Accessed February 28, 2023]
About Al Baraka Bank
Are you struggling to get the finance you need for your new vehicle? Perhaps you simply need a loan for repairs?
Al Baraka has some of the most affordable financial solutions that will fit your needs and budget.
Islamic banking services
Al Baraka has been registered and authorised as a credit provider since 1989. For the last 30 years and more, they've been an active financial provider within South Africa.
They proudly provide all individuals and businesses the opportunity to access their products and services.
Being that Al Baraka is driven by Islamic principles, it provides its clients with unique and practical financial solutions. They're truthful and professional.
A sustainable and trustworthy service provider
Al Baraka believes in a system that's fair and accessible, therefore they've been contributing towards the growth and development of the communities around them.
It has also enabled them to form relationships with their clients while they play their part in addressing and overcoming difficulties in the country.
Financial support with a personal touch
Al Baraka has been known for the warm welcome and friendly smiles of its staff.
They also make use of the best banking technology to help solve common financial problems.
Al Baraka has a team of professional and qualified members who are ready to assist when needed.
Over the years they've been learning as well as building a partnership with their clients. They believe that the happiness of their clients is the key to their success.
Al Baraka Bank Services
Are you finding it difficult to pay for all your expenses, including your vehicle repairs? Why not take control of your finances with a car loan from Al Baraka?
They provide various vehicle finance packages for different situations. Whether you're looking for a fixed repayment option or a variable one, Al Baraka has you covered with the best services.
At Al Baraka they have your best interest at heart, therefore they only provide leases for vehicles not exceeding 6 months and loans for vehicles not exceeding 6 years. These terms and conditions have been put into place to ensure you get only the best out of the deal.
Al Baraka car loan features
At Al Baraka, you can qualify for a car loan from R55 000 up to R5 million following their flexible interest rates and repayment terms. You also get to choose from various repayment options of up to 6 years.
With their customised services, you can do all the necessary calculations from the comfort of your home by simply accessing their online vehicle calculator. It'll allow you to see the interest payable as well as the expected monthly repayment for your desired loan amount. Once you've accessed their online loan calculator, you can simply type in your loan amount and repayment duration and they'll do the rest for you.
Benefits of a car loan
Conditions for instalments are reasonable
There are no admin fees involved
Adjustable pricing
Personalised financing available
Various instalment types
Fixed instalments for car financing
Variable instalments for car leases
Fixed instalments for car leases
You must keep in mind that Al Baraka does not do financing for private sales.
Al Baraka Bank – Vehicle finance
Loan Type

Vehicle finance

Loan Amount

up to R5,000,000

Repayment

12 months to 72 months
Benefits of Al Baraka Bank
Competitive vehicle finance
Annual lump sum payment options
Low deposit required
Flexible repayment terms
Vehicle finance calculator
Get started with your vehicle finance application today
Are you ready to get your dream car? Start with your online application process now and enjoy the benefit of driving your dream car within hours.
Essentials when applying for vehicle finance
There are a few requirements that need to be met before you receive approval for your loan. When applying for vehicle finance, you'll need to submit certain documents.
These documents will allow Al Baraka to find you the best financial solution for your financial needs.
You'll need to submit proof of your address that is not older than 3 months
ID document for verification
Confirmation of income which includes a 3-month bank statement, 3 months payslip, certified proof of income and expenditure as well as proof of your assets and liabilities.
When you've submitted the required documents, you can get started on your application.
The application process that needs to be completed
When you have all your documents ready, you can access the application form and complete all necessary steps online. Once you've signed into their website, you can start by filling in all your details.
You'll be required to have your cell phone on hand since you'll have to confirm the OTP that will be forwarded.
Once you've completed your application process and submitted all the documents along with it, you can start tracking it. Should you have any enquiries while applying you can consult one of their in-store assistants or fill in the enquiry form on their website.
Factors that influence your monthly repayments
When doing the calculations for your monthly repayments, 3 things will make your financial load lighter. Firstly, your loan amount has a significant effect on your repayments since the bigger the amount, the higher your repayment will be.
Thereafter your repayment will be influenced by the loan term you've selected. The longer the term, the less you will pay each month, but if you choose to select a shorter repayment term, your monthly expenses will increase.
Likewise, regarding your deposit amount, if you have a generous amount to put down as a deposit, you'll be decreasing your payments each month. It's important to look at all aspects before making your selection when applying for vehicle finance.
Contact Al Baraka today
Don't wait a minute longer when you can contact Al Baraka today, to get your vehicle finance application approved. You can even reach them by email or simply call your nearest branch.

Al Baraka Bank is a trusted & reliable provider of vehicle finance
In our review, Al Baraka Bank adheres to the compliance criteria in accordance with the National Credit Act, where the granting the loan will not cause financial distress to the consumer.
✅ Al Baraka Bank is a registered credit provider in South Africa: NCRCP14
Customer Reviews & Testimonials
"
October 2022
I had my heart on a new car but could not purchase the vehicle in cash. I decided to apply for vehicle finance from Al Barakah and I was surprised at how quickly I got my loan.
Joseph M
— Port Alfred —
September 2022
I was searching for a new vehicle and the car salesman suggested that I try to apply for vehicle finance from Al Baraka. I completed the application form and was soon driving my new car.
Andre R
— Cape Town —
October 2022
I would like to take this opportunity to thank everyone at Al Baraka for making my dreams come true. Thanks to vehicle finance from them I'm the owner of my first vehicle. They're a great bank.
Sarah P
— Mosselbay —
Al Baraka Bank Contact
Contact Number
E-Mail
Website
Physical Address
Klipfontein Rd, Silvertown

Cape Town

7764

South Africa
Opening Hours
Monday

09:00 – 15:30

Tuesday

09:00 – 15:30

Wednesday

09:00 – 15:30

Thursday

09:00 – 15:30

Friday

09:00 – 12:00 – 14:30 – 15:30

Saturday

08:30 – 11:00

Sunday

– Closed