Best Finance Deals
Low-interest starting from 6%
Repayment up to 72 months
In-page navigation
---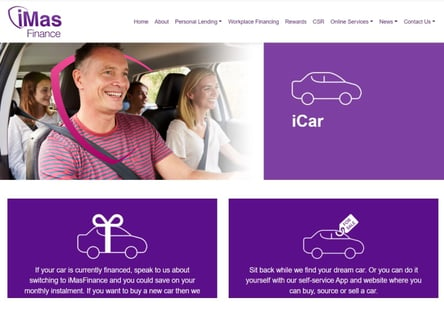 Author iMas Finance. Screenshot of iMas Finance website.


[Accessed February 28, 2023]
About iMas Finance
iMas Finance is cooperative offering more than 600 South African employers affordable financial solutions for their employees.
These solutions include vehicle finance, personal loans, property finance, and purchase cards. If you're granted finance through iMas, you're not only able to purchase a property or car but you become a member. This entitles you to earn rewards via the iMas Rewards Programme that take the form of cashbacks.
Inherent corporate social responsibility
As a provider of financial wellness services to employees across the country, iMas Finance can serve the communities they operate by delivering shared value. This means they offer you, a member of their cooperative, financial rewards when you obtain finance from them. They also focus on South Africa's most important asset - its human capital.
Business-to-business offerings from iMas
iMas offers business insurance and group schemes that include the creation of loyalty programmes for other financial services providers. They believe that a company's greatest assets are its people. They encourage companies to invest in their employees by engaging with them and offering them access to financial wellness training and expert financial advice.
If your employer has chosen to partner with iMas Finance you can access their range of financial training programmes and credit products, including vehicle finance.
Their iCar services
In addition to obtaining a car loan or refinancing your existing loan with iMas Finance, you can also buy and sell your car using their platform. They have relationships with over 1,000 registered dealerships across the country and can leverage this to help you find the right car for your needs and budget.
Empowering you through shared value
These cashback rewards are what enable iMas Finance to empower you as one of its members. They believe that this is what will enable you to improve your finances and ultimately boost your contribution to society.
iMas Finance is a financial services provider that takes pride in remaining at the forefront of the industry by seeking out innovative solutions and technologies.
iMas Finance Services
iMas offer vehicle finance to South Africans looking for affordable, flexible solutions that give them more than regular banks and lenders.
Once you take out a car loan with iMas you automatically become a member and eligible for their cashback rewards programme.
Types of vehicle finance products offered
iMas offers a variety of car loan types including balloon payment and instalment agreements. You can also refinance your loan or choose to switch to them and access better rates and more flexible terms.
You can finance a car of any value, and select a loan term of between 6 and 72 months depending on your credit, loan amount, and budget.
You'll be offered an interest rate that's unique to your credit profile, lending needs, and budget, however, iMas has a list of standard fees that apply to all loans issued by them.
How much will an iMas car loan cost?
An initiation fee of R1,207.50
A monthly fee of R69
Finance flat fee of R1,207.50
A monthly instalment fee of R89.01
Low car loan interest rates
iMas offer low-interest rates on their vehicle finance. This makes it possible for them to not only offer you competitive deals but also attract people currently financed by a bank or other lender.
Personal loans and purchase cards
In addition to their vehicle finance options, iMas Finance can offer you a personal loan of up to R200,000 and a purchase card that will help you earn rewards in more than 12,000 nationwide stores.
This includes retailer giants like Clicks, Dischem, PEP and Woolies. Their pension-backed property finance also offers incredible benefits and allows you to increase the value of your home.
iMas Finance – Vehicle finance
Loan Type

Vehicle finance

Interest Rate

6 – 15% p/a

Repayment

6 months to 72 months
Benefits of iMas Finance
Affordable interest rates
A variety of finance options
A Rewards Programs
Vehicle finance calculator
Apply for low-rate vehicle finance with iMas and earn cashbacks
Applying for a low-rate car loan from iMas means you not only save money over the term of your loan but you also enjoy cashback rewards.
If you're looking to purchase a car and want the most budget-friendly option, this co-operative may just have the best offers on the market.
Before completing a car loan application with them, contact them to find out whether your employer currently has an agreement with them. In this case, your credit application will be dealt with according to this agreement.
Do you qualify for a car loan from iMas Finance?
If you're over the age of 18, an RSA citizen or permanent resident and are employed full-time and earning a stable income, you're welcome to apply for an iMas car loan.
Another two important considerations are affordability and your credit history. If you can afford the repayments on your car loan and have a fairly good credit history, you're on your way to becoming the owner of a brand-new ride.
Document required to apply
Your South African ID or Smart ID Card
6-month bank statements
Your most recent payslips
Car loan details and certificate of balance if refinancing or switching
iMas recommend that you always aim to work within your budget and leave lots of room for additional expenses like insurance and maintenance as well as fuel and unexpected interest rate hikes.
What you can do on the IEMAD Financial Services website
iMas has created a vehicle buying, selling, and sourcing website that's connected to over 1,000 dealerships across the country. You can add your vehicle if you wish to sell it and search for your next car among hundreds of listings.
Calculate your monthly car loan repayments
If you need help deciding how much you can afford, simply make use of their car loan calculators.
This allows you to work out your monthly instalments based on how much you want to borrow, how much you have to put down as a deposit and the interest rate that will be applied.
Customer Reviews & Testimonials
"
September 2022
I had my heart set on a new vehicle and decided to apply for vehicle finance from iMas. They assisted me with a quick and easy application process. My funding was approved and my loan was granted...
Johan V
— George —
July 2022
A family friend told me about the success she had had with iMas. I went online and applied for vehicle finance from them. I was delighted at the amazing service I received from them. Thank you iM...
Jermaine P
— Aberdeen —
October 2022
I would like to take this opportunity to thank iMas for assisting me with the vehicle finance I required. They were helpful and professional. I will recommend them to everyone I know.
Cassandra F
— Sandton —
iMas Finance Contact
Contact Number
E-Mail
Website
Physical Address
iMasFinance Park, C/O Embankment Road &, Kwikkie Cres, Zwartkop

Centurion

0157

South Africa
Opening Hours
Monday

07:45 – 16:30

Tuesday

07:45 – 16:30

Wednesday

07:45 – 16:30

Thursday

07:45 – 16:30

Friday

07:45 – 16:30

Saturday

– Closed

Sunday

– Closed