Vehicle finance up to R200,000
Low-interest starting from 10.25%
Repayment up to 72 months
In-page navigation
---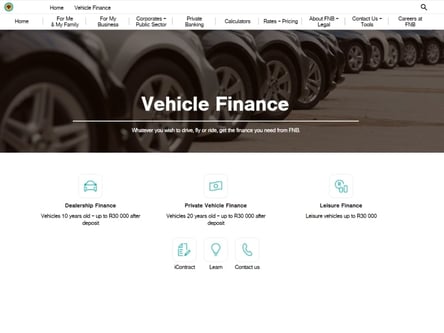 Author FNB. Screenshot of FNB website.


[Accessed January 30, 2023]
Let FNB help you finance your dream car
Let them help you finance your dream car.
FNB was established in 1838, making it the bank with the most heritage in the country.
For many years, First National Bank has provided many South Africans with car loans that are affordable and offer ideal terms that meet the client's needs, thus enabling them to purchase the vehicle of their dreams. FNB continuously strives to serve its clients with the most competitive car finance available on the market.
Always working hard for you
Their main objective has always been to provide clients with a level of top-quality, personalised service. The Acacia tree is the official symbol of FNB and it shows the roots and how strong their bond is with South Africa. They have a high level of care for their customers and are dedicated to giving you the best assistance possible.
First National Bank has some of the best recruitment policies and they strive to develop their people through appropriate training skills, further studies, and skills development.
With one of the best customer service training programs, they ensure that their staff meets their customers with friendly, professional, and efficient services at all times.
With them, you can be assured of reliable assistance in record time
Get affordable Vehicle finance with FNB
As one of the country's largest and most technologically advanced banking institutions, they offer customers appropriate, affordable, and advanced credit services and products.
Their services range from vehicle loans and home loans to everyday debit accounts. As a deeply rooted company in South Africa, they continuously develop as a result of paying careful attention to their customers. They pride themselves on delivering their best efforts to customers and also on supporting the community.
Get affordable Vehicle finance with FNB
They have saving accounts on offer, home loans, overdrafts, and student loans.
If you need insurance, they have this on offer as well for both personal and business-related requirements. You can also simply apply for a bank account and credit card through FNB if that is what you're after.
Buying or leasing
You can also access a lease agreement with them which will allow you to lease a car and either purchase it or return it at the end of the loan term.
Their sale agreement offers you between 12 and 72 months to repay your loan at either a variable or fixed interest rate. With this type of vehicle finance, you can own the car once the loan has been fully paid.
Securing Vehicle finance with FNB
You can expect a great deal from FNB when you are looking for vehicle finance as they strive to make the vehicle purchasing process as stress-free and simple as possible.
Their website consists of articles of information that they recommend you read before applying for a loan with them. You can also use their helpful financial guides to assist you in purchasing a car.
Only the best options for you
There is great flexibility when it comes to the interest rates of First National Bank. Both instalment sales and leases can be financed which gives you extra flexibility.
You can choose from fixed and variable rates, and these rates are highly competitive, and determined by individuality. If you want to own your vehicle at the end of the vehicle loan term, then you should opt for the instalment sale agreement which transfers ownership to you at the end of the term.
FNB – Vehicle finance
Loan Type

Vehicle finance

Interest Rate

from 10.25%

Loan Amount

up to R200,000

Repayment

160 days to 72 months
Benefits of FNB
Fixed interest rate
Comprehensive travel insurance
Revolving car loan
Vehicle finance calculator
FNB Car Finance – Only the best options for you
You'll need to possess a valid identity document, a utility bill or other proof of address, and three months' bank statements or payslips as proof of income.
They'll perform a credit check and you will need to be employed full time and be earning a stable income.
How fast they really are
FNB offers immediate application feedback, and you can apply online or at one of their banks.
Once submitted, a representative will call you within 30 minutes to inform you of your online loan application outcome.
You won't find a quicker service than this as you know almost instantly whether your application is successful or not.
To sum it all up
They offer a secured loan option that you can apply for online or in-store with a processing time of 24 hours. Their terms vary from a minimum of 12 months to a maximum of 72 months.
The benefits of being an FNB loan holder
Easy management and navigation through their user-friendly app.
Customer service is always on point.
Instant answers.
Immediate access to funds when you are approved.

FNB is a trusted & reliable provider of vehicle finance
In our review, FNB adheres to the compliance criteria in accordance with the National Credit Act, where the granting the loan will not cause financial distress to the consumer.
✅ FNB is a registered credit provider in South Africa: NCRCP 20
Customer Reviews & Testimonials
"
July 2018
It only took me 30 minutes to apply for a car loan and I received my outcome immediately. First National Bank helped me buy my very first car and I will be forever grateful. Thanks so much for ta...
Alison D
— Cape Town —
December 2018
Being a student I didn't ever think that I would be able to afford to buy a vehicle as I had no deposit and limited disposable income. I was happy to find your lease to own vehicle financing opti...
Kendall H
— Port Elizabeth —
November 2018
Buying a new car was a very daunting experience and I didn't know where to start or how many options there were to consider when it came to vehicle financing. I was very impressed with the wealth...
Carter K
— Gordan Bay —
May 2019
FNB helped me find a low-cost demo vehicle that easily fit into my budget. There was a wide variety of options available and I was very happy to be able to obtain insurance directly from your com...
Ayden B
— Paarl —
October 2021
I have been a client for so many years and never have I been disappointed by FNB. They are fast and reliable especially when it comes to approving loans.
Du Plessis A
— Upington —
October 2021
Got my car loan through them and they offered me an awesome deal. So happy.
Ndluli S
— Brits —
November 2021
I was astonished at how fast they approved my loan and how quickly everything was done and dusted. I am a proud owner of a new Toyota Yaris thanks to them.
Nel J
— Uitenhage —
FNB Contact
Contact Number
E-Mail
Website
Physical Address
3, First Place, Pritchard St & Simmonds St, Bank City

Johannesburg

Gauteng

2000

South Africa
FNB Universal Branch Code
---
Postal Address
PO Box 1153, Johannesburg, 2000, South Africa
Opening Hours
Monday

08:00 – 17:30

Tuesday

08:00 – 17:30

Wednesday

09:00 – 17:30

Thursday

08:00 – 17:30

Friday

08:00 – 17:30

Saturday

08:00 – 13:00

Sunday

– Closed