Vehicle finance up to R350,000
Low-interest starting from 14%
Repayment up to 60 months
In-page navigation
---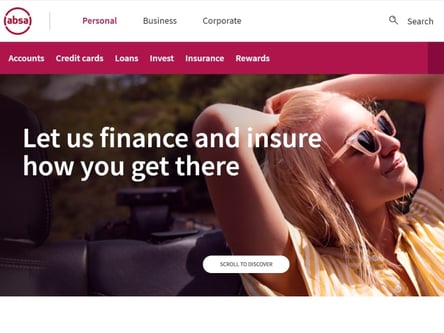 Author ABSA. Screenshot of ABSA website.


[Accessed January 30, 2023]
ABSA Vehicle Finance – A complete range of your best options
If you have had your eye on the car of your dreams for a while now, with ABSA you can get the vehicle finance you need in record time and at an affordable price.
They entered the banking industry to bring positive financial change to people who needed funding and as a result, have changed the lives of millions of people and still do today.
Their friendly team can assist you with the entire process of purchasing your new car as it is their business to turn possibilities into realities.
What makes ABSA great
They believe in playing an integral part in each customer's life by empowering them. So, when you choose to partner financially with ABSA, you choose to become family.
As a proudly South African brand, they strive to treat their customers with understanding and compassion as every customer is a valuable asset to them.
Sustainability is the key
With technology changing at a rapid rate in a short time, finding sustainable solutions is the driving force behind what ABSA does every day. Being able to assist people financially is one part of the solution. The most important part is empowering people to achieve and sustain healthy credit.
They continuously strive to bring their customers the latest and most efficient ways of getting funding. This is ultimately what sets them a cut above the rest.
ABSA – Setting the trend
The level of service that ABSA has to offer is world-class. Each new day is a day to do better. With them, more is always better.
The need to keep making a positive change is what drives them to keep reaching for new heights.
Whether it is vehicle finance, a home loan, insurance for your new car, a day-to-day account, or advice on wealth management, you will find everything you need with ABSA.
The vehicle finance that you need
With ABSAs vehicle finance there are countless ways of helping you choose the right vehicle as well as getting financing that will suit your budget.
They have made available a handy calculator that enables you to see what you could borrow and how much you would repay monthly. You are able to calculate your repayments with a balloon payment or a start-up deposit.
The repayment terms are flexible and offer you fixed or variable interest rates, you can choose what works for you.
So much more to offer
Apart from assisting people with vehicle finance, there is so much more on offer at ABSA. They bring you a comprehensive range of products to choose from.
They can also assist you with a credit card and offer insight and great advice on investing your hard-earned money.
An added benefit is that they have a fantastic rewards program that gives you back up to 30% on purchases for fuel, groceries, and much more from their affiliate partners.
ABSA – Vehicle finance
Loan Type

Vehicle finance

Interest Rate

from 14%

Loan Amount

up to R350,000

Repayment

30 days to 60 months
Benefits of ABSA
Competitive interest rates from 9.25%
Convenient loan terms up to 72 months
Apply online and get pre-approved
Vehicle finance calculator
Absa Vehicle Finance – Reliable Banking Partner
Driving away in your dream car has never been easier than this.
Applying for car finance from ABSA will take you about 20 minutes. They don't believe in long, drawn-out procedures so they get straight to the point.
Before you are directed to the application page you will need to confirm a few easy questions after which you are free to complete the form. To simplify the process you can make sure you have the necessary documentation on hand.
These documents may include:
Have your ID document on hand as proof of identification.
A three months' bank statements is needed to identify current expenses and calculate affordability.
As proof of income, you should have three months' payslips on hand as well.
Your current address can be established with an account sent to you.
Step one:
The first section of the application will be about the vehicle you want financing for as well as how much you would like to borrow.
Step two:
The second section will ask questions about your income and expenses. This will be followed by your details.
Step three:
You will be required to submit your completed application form along with all the relevant documentation. They will review your application and a consultant will be in touch with you shortly to explain what you need to do next.
Choosing ABSA can change your life
With the current state of the economy, it is not always possible to achieve your dreams and aspirations without a little help now and then. This is why ABSA is in the industry. They want to be a part of making people's dreams come true. With the quick, easy, and innovative financing that they provide, you too can prosper and have a better chance of a brighter future.
Benefits of ABSA vehicle finance
They are a trusted name in the industry.
The application is quick and easy.
They strive to help you prosper.

ABSA is a trusted & reliable provider of vehicle finance
In our review, ABSA adheres to the compliance criteria in accordance with the National Credit Act, where the granting the loan will not cause financial distress to the consumer.
✅ ABSA is a registered credit provider in South Africa: NCRCP 7
Customer Reviews & Testimonials
"
March 2019
I was able to apply for a loan over a 6 year period and I used this loan to purchase my vehicle. The repayment terms were very easy to manage and at the end of the contract, I have owned the vehi...
Dean S
— George —
December 2018
Your service is so convenient that I was able to apply for a car loan directly from my cell phone in only a few minutes. I was approved for financing before my lunch break was over and shopping f...
John B
— Cape Town —
April 2019
I found the car of my dreams but was unable to afford it and was heartbroken. My sister suggested that I apply for a loan with you and I was so happy when my loan was approved. I was able to bor...
Steven M
— Mooi Rivier —
May 2019
Thank you for negotiating such a good price on my new car and then helping me buy the car that I had my eye on. All I had to do was fill out one simple application form and you sent me so many ca...
Akhona B
— Soweto —
May 2021
I have been looking at my first vehicle for some time now. I knew I would not be able to purchase it in cash. I decided to apply for vehicle finance from ABSA and they have made my dreams come tr...
Thabang L
— Centurion —
August 2021
We needed a new car as ours was becoming more unreliable by the day. We applied for vehicle finance at ABSA. They helped us find the right car and assisted us with the financing we needed.
Abrahms C
— Bloemfontein —
November 2021
Buying my first car was a scary thought. I did not know where to begin because I knew I would need financing. My mother suggested I apply for vehicle finance from ABSA and I would like to thank t...
Benecke J
— George —
ABSA Contact
Contact Number
E-Mail
Website
Physical Address
180 Commissioner St, City and Suburban

Johannesburg

Gauteng

2000

South Africa
ABSA Universal Branch Code
---
Postal Address
PO Box 7735, Johannesburg, 2000, South Africa
Opening Hours
Monday

08:30 – 15:30

Tuesday

08:30 – 15:30

Wednesday

08:30 – 15:30

Thursday

08:30 – 15:30

Friday

08:30 – 15:30

Saturday

08:00 – 11:00

Sunday

– Closed