Find cars for sale
Low-interest starting from 7.25%
Repayment up to 72 months
In-page navigation
---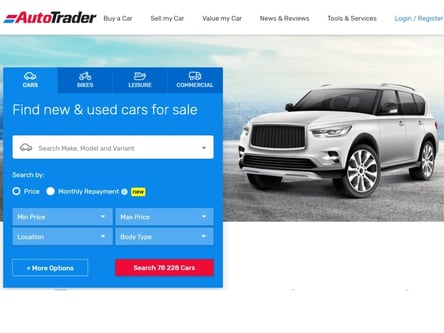 Author AutoTrader. Screenshot of AutoTrader website.


[Accessed January 30, 2023]
AutoTrader is SA's most trusted car financier
Whether it is a new car, a used car, or a trade-in that you are looking for, Auto Trader is your go-to for anything automotive.
As an added bonus, they can assist you with the vehicle finance you need as well.
The days when you would search for a vehicle and then have to approach the bank for finance have become a thing of the past. Many car dealers now offer you in-house finance. No extra stress and no extra effort on your part.
Where Auto Trader began
Starting with the business in 1992, Auto Trader has gone about becoming South Africa's most trusted automotive trader. They have grown exponentially and made it their mission to assist people across all vehicle types.
As time went by and technology changed, they made the transition from print to digital. They have created the largest online automotive marketplace since their last printed issue. This was published in the Auto Trader Magazine in 2017.
A little more about Auto Trader
With over 5 million visits on its online platforms, it's fair to say that Auto Trader has the largest automotive marketplace in South Africa. With more than 76 000 vehicles to choose from, you won't find a bigger online marketplace elsewhere.
The state-of-the-art technology that is used by Auto Trader brings together buyers and sellers all over South Africa. They have a fully responsive website, a first of its kind in South Africa. More than 70% of dealerships in South Africa make use of the Auto Trader platform.
A car financing partner that you can trust
Auto Trader offers a comprehensive service when it comes to vehicles.
They offer everything from vehicle finance to vehicle insurance and checks. They inform their customers about every aspect of buying or selling a vehicle.
Being well informed allows you to make better choices in life. This also applies to purchasing a vehicle and obtaining the financing to make the purchase. The website is well-put-together and easy to navigate. Finding the vehicle that you need is only a click away.
Choose your vehicle financing wisely
When you are ready to purchase a vehicle and you are in need of vehicle finance, it is good to know that there are a few options available. Understanding each one lets you make the best possible decision financially.
There is a whole section on their website explaining each finance option in detail. Make sure that you read everything. The helpful and friendly team at Auto Trader will be ready to answer any questions you may have.
Auto Trader has a few tips and tools to help you
It has always been beneficial if you are able to calculate what you will repay when taking out vehicle finance. That is why they have put a finance calculator on the website.
Under the tools and services tab, you will locate the finance calculator. According to the finance option you need, you will be able to calculate what you will repay monthly and how much deposit will be required. It is easy and free to use.
AutoTrader – Vehicle finance
Loan Type

Vehicle finance

Interest Rate

from 7.25%

Repayment

12 months to 72 months
Benefits of AutoTrader
Get the finance today
Low-interest starting from 7.25%
Repayment up to 72 months
Vehicle finance calculator
Auto Trader Car Loans – Favorable Deals
In order to acquire the financing that you need you will require a few documents. This is standard practice with any loan.
Documents you may need:
Proof of your income by means of a three-month bank statement or a letter from your employer stating your income.
Any proof of your current address, so any official document with your address will do.
Proving that you can afford financing through a 3-month bank statement. This shows your income as well as your expenses.
Lastly, but equally important, a clear and valid copy of your South African id.
When you have these documents on hand, you are ready to start the process of applying for car finance.
Step one:
You can make use of their online finance calculator on the website. Calculate the estimate of what you can expect to pay with, and without a deposit.
Step two:
When you have found the car that you are interested in, you can click on it and you will be directed to the information page. There you will find the information of the vehicle in question as well as the seller's information.
Step three:
As soon as you have decided on the price you can start the finance application. You send all the documents together with the application and Auto Trader does the rest.
Step four:
You will be contacted within 24 hours to complete your finance application. After all relevant contracts have been signed you will be driving away in your new set of wheels in no time.
Auto Trader is a trusted name nationwide
When you are in the market for a new vehicle it is always best to go to a trusted and reputable platform. Auto Trader has worked hard over the years to ensure customer satisfaction.
Trusting them to make sure you get a great deal is a good choice. Take the leap today and trust Auto Trader to do the rest.
The benefits of using Auto Trader
They are a trustworthy company.
You have access to more than 76 000 vehicles.
They assist you with financing your new vehicle.
They are South Africa's leading automotive platform.
Customer Reviews & Testimonials
"
December 2018
I was able to sell my car and buy a new car using your service. The process was very simple and my consultant kept me informed about what was happening every step of the way. Once I purchased my...
Carmen S
— Free State —
February 2019
The friendly advice and excellent service that I received deserves to be commended, applying for vehicle financing was so easy and I was helped every step of the way. Thank you for making the exp...
Telissa V
— Upington —
April 2019
There were so many vehicle options to choose between that I was able to find exactly what I was looking for, at a price that I could afford. The notification service that let me know when a new v...
Tisha N
— Limpopo —
October 2021
Buying a new car is a scary thing in today's day and age. There are so many scammers out there. With Auto Trader, I was sure that they are trustworthy and that they would help me find the right c...
Ncamani B
— Rustenburg —
November 2021
I was amazed at the variety of vehicles on offer at Auto Trader. There were so many to choose from. I quickly found what I was looking for through the search bar. They assisted me with vehicle fi...
Oelofse C
— Empangeni —
December 2021
Looking for a new set of wheels was something I was dreading. I searched vehicles online and came across what I was looking for on the Auto Trader website. They have a user-friendly website and c...
Sampie O
— Outshoorn —
AutoTrader Contact
Contact Number
E-Mail
Website
Physical Address
Polifin House, 154 Bram Fischer Drive

Randburg

Gauteng

2194

South Africa
---
Postal Address
PO Box 4825, Randburg, 2125, South Africa
Opening Hours
Monday

08:00 – 17:00

Tuesday

08:00 – 17:00

Wednesday

08:00 – 17:00

Thursday

08:00 – 17:00

Friday

08:00 – 17:00

Saturday

– Closed

Sunday

– Closed