Quick car finance
Compare loan offers
Drive away today
In-page navigation
---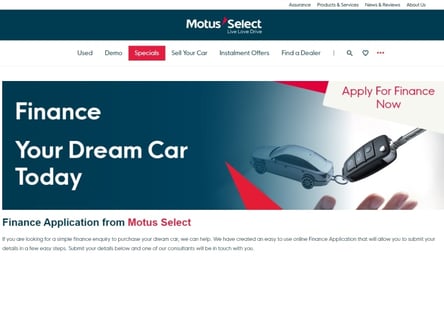 Author Imperial Select. Screenshot of Imperial Select website.


[Accessed January 30, 2023]
Imperial Select has the best vehicle finance and insurance
Looking for the best vehicle finance and insurance?
Imperial Select is known for offering a wide variety of new, used, and demo cars in South Africa.
Their expert finance and insurance managers are registered with the FSB and NCR and they have more than 40 branches around the country. When you purchase a car from them, you can expect to access the best vehicle finance and insurance deal on the market.
A dedicated range of services
They have a wide range of brands including Kia, Tata, Hyundai, and Renault among many others. Their main initiative revolves around finding vehicles, both new and used and then selling them directly to the public.
All vehicles available for sale and the financial products and services that they offer are top quality since they have aligned themselves with the top brands in the industry.
They work with F&I Management Solutions which is a licensed financial service provider and will apply for finance with MFC, Absa, Wes Bank, and Stannic on your behalf. They'll help you attain a car loan through their in-house finance experts.
Ask their in-house finance experts
At Imperial Select, they can find the right car for you whether you're looking to buy your first car or looking to upgrade your existing vehicle.
A great advantage of their personal loans is that you'll have access to professional assistance and dedicated after-sale service.
Their staff is highly efficient and they also offer supplemental services including service plans, roadside assistance, extended warranties, securing vehicle finance, leading vehicle insurance products at great prices, and much more.
Proper assistance
You can use their finance calculator to compare different car loans and to determine your required amount as well as the loan term that suits you. Their finance and insurance managers will give you full loan repayment assistance and explain your contract and answer all questions you have.
Affordable rates and flexible repayment
Imperial Select car loans are among the most convenient and affordable you can find and they'll give you the chance of securing a loan with affordable interest rates and flexible repayment terms.
They have secured loan options that extend in terms from 12 months up to 5 years and the average processing time for these applications are 48 hours.
Imperial Select – Vehicle finance
Loan Type

Vehicle finance
Benefits of Imperial Select
Get finance today
Vehicle testing
Find the perfect car
Vehicle finance calculator
Imperial Select - vehicle and financing solutions
Their car and personal cash loans can be applied in-store or online, whichever suits your day better.
You can go into any Imperial Select branch and sit down with one of their helpful finance and insurance managers to apply.
They'll help you establish a budget and apply for vehicle finance at MFC, ABSA, Wesbank, and Stannic. You can select from a wide variety of traditional and online lenders and products, so it's well worth researching them in advance. You can also just call them for assistance.
Direct application for a loan
Imperial Select is not a lender, they act as a financial advisor who'll help you choose from the many deals available in South Africa. You'll have quick and easy access to vehicle loans through the dealer- Imperial Select. They offer loans from a list of reputable lenders that have a solid reputation.
You can visit their website to complete your online loan application.
One of their experienced managers will contact you after you supply them with your information to discuss your vehicle finance options in more detail.
Criteria when applying
A valid identity document.
A utility bill not older than three months.
Three months' recent bank statements.
You'll need to earn a stable monthly income.
A credit check will also be done by them to ensure that everything checks out.
Let them call you
By simply filling in what you're interested in, your name, surname, contact number, email address, and province, they'll call you back in a few minutes to assist you immediately with whatever it is you need.
Benefits of applying through Imperial Select
Speed and accuracy are a high priority for them.
Access to the best deals from reputable lenders.
All the hard work will be done for you.
They have a highly dedicated team that will ensure a hassle-free process.
You can apply online, over the phone, or in-store, whichever you prefer.
Ample options to choose from.
Customer Reviews & Testimonials
"
February 2019
I was able to trade in my old vehicle for a great price and use that as a deposit on my new vehicle. Thank you for handling the sale of my vehicle so well and for helping me find a new car so qu...
Colton J
— East London —
April 2019
You're after sales service is excellent and I was super impressed that you followed up after the fact to make sure that I was a happy customer and didn't have any issues with my vehicle after pur...
Dylan B
— Port Shepstone —
October 2021
Their service level is at a very high standard and they helped me to get what I needed in record time.
Khosa J
— Kimberley —
August 2021
This company really kept its promises and delivered everything I wanted.
Smith J
— Pretoria —
November 2021
Thanks to them I now have a new car and a very affordable monthly repayment.
Bosch M
— Cape Town —
Imperial Select Contact
Contact Number
E-Mail
Website
Physical Address
Corner Kings Road & Section Street

Paarden Island

Cape Town

7405

South Africa
---
Postal Address
PO Box 4089, Edenvale, 1610, South Africa
Opening Hours
Monday

07:30 – 17:30

Tuesday

07:30 – 17:30

Wednesday

07:30 – 17:30

Thursday

07:30 – 17:30

Friday

07:30 – 17:30

Saturday

08:00 – 13:30

Sunday

– Closed