Loans bad credit up to R4,000
Low-interest starting from 0.17%
Repayment up to 32 days
In-page navigation
---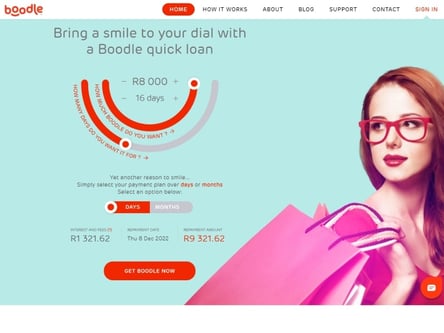 Author Boodle. Screenshot of Boodle website.


[Accessed January 30, 2023]
Boodle - Quick personal loans
Chances are you ended up here because you need a loan, but your credit record makes it difficult to find a loan elsewhere.
No need to worry, Boodle can help you with a bad credit loan to get you back on your feet. Many South Africans are finding themselves falling into financial turmoil with the trying times they are faced with.
Many mainstream banks simply don't give people the chance to improve their credit. This is where Boodle becomes your trusted partner in the finance industry.
Boodle helps regain financial freedom
Boodle saw that there was a great need for ordinary people with bad credit ratings to acquire loans from time to time. This made them think about how they could change that.
They decided to make available a bad credit loan for people struggling to find financing elsewhere.
It was soon clear that with a little help from time to time, people with bad credit were able to rectify their financial status. Over the years Boodle made a good name for itself in the industry.
Simplicity is key with Boodle
Life is complicated and challenging at times. When people run into financial difficulty, they often get themselves into more trouble with loan sharks. At Boodle everything is clear and simple. The application process has been made super easy so that people choose the right way of obtaining loans.
There is no need to run around feeling frustrated because you are unable to get a loan. With Boodle's bad credit loan, you are in good hands. They take care of their clients.
Speedy and efficient loans
It's quite simple, Boodle is in the business of giving second chances. When others turn you away and it seems that all hope is lost, Boodle jumps in to save the day.
With them, you can access a simple, fast, and easy bad credit loan. They understand that financing is a problem when you have bad credit. Their service is a second chance.
They strive to help you as best, and as they can. Nobody has time to wait when they need money right away. This sets them a cut above the rest.
Know what you will pay before you apply
When you go to the Boodle website, you will be greeted with a bad credit loan calculator. They call it their SmileDial.
The SmileDial works the same way as any other loan calculator. You will use the top slide to indicate the amount you want to borrow. The bottom dial will be used to indicate the loan term. You can adjust these dials to your needs. You can borrow up to R6000 over a period of 24 days.
What makes Boodle different from other lenders
Boodle works with you to find suitable and responsible financial solutions. They want to offer people the chance to improve their finances. They understand that when people get second chances, great things can happen. It's all about enabling possibilities. That is why Boodle is a great choice.
The entire process has been made super easy and you will be pleased to know that everything is done paperless, online. This adds convenience to the process.
Boodle – Bad credit loan
Loan Type

Loans bad credit

Interest Rate

0.17 – 60% p/a

Loan Amount

up to R4,000

Repayment

2 days to 32 days
Benefits of Boodle
Bad Credit Loans
Personal Loans
Short-term Loans
Bad credit loan calculator
Boodle knows all the financial tricks of the trade for this time of year!
First things first, just like any other loan application, there are a few things that you will need to complete the process.
Remember how Boodle boasted about simplicity?
The documents needed are the following:
You will need your cell phone number to receive your one-time pin.
Your banking details are required.
And lastly, you will have to keep your id number handy.
The process doesn't get simpler than this. Now that you know which documents you need, you can almost start applying. Make sure you have an internet connection and navigate to the Boodle website.
Here are the four easy steps you must follow:
Step one:
Once on the Boodle website, you can use the SmileDial to indicate the desired bad credit loan amount and the term. If you are happy with the amount, you can move to the next step.
Step two:
The next step in the process is to complete the application form. This will take you less than ten minutes. Make sure you answer truthfully.
Completing all areas of the form in full will ensure a smoother process. If you are done you can submit your form.
Step three:
Boodle will do the necessary checks to make sure that everything checks out. They will verify all the information and make sure that you are not getting into more financial difficulty.
Step four:
As soon as Boodle is sure that all your information is checked and verified, they will present you with a bad credit loan offer. If you accept the offer, your loan will be paid out within 10 minutes.
Choose Boodle for success
It is fair to say that everybody deserves a second chance. We all slip up sometimes and that does not need to be the deciding factor in making a change.
If it's a bad credit loan you need, let Boodle help you to better your credit rating with a second chance. There is no better time than now to take the chance to succeed.
Benefits of a Bad credit loan from Boodle
Your details are safe and secure with Boodle.
They payout within 10 minutes of approval.
They offer you a loan even if your credit is bad.
The application process takes less than 10 minutes from start to finish.
Customer Reviews & Testimonials
"
May 2018
My bills were piling up and I just needed to get them under control the company has helped me get my loan under control and helped me sort out my bad credit.
Johnson T
— Cape Town —
November 2018
I got my cash within an hour of applying I was shocked it went that quickly.
Joanna S
— Port Alfred —
February 2019
My application took a few minutes - it's that easy to apply using the company and you won't go wrong with them I recommend them.
Maggie V
— East London —
October 2021
When you have bad credit, getting a loan is not one of the easiest things. Luckily Boodle has made it their business to give people a second chance to rectify their credit.
Brewis S
— St Francis —
September 2021
It seemed that I would not get a bad credit loan anywhere after I was declined at all the major banks. A quick internet search brought me to Boodle and finally, my prayers were answered.
Ncamani L
— Port Elizabeth —
December 2022
I was on the verge of giving up when a friend told me to try Boodle. With my credit not being good, I was doubtful. I decided to give them a try and they approved my bad credit loan instantly.
Meintjies P
— Secunda —
Boodle Contact
Contact Number
E-Mail
Website
Physical Address
26 Girton Rd Parktown

Johannesburg

Gauteng

2193

South Africa
Opening Hours
Monday

08:30 – 17:30

Tuesday

08:30 – 17:30

Wednesday

08:30 – 17:30

Thursday

08:30 – 17:30

Friday

08:30 – 17:30

Saturday

– Closed

Sunday

– Closed