Loans bad credit up to R200,000
Flexible repayment plans
Competitive interest rates
In-page navigation
---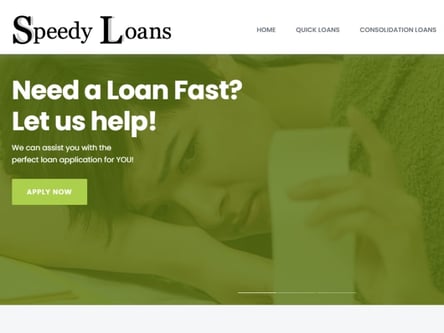 Author Speedy Loans. Screenshot of Speedy Loans website.


[Accessed January 30, 2023]
About Speedy Loans
Does the thought of applying for bad credit loans online make you feel anxious?
Speedy Loans may be the answer you've been looking for. They're an online loan broker who works with various NCR-accredited lenders to take some of the stress out of the application process.
How Speedy Loans can help
If you have a low credit score, you may have difficulty in applying for the finance you need. This is because when lenders review your credit history and see that you have a bad score, they immediately assume that there's a high likelihood that you'll default on future loans. But there are still options available to you.
Speedy loans connect you with lenders willing to look past your credit status. Their goal is to give you the best chance of getting credit approval to help you out of your current financial situation.
How a loan broker benefits you
When you apply for loans, credit cards, or in-store credit, the company you apply to will do a credit check. In itself, this isn't a problem, but every credit check leaves a flag on your credit history. Having multiple checks in a short space of time will take points off your score.
Brokers like Speedy Loans end the vicious cycle by matching you to the financial provider best suited to help you. You won't have to apply to multiple lenders and cross your fingers, hoping one of them approves your application.
Is this service safe and affordable?
Speedy Loans pride itself on its ability to give you a safe online loan experience. You can apply for a bad credit loan knowing that your personal information is secure and will only be shared with trusted lenders.
Speedy Loans structures the application process to make it accessible to everyone and it takes just a few minutes to complete. You can enjoy loan approval within hours of applying, regardless of your credit score. You'll never be charged a commission fee for using Speedy Loans, and there are no hidden costs associated with the service. Your interest rate will be between you and the lender matched to your profile.
Speedy Loans Services
Speedy Loans bridges the gap between you and a financial services provider who can offer you flexible loan terms at affordable rates. Bad credit loans are no exception.
While you may be charged higher fees for these loans, you'll have access to the most affordable options available. They aim to get you the finance you need as quickly as possible. Three categories of loans fall under the heading of bad credit loans when you use Speedy Loans services.
Quick loans of up to R8,000
If you need between R1,000 and R8,000 and can repay the loan amount in 1 to 3 months, this is the ideal option. Quick loans are primarily used as a short-term solution for the financial bumps in the road that won't wait till payday.
Quick loans can be a more affordable option than financial products with a longer repayment term. This is because the interest rates charged can only be spread out over a maximum of 3 months. Typically quick loans get approval faster as well.
Flexible personal loans of up to R200k
If you need to borrow between R8,000 and R200,000 with up to 7 years to repay, a personal loan is perfect! Long-term loans may cost more over time, but the longer repayment period makes the monthly instalments more affordable.
When you apply for a bad credit personal loan from Speedy Loans, approval depends on whether you can afford the repayments and not your credit score. Another benefit of using their services is that they don't require collateral.
Consolidate your debt and save on interest
If you're overwhelmed by your debt and are trying to find a way to minimise it, a consolidation loan is a great place to start. It works the same way as a personal loan. It's a long-term loan structured specifically to pay off all your outstanding debts at once.
Speedy Loans provide access to bad credit consolidation loans that are personalised to suit your pocket. This will typically bring down the amount you pay in monthly interest fees on outstanding debt.
By responsibly paying off your consolidation loan, your credit profile will slowly improve until your bad credit score is a thing of the past.
Speedy Loans – Bad credit loan
Loan Type

Loans bad credit

Loan Amount

up to R200,000
Benefits of Speedy Loans
Apply online in less than 2 minutes
Competitive & affordable interest rates
Same-day cash payouts
Bad credit loan calculator
Speedy Loans gets you the finance you need faster
Speedy Loan's application process is the only thing faster than getting your bad credit loan approved. The application form is simple and only takes a few minutes to complete. Once you've filled in the online form and agreed to a credit check, simply sit back and wait for one of their financial advisors to contact you.
Who can apply
To apply for your bad credit loan, you must be a South African citizen with a valid ID, 18 years or older, and permanently employed. You'll be required to have a bank account in your name, an email, and a valid phone number.
Once you've completed the application form, you'll be contacted by an agent.
You'll be asked to forward them the following documents:
ID document
Proof of address
Current payslip
90-day bank statement
Extra requirements for consolidation loans
When applying for a consolidation loan, you may be required to provide statements from your credit providers. To save time, it's best to calculate the total amount of outstanding debt. You'll need that number on hand when filling in the form.
Whether you've already been blacklisted or are still holding on to a positive credit score by a thread, there are options available to you. Speedy Loans can help you turn things around by helping you access the ideal loan option for your specific needs.
Customer Reviews & Testimonials
"
June 2022
Knowing that I didn't qualify for a loan from any of the major banks I was almost ready to give up. A friend advised me to apply for a bad credit loan from Speedy Loans and I did. They were able ...
Jonathan A
— Somerset East —
May 2022
Getting a bad credit loan was becoming nearly impossible until an internet search brought me to Speedy loans. They assisted me with the financing I needed. Speedy Loans is a great lender.
Sandra V
— George —
February 2022
Having bad credit doesn't help when you need to apply for a loan. Thankfully Speedy Loans considers many factors and can help with bad credit loans. They helped me get back control of my finances...
Dimpho M
— Bethelsdorp —
Speedy Loans Contact
Contact Number
E-Mail
Website
Physical Address
Pinewalk Centre, 30 Kings Rd, Pinetown

Durban

KwaZulu Natal

3620

South Africa
Opening Hours
Monday

09:00 – 17:00

Tuesday

09:00 – 17:00

Wednesday

09:00 – 17:00

Thursday

09:00 – 17:00

Friday

09:00 – 17:00

Saturday

09:00 – 17:00

Sunday

09:00 – 17:00