Loans bad credit up to R250,000
Low-interest up to 28%
Repayment up to 60 months
In-page navigation
---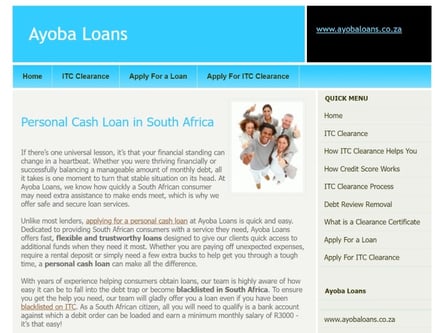 Author Ayoba Loans. Screenshot of Ayoba Loans website.


[Accessed January 30, 2023]
Ayoba Loans - Fast and flexible loan solutions
Ayoba loans have affordable loans to all South Africans in need of access to funds when they don't have them!
Ayoba loans are completely secure, they're a well-established and legitimate company and ensure your loan is held in the strictest confidence. Ayoba Loans offer easy repayment periods and no security is required when applying for personal loans.
Personal loans
Their personal loans are quick and quite simple to apply for, even if you're blacklisted, they still offer their application process to you. Their online platform is easy to use and they'll offer you bad credit loan options that suit your individual financial needs.
They have many years of experience in the financial industry, and with their extensive experience, they've designed a loan service that is easy to apply for, with a quick turnaround time.
Unsecured loans with competitive rates
With their unsecured loan options, you won't have to use your assets as security in order to obtain a short-term loan from them. Their loan terms are flexible and their interest rates are highly competitive in today's financial market.
Safety is a key concern
They use unique data privacy procedures that'll guarantee the security and safety of your personal files and details. Their safety procedures ensure that their database is safe from anyone outside of their company.
They strive to deliver you with a premium service. Since their employees are passionate about finance, they'll assist you in choosing loan terms that'll fit your individual budget.
You'll get cash fast
Finding a loan with Ayoba Loans is easy. They've simplified all of the processes to get your funds in the shortest possible time.
You won't have to sit and wait tirelessly for your cash to be paid into your account, and you can apply for a loan of up to R250 000.
Loans for clients with bad credit
They understand that getting a loan can be difficult when you have bad credit. At Ayoba Loans, they treat you equally regardless of what your credit score is and can offer you a range of loans for bad credit. By means of an EFT, they transfer the funds into your account as soon as you've been approved for a loan.
Loan approval procedure
At Ayoba Loans, as opposed to reviewing your credit score, they rather do an affordability assessment to calculate the balance of your salary after expenses. This allows them to determine how much you can afford in monthly repayment instalments.
Customer care and confidentiality guaranteed
They care about you and each loan application will receive personalised attention from one of their passionate consultants. They strive to give you excellent service delivery, and your application will be processed with the highest priority and confidentiality to get you the money you need in a hurry!
Quick turnaround times backed by technology
Their loan process is designed to offer a short and user-friendly service. They have innovative technology that makes the payday loan process and payouts faster than other lenders that you might find in the industry.
Ayoba Loans – Bad credit loan
Loan Type

Loans bad credit

Interest Rate

28%

Loan Amount

up to R250,000

Repayment

3 months to 60 months
Benefits of Ayoba Loans
Low-income friendly loans
Quick response time
Affordable repayments
The easiest online application
Bad credit loan calculator
Ayoba Loans - They'll save you time and money
At Ayoba Loans, they aim to be unique to other lenders and they believe obtaining a loan should not be time-consuming.
They've designed their loan process to save you time and with their low-interest rates attached to their loans, they'll save you money too.
Only the best lenders
On their online loan searching site, they have a wide variety of lenders and quick cash loan options available. They've formed partnerships with lenders who have reputable reputations, thus allowing them to help you find a loan that'll fit your budget and suit your financial requirements.
Loan requirements
They only grant bad credit loans to South African citizens who're permanently employed and over the age of 18. As soon as you've filled in the quick application form, you can upload or email your personal documents to them.
The loan process is 100% online to provide you with maximum convenience. The personal documents that they'll need in order to process your loan include a copy of your South African ID, proof of address, bank statements and recent pay slips.
Apply online now
Simply visit their website and fill out the application form, and you can expect the loan application process to take you a few minutes. You can apply from home or from your office to save you time and effort.
As soon as you've uploaded your personal documents, one of their consultants will do an affordability assessment and you'll receive prompt feedback about the outcome of your loan. As soon as you've qualified for an instant loan you'll receive the funds in your bank account in no longer than 48 hours.
They support responsible lending
At Ayoba Loans they work in line with the stipulations set by the National Credit Act. They support responsible lending and will never grant you a loan that you cannot afford to repay.
The lenders that they use also follow the stipulations set by the NCA. You can borrow up to R250 000 depending on your affordability assessment. They also work out a monthly repayment schedule that'll fit your individual budget, so there's no need for concern with repayments.
If you're blacklisted or have bad credit look no further. At Ayoba Loans they'll give you excellent customer service, easy loan applications and fast turnaround times. Apply online now and let them get the funds you need into your bank account. They strive to help you reach your financial goals and aim to do so when you apply with them.
Customer Reviews & Testimonials
"
November 2018
They have helped me out greatly awesome service and I couldn't have asked for better.
Jean C
— East London —
April 2019
Great service and got my loan within 60 minutes and was greatly surprised by the speed that Ayoba Loans work with. I recommend them.
Jonathan C
— Pretoria —
March 2019
I was helped to get a loan even after I had been blacklisted Ayoba Loans took the chance on me and I have received my loan.
Siya N
— Soweto —
Ayoba Loans Contact
Contact Number
E-Mail
Website