Loans bad credit up to R250,000
Low-interest up to 27.75%
Repayment up to 84 months
In-page navigation
---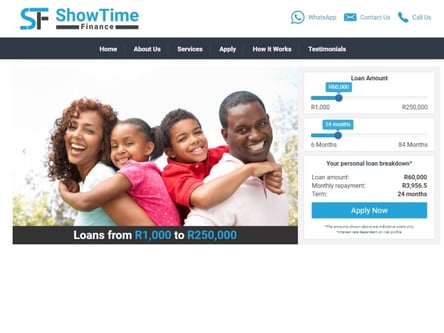 Author ShowTime Finance. Screenshot of ShowTime Finance website.


[Accessed February 28, 2023]
About ShowTime Finance
In October 2012, ShowTime Finance launched from its Belville office in Cape Town.
Their goal is to provide South Africans with an affordable and reliable credit solution that's easy to obtain.
How ShowTime Finance started
The ShowTime Finance story began with a growing need for financing for people who don't qualify for credit from traditional lenders.
This includes people with bad credit histories, garnishee orders, people who had been denied funding from banking institutions, and people who had judgements against their names. They soon became a household name and offered financial relief to many South Africans in need.
A financial services provider with values
When a company is incorporated, a clear set of values is drawn up as a foundation of its business conduct. These values typically tell you what you can expect from them and how they intend to handle situations within their scope of service.
Their values are clear and concise
The mission – By incorporating technology and innovative products and services, they aim to become a market leader in the financial services provider industry. They strive to service a broad customer base and provide financial solutions that make a difference.
The vision – The ultimate goal is to become South Africa's leading financial services provider. To achieve this they're proving a wide range of useful, relevant and reliable financial products. These products have been well-thought-through and tailored to suit your specific and individual needs. ShowTime Finance strives to uphold a high level of customer service.
What is a bad credit loan?
A bad credit loan is a form of financial relief that can be obtained even when your credit rating is low or you've been denied a loan from a bank because of your credit status.
ShowTime Finance Services
ShowTime Finance is committed to delivering the highest level of customer service in the industry.
They offer funding that's consistent, reliable, and affordable. Staying on top of trends and innovation in the finance industry put ShowTime Finance in a league of its own.
A bad credit loan to make life easier
ShowTime Finance can offer you loans ranging from R1 000 up to R250 000 with repayment periods that range between 6 months and 84 months.
You can apply and qualify for a loan even if your credit rating is not desirable or you've judgements or garnishee orders against your name.
If, for instance, you need a bad credit loan for R150 000, you can expect the following:
Loan amount – R150 000
Loan term – 24 months
Monthly instalment – R9 787.75
The same loan amount over a repayment term of 48 months could offer you a monthly instalment of R6 662.75. All of the bad credit loans offered by ShowTime Finance are dependent on your credit rating and risk profile.
Improve your credit rating
If you find yourself in a situation where you need funding but have a bad credit record, ShowTime Finance could assist you with the loan you need.
Should you wish to improve your credit rating and apply for a range of credit facilities that offer low-interest rates, ShowTime Finance has a service that does just that.
For R299 per month, they can assist you with improving your credit score. With the necessary guidance, advice, and support, they can help you to build and maintain a good credit rating. You can find more information regarding this service on their website.
ShowTime Finance – Bad credit loan
Loan Type

Loans bad credit

Interest Rate

27.75%

Loan Amount

up to R250,000

Repayment

6 months to 84 months
Benefits of ShowTime Finance
Repair your credit score
See your current credit rating
Quick online loan approvals
Bad credit loan calculator
ShowTime Finance could offer you a lifeline
Life can sometimes be unpredictable and when these times arrive, you can take comfort in knowing that ShowTime Finance could offer you the help you need.
They believe that everyone deserves a second chance and by changing the way loans are granted, you could get a second chance too.
What you'll need to apply for a bad credit loan
As with any financial services provider application, you'll need to provide a few documents to verify your information and establish if you can afford the loan.
Monthly income and expenses breakdown
Smart ID card/Green barcoded ID book
Proof of residence not older than 3 months
Your last three payslips
Bank statements for verification of your account
Employment details
How the application process works
When you have all the required documents you can start with the loan application. All you need for the application are your documents, a smartphone or laptop/computer, and an internet connection.
Get online and navigate to the ShowTime Finance website.
On the homepage, you'll see sliders that you can move to indicate the loan amount as well as the repayment term that suits your needs. You'll notice the real-time indicator below the sliders that give you an estimate based on the loan amount and repayment term.
Enter the loan amount you want to apply for, your personal details, and financial details and complete the third-party declaration. You'll be required to agree to the terms and conditions once you've read them by ticking the checkbox.
You're required to upload your documents so they can establish your identity and verify the information you supplied them with.
An affordability assessment and a credit check are done to establish the interest rate you'll pay based on your risk profile.
Once the loan is granted they'll send you an agreement that stipulates your loan term. You can then sign the agreement if everything is in order and send it back to them.
Your bad credit loan is paid into your bank account within 24 to 48 hours after the administration has been finalised.
Reasons to choose ShowTime Finance
They're an experienced company
Professionalism
More than 100 000 happy customers
They boast a 100% satisfaction rate
More than 250 000 loans granted to date
Affordable
Reliable
Innovative
Trustworthy
ShowTime Finance could lighten your financial load
With all of life's unpredictable scenarios, knowing that the financial help you need is available on short notice makes life easier. They've helped many South Africans to obtain funding when all other avenues failed. By changing the way funding is granted they're giving people hope.
You could get a second chance too if you choose to partner with ShowTime Finance.

ShowTime Finance is a trusted & reliable provider of loans bad credit
In our review, ShowTime Finance adheres to the compliance criteria in accordance with the National Credit Act, where the granting the loan will not cause financial distress to the consumer.
✅ ShowTime Finance is a registered credit provider in South Africa: NCRCP8077
Customer Reviews & Testimonials
"
March 2022
I needed a bad credit loan when a friend told me about Show Time Finance. I applied for the financing I needed and they paid out within 24 hours of my loan application. Choosing them was the best...
Melani B
— Kenton-on-sea —
August 2022
If I knew that applying for a bad credit loan would be so easy and stress-free, I would have done it long ago. Show Time Finance is a great company and they assisted me every step of the way.
Busi M
— Johannesburg —
June 2022
I have never come across an efficient and understanding company such as Show Time Finance. They assisted me with a bad credit loan in record time and were professional about it.
Shane F
— Cape Town —
ShowTime Finance Contact
Contact Number
E-Mail
Website
Physical Address
6 Inspan Rd

Bellville

Cape Town

7530

South Africa
Opening Hours
Monday

08:00 – 18:00

Tuesday

08:00 – 18:00

Wednesday

08:00 – 18:00

Thursday

08:00 – 18:00

Friday

08:00 – 18:00

Saturday

09:00 – 13:00

Sunday

– Closed