Online loan application
Low-interest starting from 5%
Repayment up to 10 years
In-page navigation
---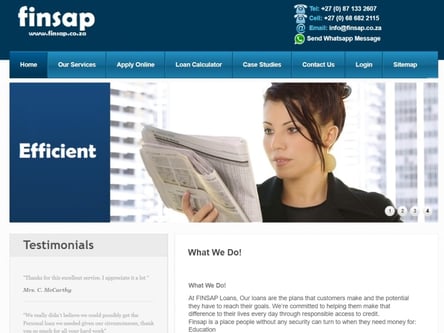 Author Finsap. Screenshot of Finsap website.


[Accessed January 30, 2023]
About Finsap
If you are looking for a loan but know that your credit record is making life difficult, that's where Finsap comes in to make life easier with its bad credit loan.
Finsap knows that people need second chances to rectify past mistakes. Being judged on the past seems unfair and Finsap wanted to bring financial relief to anybody needing it.
When people get the chance they deserve, great things happen. Second chances make Finsap's stories successful and it can for you too.
How the Finsap story began
For more than 10 years Finsap has changed the way financing is done. They've worked hard to build a company that looks after the financial well-being of its customers.
As an independent loan and finance company based in Johannesburg, they are an expert in organising loans in South Africa as well as the rest of Africa.
Finsap offers loans to people without security to better their lives. They have many options available and are always ready and willing to advise their clients on the best way forward.
A quick and simple bad credit loan
One thing is certain when you need a loan, time is a major factor. Having to wait days for an answer only adds to the stress and makes the situation worse.
At Finsap they don't leave you hanging. They know that time is of the essence and they are proud to offer their clients same-day checks and approvals on all loans.
The application has been made super easy and fuss-free.
Finsap Services
One of the qualities that Finsap prides itself on is delivering outstanding service. Keeping its customers happy on an individual level has been working well for them.
Everybody needs the chance to develop their potential. Sometimes the choices that are made, lead to financial difficulty. This often leads to bad credit and the inability to acquire a loan.
Finsap is committed to giving people bad credit loans, among other financial solutions, in a responsible manner. Helping people grow is their ultimate goal.
Bad credit loans to choose from
Knowing that every person is different, Finsap has decided to make available a range of different loan options. This is just another way they make life easier.
Their loan options are straightforward. According to your needs, you can get maximum loan amounts and repay them over a period of up to 10 years.
All these loans are available as bad credit loans. For quick cash, till payday, you can apply for a short-term loan. For a bit more cash to fill a bigger void, you can opt for a medium-term loan. For all those major financial situations, a long-term loan will be the better option.
Tools to simplify life even more
Finsap is a great company that strives to keep its customers happy. They believe in simplifying life as much as possible. That is why it comes as no surprise that they have made available a handy loan calculator on their website.
Finsap – Bad credit loan
Loan Type

Loans bad credit

Interest Rate

from 5%

Repayment

1 month to 10 years
Benefits of Finsap
Flexible loans
Fast services
Quick funding
Bad credit loan calculator
Get a loan even if you have a bad credit score
Applying for a loan can sometimes be a scary and daunting thought. Not knowing what to expect is a big factor. As previously stated, Finsap has thought of everything to simplify the process.
Documents you may need include
A supporting ID document.
Confirmation of your address.
Bank statements for the last three months.
Proof of employment or your three most recent payslips.
Follow this easy application process
Step one:
On the Finsap website, locate the tab that says apply online. This will direct you to the page where you can complete the application form for your bad credit loan.
Step two:
There are three sections in the application form. The first section will be about yourself. Usual personal details, ID number, address, and email address. You will then be asked about your employment in the second section.
The last section will be about the loan. You will complete all three sections and click on the terms and conditions button as well as the verification button. You can then submit your application.
Step three:
Finsap keeps its promises. Your application will be reviewed and an answer will be given on the same day. As soon as your bad credit loan has been approved, your money will be paid out.
The whole process takes less than 5 minutes. Take a chance on Finsap today and start making your life change positively.
Finsap can change your life with a bad credit loan
When times are trying and help seems to be nowhere in sight, Finsap can assist you. Get a bad credit loan from a company with more than 10 years of experience and make the possibilities a reality.
The only way to find out is to allow them to help you like they have helped many other South Africans over the years.
The benefits of a bad credit loan from Finsa
You can enjoy same-day approval on your loan application.
They offer competitive rates.
You can get a loan even if you have bad credit.
They have more than 10 years of experience.

Finsap is a trusted & reliable provider of loans bad credit
In our review, Finsap adheres to the compliance criteria in accordance with the National Credit Act, where the granting the loan will not cause financial distress to the consumer.
✅ Finsap is a registered credit provider in South Africa: NCRCP 10078
Customer Reviews & Testimonials
"
July 2019
I really did not believe that we could get a Personal loan that we needed given our circumstances, we are very thankful to Finsap.
Martin H
— Rosebank —
May 2020
Very happy and great service
Vela D
— Johannesburg —
February 2020
Thanks, Finsap for your professionalism.
Jacobus V
— Randburg —
October 2021
I thought that I would never get the opportunity I needed when everyone turned down my loan applications. I decided to give Finsap a try and much to my surprise, they granted me a bad credit loan...
Crouse B
— George —
November 2021
There are so many people just like me that are struggling to get the loan they need. Bad credit loans from Finsap are great. They notify you on the same day that you apply so you don't need to wa...
Moloi C
— Cape Town —
November 2021
I am so glad that I got the referral to apply for a bad credit loan at Finsap. They were super fast and the application process took less than 10 minutes to complete. I just want to thank them fo...
Bongi K
— East London —
Finsap Contact
Contact Number
E-Mail
Website
Physical Address
125 West Street Sandton,

Johannesburg

Gauteng

2196

South Africa
Opening Hours
Monday

08:00 – 17:00

Tuesday

08:00 – 17:00

Wednesday

08:00 – 17:00

Thursday

08:00 – 17:00

Friday

08:00 – 17:00

Saturday

08:00 – 17:00

Sunday

– Closed