Online loan application
Low-interest starting from 5%
Repayment up to 10 years
In-page navigation
---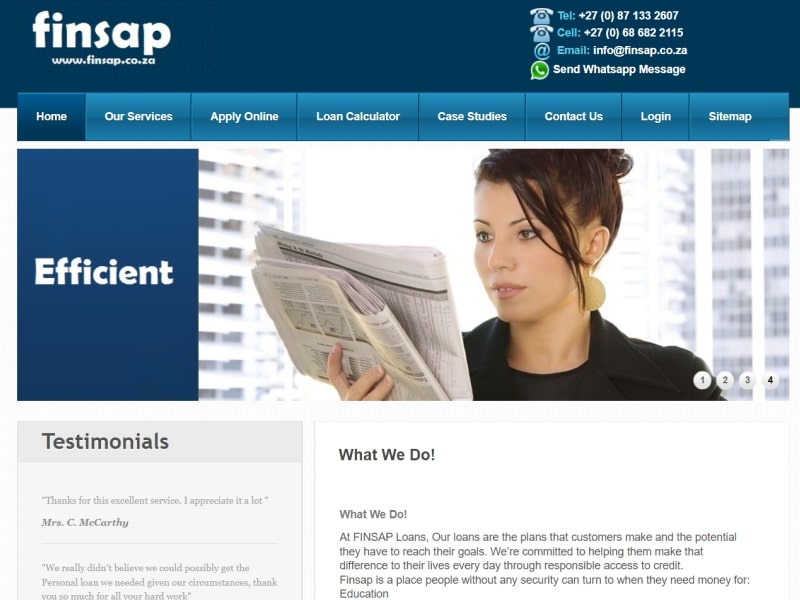 Author Finsap. Screenshot of Finsap website.


[Accessed August 11, 2021]
About Finsap
Are you struggling with bad credit but need to apply for a loan?
Are you aware of your loan options considering your blacklisted status? Would you like to take out a loan, but are not sure how best to go about securing one with a poor credit score? Do you find yourself not being sure where you stand with your bad credit status and what the best route may be to get you back on track with your credit score? Well, if you answered yes to any, and or, all of these above questions, then Finsap Loans would be the right choice for your current situation.
Hope for all blacklisted clients
Finsap Loans offer online loans for non-blacklisted clients, blacklisted clients, and loans for clients who are under debt review. They are committed to helping you reach your goals with a loan even if you are blacklisted, have no credit, or if you have bad credit. The truth is that many people are blacklisted and bad credit or blacklisted statuses are not uncommon in South Africa and, for that matter, all over the world. This should not stop you from getting the finances that you need.
Blacklisted loans with low interest
It's easy to feel in the dark when it comes to looking for options with regards to finding any help with a loan with your blacklisted status. However, with Finsap Loans, you have a light at the end of the tunnel with loan offers at a low interest rate of 5%. Finsap Loans is an independent loan company that has been operating out of South Africa for more than 10 years and is based in the city of Johannesburg offering loans.
Loans are available for clients with good and/or bad credit within South Africa and other African countries. Your loan options are made to match your specifications, whether you require a business loan, a mortgage, a personal loan, a consolidation loan, or even a general loan.
Finsap Services
Finsap Loans offers clients different loans for different purposes.
Whatever your financial situation may be, your loan will be made to best suit your current loan requirements. The loan periods are built to match your needs and are either short-term, medium-term, or long-term loans.
Short-term loans
If you require a fast boost of cash over a 1, 3, 6, or 9 month period, then the Finsap short-term loan option will be ideal for you. The repayment amounts are low enough to manage with ease. These short-term loans are perfect if you have any sudden unforeseen bills that you need to pay or if you need to pay off any debt as quickly as possible or even if you would like to get married, expecting a baby, or simply a holiday!
Medium-term loans
Should you require a loan that offers a larger amount of cash that allows you 1 to 2 years to pay back, then a medium-term loan is the best option. A short-term loan is great for smaller amounts of money but for a greater amount of money, the medium-term loan is easier on your pocket because your repayments are spread better over a longer period.
A longer loan repayment period allows for more affordable monthly repayments on your loan, rather than being limited to a maximum of 9 months on the short-term loan. These loans are best suited for you if you would like to start a new business or even grow your current business. It is also helpful should you want to send your children to university or make any other investments that require a relative amount of money.
Finsap – Bad credit loan
Loan Type

Loans bad credit

Interest Rate

from 5%

Repayment

1 month to 10 years
Benefits of Finsap
Flexible loans
Fast services
Quick funding
Bad credit loan calculator
Get a loan even if you have a bad credit score
Apply online today for the loan that best suits your financial needs and receive a check and approval on your application on the same day.
The entire application will take you less than 5 minutes from beginning to completion.
Long-term loans
A Finsap Loans long-term loan allows you the option of borrowing the maximum amount of money over anywhere between 3 to 10 years, even if you are a blacklisted client. The longer period allows you to maintain an affordable monthly repayment amount whilst getting a substantial amount of money on a loan.
You can speak to a professional Finsap Loans agent to receive any advice or assistance with your long-term loan. The agent will guide you through the process of getting a long-term loan and how best to manage the long-term commitment. Long-term loans are ideal for you should you want to invest in a new car, mortgage, or even an investment in a business or any other investment opportunities.
Valued clients
Your economic growth and your social change are important at Finsap Loans. All your goals are important and Finsap Loans aims to facilitate the achieving of your goals through bad credit loan options available to you while maintaining responsible credit solutions.
Join the happy client base
When you partner with Finsap Loans you join a community of many other happy clients that have been highly satisfied with the services offered to them.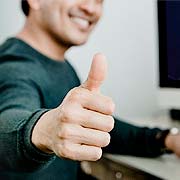 Finsap is a trusted & reliable provider of loans bad credit
In our review, Finsap adheres to the compliance criteria in accordance with the National Credit Act, where the granting the loan will not cause financial distress to the consumer.
Finsap is a registered credit provider in South Africa: NCRCP 10078
Customer Reviews & Testimonials
"
July 2019
I really did not believe that we could get a Personal loan that we needed given our circumstances, we are very thankful to Finsap.
Martin H
— Rosebank —
May 2020
Very happy and great service
Vela D
— Johannesburg —
February 2020
Thanks, Finsap for your professionalism.
Jacobus V
— Randburg —
Finsap Contact
Contact Number
E-Mail
Website
Physical Address
125 West Street Sandton,

Johannesburg

Gauteng

2196

South Africa
Opening Hours
Monday

08:00 – 17:00

Tuesday

08:00 – 17:00

Wednesday

08:00 – 17:00

Thursday

08:00 – 17:00

Friday

08:00 – 17:00

Saturday

08:00 – 17:00

Sunday

– Closed