Loans bad credit up to R120,000
Low-interest up to 28%
Repayment up to 84 months
In-page navigation
---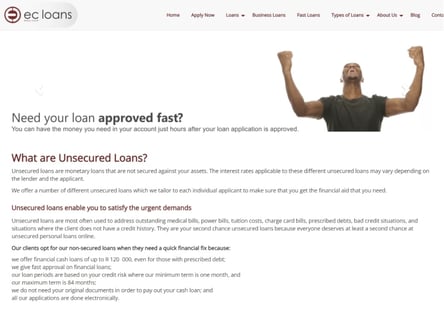 Author EC Loans. Screenshot of EC Loans website.


[Accessed January 30, 2023]
EC Loans - Affordable bad credit loans
Many South Africans are in financial difficulty from time to time. Having bad credit does not mean that you are completely in the dark.
EC Loans can help with a bad credit loan. EC Loans was established to give people hope, showing them that help is always out there, even in trying times. Nobody needs to feel alone when financial troubles are a problem.
When mainstream lenders turn you down, EC Loans will be there, assisting you financially and giving you the advice you deserve.
What EC Loans aims to achieve
When established in 2005, it had a vision. Like any other company starting up, they wanted to make a difference.
They wanted to become the most preferred lender for South Africans. The vision was to be able to assist medium-income South Africans financially to have a better chance at rectifying their finances.
EC Loans wanted people to know that whatever the situation, they would be there to help. The vision was one of hope and over the years they have made their vision a great success.
Get a Bad credit loan from a lender with values
The values at EC Loans are simple. They believe that their customers deserve the best service and outstanding and friendly service has been important from day one.
Since their establishment, they have worked hard to uphold the standard of service they started with. They go the extra mile to ensure their customers are satisfied. That is part of their promise.
EC Loans strives to constantly grow and develop their staff to assure their clients that they will uphold the standards they started on.
Loans between R1000 and R120 000
With bad credit, it's a well-known fact that financial help is not freely available. With a loan of up to R120 000 and a repayment term of between 12 and 84 months, your money problem can be rectified.
EC Loans changed the way bad credit loans are given. Every situation can change and they take everything into account when considering a loan.
At EC Loans they look at your current financial status. They know things can change and the past is not always a true reflection of current affairs.
What EC Loans offers
With the trying financial times that ordinary South Africans face daily, EC Loans has made it its mission to uplift people. Being able to assist people in need has been their pride.
They offer many different financial options for people from all walks of life. They know that even businesses can experience trying financial times.
These range from business loans, unsecured loans, cash loans, blacklisted loans, as well as bad credit loans. Everyone needs to know that help is out there, no matter what the problem.
A handy loan calculator
Like many lenders, EC Loans has thought it good to make available a few helpful tools to make life easier. It's always good to know what you are getting into before you leap.
Being able to budget is a great benefit. For this reason, it's' always great to be able to know how much you can borrow and what you will be repaying each month.
You can find this helpful tool on their website under the loans tab. It is free for you to use to make the most informed decision when it boils down to getting a bad credit loan.
EC Loans – Bad credit loan
Loan Type

Loans bad credit

Interest Rate

28%

Loan Amount

up to R120,000

Repayment

12 months to 84 months
Benefits of EC Loans
Loans from R1000 to R120 000
Repayment terms between 12 and 84 months
Unsecured and blacklisted Loans
Easy online approval
90% approval rate
Bad credit loan calculator
EC Loans – Loans made easy
Like with any other finance company, there are a few steps to follow to get the loan you need.
You will be glad to know that EC Loans has made the application process super easy. They have gone the extra mile to ensure that there is no added stress.
Some documents you may need
Confirmation of income, this could be your latest 3 bank statements or payslips.
Proof of ID
Proof of address
Make sure you have these documents on hand and then carry on to the application for a smoother bad credit loan process.
The application process
Step one:
Navigate to their website. At the top, there is a tab where you can apply. This will take you straight to their quick and easy application form.
Step two:
The application will only take a few minutes. There are a few easy personal questions to answer. Things like your personal details as well as your employment status. You will be required to sign the application form at the bottom.
Step three:
As soon as the application form is completed and submitted along with all the required documents, your application will quickly be processed. Everything with EC Loans is fast and super easy, so you can expect an answer shortly after.
Step four:
Once the review is done the money will be paid into your account sooner than you think.
There is no better time than now, to get things done. When you feel that there is no help out there, EC Loans will always be there to lighten the load.
Choose EC Loans to get back on track
If you are one of the thousands of South Africans struggling to get by because of money, you need to know that EC Loans is there to help. They have kept their promise and uplifted many people over the years.
You can get the upliftment you deserve too when you choose to get a loan for bad credit from EC Loans.
Benefits of a Bad credit loan from EC Loans
Their applications are 100% secure.
They boast a 90% approval rate.
EC Loans keep its promises to its clients.
Customer Reviews & Testimonials
"
August 2017
Very reasonable loan options are available for people with bad credit.
Bongiwe M
— Bisho —
June 2018
I love using this company all I have to do if I would like to know how much my loan would be is a apply for it and they send you back a quote with your answer.
John B
— Cape Town —
April 2019
I am an existing client and have a loan that I am paying off at the moment but needed a loan for a few days and they let me get my loan I recommend them because they care.
Andrew T
— Port Elizabeth —
September 2021
I didn't know where to turn to after I was turned down everywhere else. It was beginning to feel like there would be no relief. Thankfully I came across EC Loans and they made it easy for me to g...
Mbele T
— East London —
August 2021
When things go wrong, like they always do, they can go very wrong. I was caught in a financial spiral and it looked like there was no way out. Someone told me about EC Loans and I decided to give...
Joubert S
— Cape Town —
November 2021
I would just like to thank EC Loans for being there for me when I thought that there was no way out. They assisted me with a bad credit loan in no time. I am so thankful that they were there to g...
Somers B
— Bethuli —
EC Loans Contact
Contact Number
E-Mail
Website
Physical Address
14 Bloem Ct, Northpine

Cape Town

Western Cape

7560

South Africa