Loans bad credit up to R4,000
Low-interest starting from 38%
Repayment up to 30 days
In-page navigation
---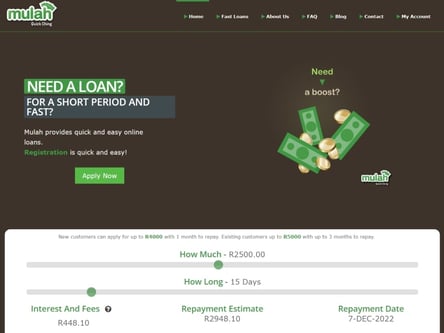 Author Mulah. Screenshot of Mulah website.


[Accessed January 30, 2023]
Mulah - Reliable bad credit loans
So, financially life is not treating you too great. Your credit record is not up to standard and you need a loan urgently.
Don't fear, Mulah is here with a bad credit loan that can help you.
There are too many mainstream lenders that are turning their backs on people who need financial assistance. Mulah is here to make that change and give people the hope they deserve.
Mulah knows that now and then there comes a time when a little help can make a big difference. They are a dedicated team with a mission of making a difference.
Mulah makes great things happen
The end of the month is something we all dread. When money is an issue it makes the dread even worse. Some people are financially not able to get access to funds due to their bad credit scores.
This creates even more stress in an already uncomfortable situation. Mulah recognised this problem and decided they would lighten the load on people that would otherwise not be able to get the help they need.
So, this spirited, young, and creative team of online entrepreneurs set out to make big things possible. They understand the needs of South Africans and offer innovative financial solutions.
A bad credit loan at Mulah is easy
Life is complicated enough. There are so many struggles, and just not enough hours in a day. That's why Mulah has decided to make life easier when it comes to the most dreadful tasks.
They went above and beyond to make the application for a bad credit loan as easy as they possibly could.
Fast loan solutions
The services that Mulah offers are simple. They provide financing for people who require a loan as well as people who were turned down elsewhere.
When you need a loan and you need it fast, Mulah will save the day. They offer quick and safe short-term online cash loans. This simplifies the process more by not having to wait in long queues.
By borrowing from Mulah directly, there is no middleman and also no heaps of paperwork that need to exchange hands before you have an answer.
Bad credit loans are what Mulah does best
Mulah's goal is to provide finance that is easily accessible. They make available the financing you need without the fuss and paperwork that usually accompanies a bad credit loan process.
No matter why you need the loan, they do everything they can to assure you can borrow money responsibly, without getting yourself into deeper financial trouble.
Everyone should enjoy an equal chance at bettering their financial circumstances. Mulah has been giving people financial assistance for long enough to know the business.
Other Bad credit loans
Like many other lenders in the industry, Mulah has many services on offer. Each one of their offers is exciting and easy to acquire. One of these services is what they call a quick loan. This is the type of loan you will get when you need money immediately.
You can apply for a fast loan and receive the money on the same day. You will then be paying back your fast loan as soon as you receive your next paycheck.
Mulah – Bad credit loan
Loan Type

Loans bad credit

Interest Rate

from 38%

Loan Amount

up to R4,000

Repayment

24 hours to 30 days
Benefits of Mulah
Queries answered in minutes online
Safe and secure loans with ease
Up to R4000 payday loans
Bad credit loan calculator
We all have dry spells when it comes to our finances, let Mulah hydrate your bank account
The easiest bad credit loan in history is what Mulah promises you. Everything can be done from the comfort of your home, online.
Documents you will need:
A clear, valid copy of your South African identity card or book.
Three months' bank statements as proof of your income and to show that you can afford the bad credit loan you are applying for.
The super-easy application process
Firstly you will make use of the sliding scale on the Mulah website to indicate the amount you want to borrow as well as the term. After you have done this you can go ahead and hit the apply now button.
Once you are directed to the application form you can complete it in full. Don't leave anything out as this will only slow the process down. As soon as your application form is complete, you can submit it along with a copy of your id and your bank statements.
The necessary checks will be done and you will be notified via SMS in no time.
As soon as your bad credit loan has been approved, you can accept the quote and sign the contract. After signing you can send it back to them and the funds will be transferred into your bank account before you can say, Jack Robinson.
Mulah makes possibilities become realities
It's bad enough to experience financial difficulty. Not being able to get a gap to breathe makes things worse. Luckily the people at Mulah know that second changes often work out great and that is why they are in this business.
Take a chance on Mulah today and be part of their success story. Let them help you with a bad credit loan.
Benefits of a Mulah Bad credit loan
They will help you with financing when other lenders won't.
The application process is super fast and easy.
They have same-day payouts.
Customer Reviews & Testimonials
"
February 2019
Using the calculator to check out your loan payments makes it simple and easy to apply with the company.
Sarah J
— Port Elizabeth —
April 2019
Simple and easy loan to apply for when you use the application online it doesn't take more than 10 Minutes and you are completed.
Simon G
— Cape Town —
December 2018
I was notified within a few hours that my loan had been approved with sms from the company.
Sam P
— Johannesburg —
April 2021
I was about to give up when a friend at work told me about the incredible deals at Mulah. I applied for a bad credit loan from them. The whole process was super easy and they are a great company.
Benade L
— Centurion —
September 2021
It was such a relief to be able to get a bad credit loan from Mulah. I thought that I would never get the chance to try and improve my credit record. They understood and helped me through the who...
Ngwenya S
— Port Alfred —
October 2021
Sometimes life throws us a curveball and it seems like all hope is lost. Then help arrives in the form of Mulah. They assisted me with the bad credit loan I needed. They were helpful and the appl...
Soloman V
— Kwazulu Natal —
Mulah Contact
Contact Number
E-Mail
Website
Physical Address
Block A, Waterkloof Rand Corporate Park 358 Buffelsdrift Rd, Erasmusrand

Pretoria

Gauteng

0181

South Africa
Opening Hours
Monday

08:30 – 16:00

Tuesday

08:30 – 16:00

Wednesday

08:30 – 16:00

Thursday

08:30 – 16:00

Friday

08:30 – 16:00

Saturday

– Closed

Sunday

– Closed