Fundraising
Investments
Start-up loans
In-page navigation
---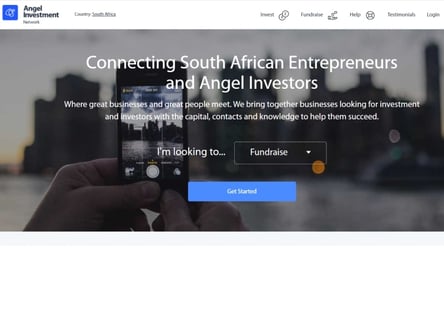 Author Angel Investment Network. Screenshot of Angel Investment Network website.


[Accessed January 31, 2023]
Angel Investments - They will help your business grow
Angel Investors are on the rise in South Africa and connect to investment networks which connect them with entrepreneurs locally and internationally.
Discover an investor for your business or find investment prospects within their database. Generally, Angel Investors are fairly new, however, it is admirable to witness such passion among the organisations and people wanting to move things forward.
Investments and financing
Finance is one aspect of Angel Investing, backing significant business expertise, networking and market access, to enable a startup which is important. Flexible banking services are also important and very commonly overlooked.
Knowledge of the local market is an important asset for Angels looking for investments here, fruitful founders are prime nominees in the likes of CEOs to becoming Angel Investors and must be introduced and coached on the early stages of investing.
Related exciting events are constantly popping up, this is extremely fruitful for the start-up culture in Africa, and the best way to bring people together aiding investors to make relevant connections.
Who are Angel Investors?
They are flourishing individuals who offer capital for businesses that are starting out, normally in exchange for redeemable debt or even ownership equity. They are also recognised as Business Angel, Angel Funder, private investors, informal investors and seed investors who offer alternatives to traditional business loans.
They help small entrepreneurs
Angel investors are well-off individuals who sponsor small businesses, anticipating that one of them will become the next Facebook or perhaps even Google.
All these possibilities work in the same method by means of giving them ownership or a stake in your business in return for quick cash received as an Angel Investment.
South Africa investment
Many companies, as well as private investors, snatched the opportunity to invest in the South African market.
Top branded companies like Rolls Royce Vodafone and Barclays to mention a few, have started to make incredible investments in South Africa designed as a high-growth market by UK Trade and investment.
South African investors are becoming more interested in their own country. Angel investors from all over the world are looking for the next high-growth market. South Africa has possibilities for Angel investments that bring a high return.
They grow stronger every year
Many criticisers have doubted, thinking that trust would be a possible obstacle for such prospects in South Africa, but thus far there have not been true.
An enormous amount of entrepreneurs have signed onto our network, Angel investors glance through the database of investment opportunities that are available as alternatives to business finance offered by banks.
Angel Investment Network – Business loan
Benefits of Angel Investment Network
Investment opportunities
Connect with investors and get funded
Start-up business loans
Angel Investors - A sustainable option for businesses
In recent times, Angel investments have become more sustainable options for business owners looking for financing and who do not qualify for business finance, personal loans and other forms of traditional finance.
Angel investors step in in the start-up phase of business progress, often providing seed capital with smaller funding amounts for the business to function and rise.
They invest in South Africans
Angel investors and venture capitalists around the world have been taken by the movement, they have started investing in the economic upcoming future of South Africa. First-time business owners are engrossed with Angel Investors, private investors who may be local or from America or several other countries.
They help young entrepreneurs
Mark Shuttleworth- from South Africa and the founder of Linux distribution enterprise Ubuntu Projects the first African to fund his own space mission is a familiar name amount the county's investment community.
Lately, young and lesser-known local entrepreneurs in various industries have seen considerable success. This includes a fashion designer who works with previously disadvantaged not to mention being the founder of an internet solutions company providing computer services to rural South Africa, including video game franchises.
With an open marketplace enthusiastic, serious entrepreneurs are carving their place in the South African business world. The capability to connect with other investors of business finance and entrepreneurs online makes sites like Angel Investment Network boundless in expanding their reach.
Customer Reviews & Testimonials
"
April 2019
AIN helped me realise what I've always dreamt about- owning my own beauty spa. Thank you so much for making this possible.
Nomfundo M
— Rustenburg —
January 2019
I struggled a long time trying to get funding for my transport and logistics business. After a friend told me about Angel Investment Network, I decided to give it a try. I'm so happy that I did b...
Glen N
— Durban —
Angel Investment Network Contact
Contact Number
E-Mail
Website
Opening Hours
Monday

08:00 – 17:30

Tuesday

08:00 – 17:30

Wednesday

08:00 – 17:30

Thursday

08:00 – 17:30

Friday

09:00 – 17:30

Saturday

– Closed

Sunday

– Closed