Business loans up to R250,000
Affordable working capital
Repayment up to 90 days
In-page navigation
---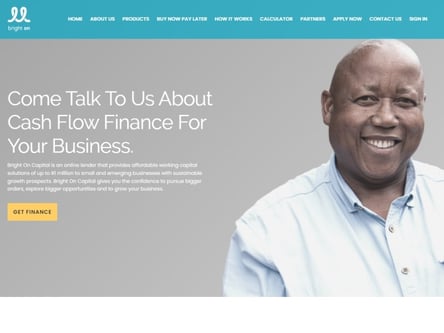 Author Bright On Capital. Screenshot of Bright On Capital website.


[Accessed February 27, 2023]
About Bright On Capital
If you own a small or emerging business and your prospects for growth are sustainable, Bright On Capital has the financing solutions you need. Operating as an online lender, they can provide you with critical working capital solutions.
At Bright On Capital, the past doesn't matter
While many major lenders focus on your financial history, Bright On Capital casts its focus on the future. They're committed to growth and look at your most recent financial records as well as your business's potential.
When banks reject your credit applications, Bright On Capital's business model can give you the funding you need.
Bright On Capital - grow your business
They're dedicated to understanding your business and its potential. Often small businesses lose out on deals because of a lack of funding. Bright On Capital's financial solutions aim to change the way that funding is granted.
Like many major lenders in the industry, Bright On Capital has a system of values that expresses its high level of integrity.
What Bright On Capital promises to deliver
Simplicity – Access to online transacting 24/7 and they offer a paperless service.
Speed – Pre-approval takes less than 48 hours and approved loans are available within 4 hours.
Flexibility – You decide what you need and when.
Transparency – There are no hidden costs or fees and every transaction is clear and concise.
Affordability – Business solutions are tailored to your business's unique needs.
A strong focus on your business needs
Bright On Capital has changed the way traditional business funding works by understanding how small businesses operate. They focus on specific aspects like the products and services offered, your business's abilities, and operating potential, as well as your cash flow.
Bright On Capital Services
Bright On Capital strives to outshine its competitors with unequalled customer satisfaction and outstanding service delivery.
Their passion is to see you prosper. They go above and beyond to recognise potential and build on it. Bright On Capital has a range of business financing solutions for growing your business.
Invoice finance from Bright On Capital
This facility enables you to take care of urgent financial obligations like payroll, rent, or financial assistance on a new project. They're able to provide you with 80% of the total value awaited on an invoice. When the loan is approved you can access the funding within 4 hours and only repay the loan when your invoice amount is paid by the client.
Bright On Capital's purchase order finance
Supplying/Delivering purchase order finance – If you need funding for the purchase of completed goods, ensure delivery is made in full and on time.
Bright On Capital can assist with up to 70% of the total invoice amount of your purchase order which can be accessed within 24 hours of pre-approval. You'll repay the loan only once your client settles the invoice.
Manufacturing/Assembly purchase order finance
This loan will enable you to purchase items needed for the manufacturing/assembly of goods on order by a client. An amount of up to 70% of the total invoice can be accessed and is available within 24 hours of pre-approval. This loan too is payable once your client settles the invoice.
Contract finance of up to 50%
With this finance option you can enjoy up to 50% of the expected profits on a contract upfront. This can enable you to pay for anything related to your project. You'll repay this funding over the first part of your term with a maximum term of 7 months. Bright On Capital will also allow you to re-advance the contract finance loan when 50% of the loan amount has been repaid.
Bright On Capital – Business loan
Loan Type

Business loans

Loan Amount

up to R250,000

Repayment

90 days
Benefits of Bright On Capital
No additional fees
Request a quote online
Low monthly interest rates
Growing your business with Bright On Capital
Bright On Capital has a range of useful tools to help you create a financial plan before taking action. Use their business finance calculator which they've made available on their website to plan your next move.
Enter the funding amount required by moving the top slider to the desired sum and the repayment term must be indicated with the bottom slider. You'll then be presented with the fees and interest payable, total loan repayment, and residual payable.
Documents required to apply for a business loan with Bright On Capital
Bank statements for all business accounts for the past 6 months
Latest invoice owed by clients/Debtor's age analysis
All existing contracts
Vat returns for the past 12 months
Tax compliance document from SARS with a valid pin
Bright On Capital's application process
Your business funding needs are considered. You'll be required to grant Bright On Capital access to all relevant information.
Your business operations and financial position is assessed and pre-approval to the funding facility is granted within 48 hours.
Additional information might be requested before final approval is granted and FICA documents are requested.
Bright On Capital assists you to enlist the relevant debtors.
A clearing account is established in the name of your business to ensure transparency of transactions.
Once you've completed this process, there's no need to go through it again as you're already registered on the system.
Why you should partner with Bright On Capital
Transparent
Hassle-free funding
Affordable
Flexibility
Dedicated to growing small business
Bright On Capital can help your business grow
With Bright On Capital's business model, you can enjoy a business loan that's innovative and one-of-a-kind. They strive to assist you with the funding you need to grow your business. They're dedicated to giving small and prospering businesses the tools they need to prosper.

Bright On Capital is a trusted & reliable provider of business loans
In our review, Bright On Capital adheres to the compliance criteria in accordance with the National Credit Act, where the granting the loan will not cause financial distress to the consumer.
✅ Bright On Capital is a registered credit provider in South Africa: NCRP7586
Customer Reviews & Testimonials
"
September 2022
I don't know how I would ever be able to thank Bright On Capital for believing in me and granting me the business loan I needed. They have given me the opportunity to grow my business.
Jacob N
— Boksburg —
July 2022
I was turned down for a business loan from all major banks and was at my wit's end until I found Bright On Capital. They granted me the financing that I needed to secure a good contract.
Susan P
— Stilfontein —
August 2022
I would like to take this opportunity to thank Bright On Capital for the business loan they gave me. I was able to employ more people and grow my business because they believed in my business.
Johan V
— Albertinia —
Bright On Capital Contact
Contact Number
E-Mail
Website
Physical Address
22 Sloane Street, Bryanston

Sandton

2191

South Africa
Opening Hours
Monday

08:00 – 18:00

Tuesday

08:00 – 18:00

Wednesday

08:00 – 18:00

Thursday

08:00 – 18:00

Friday

08:00 – 18:00

Saturday

– Closed

Sunday

– Closed