Business loans up to R5,000,000
Quick Online Applications
Short-term Asset Finance
In-page navigation
---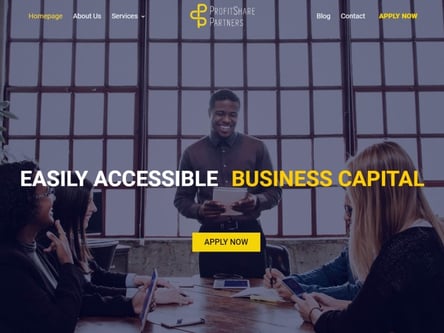 Author Profitshare Partners. Screenshot of Profitshare Partners website.


[Accessed February 27, 2023]
About Profitshare Partners
The modern business landscape is riddled with challenges. Any budding entrepreneur knows how tough managing cash flow can be.
Accessing funds nowadays can be a nightmare. Fledgling businesses find the traditional financial institutions' stringent requirements very challenging to navigate.
The NCA's stringent funding criteria
The National Credit Act (NCA) makes it extremely difficult for small businesses to qualify for funding.
Factors such as profitability, experience among management, and existing opportunities don't determine access to credit. Most start-up businesses are unable to adhere to the NCA's stringent criteria as they have not been operating long enough.
Bridging the market gap
Profitshare Partners address this massive gap in the market. The company's sole objective is to assist young businesses in growth. Its primary focus is on the acceleration of this growth to revitalize economic trade.
Ex-banker and entrepreneur, Andrew Maren, established Profitshare Partners in 2017. Underwritten by Fintech, it enables small businesses to secure much-needed funds for growth.
The Profitshare Partners philosophy is grounded in the belief that business growth can be stimulated through access to the right finance solutions.
Helping emerging entrepreneurs thrive
Profitshare Partners functions as a venture partner for emerging businesses. It offers a range of finance solutions to upcoming SMEs that previously had nowhere to turn.
The company considers emerging businesses the future of our economy. It also grasps the vital importance of having immediate access to funds.
Entrepreneurship is at the heart of Profitshare Partners. It offers short-and fix-term funding to start-ups and small businesses that don't qualify for traditional credit.
Investing in you
Profitshare Partners' standard criteria, unconventional security, and visionary funding model are exclusively designed to support companies identified as having the required entrepreneurial potential to drive their growth profitably. Profitshare Partners invests in the entrepreneur. You now have a venture partner for the short term.
Profitshare Partners Services
Profitshare Partners' service products are geared towards SMEs operating within large companies or the government sector.
You'll get funds in exchange for a profit share per transaction. This means you don't have to surrender equity in your business. At the core of Profitshare Partners' success story lies its impeccable track record, industry experience, and access to the right resources.
A unique funding model:
All SMEs can apply.
Your business doesn't need to submit financials or security.
It's the ultimate solution for young companies that don't yet have a proven track record.
Profitshare Partners' seamless digital online process makes accessing capital a breeze.
The company has a proud track record of increasing client turnover by 1 000% within a year.
Solutions tailor-made for the entrepreneur
Profitshare Partners offers an impressive range of finance solutions to accommodate your needs. You can secure business loans ranging from R250,000 to R 5 million per transaction. Approval takes less than 48 hours, and the funds are available within days.
These services include:
Purchase order finance - Purchase order finance enables you to pay your suppliers immediately so that you can deliver on your customer's orders. This is while you wait for payment from your client. You need a valid purchase order (PO) from a trustworthy entity within the private/public sector to qualify. The process is swift and seamless.
Contract funding - Any SME with a binding contract from a credible entity qualifies. Contract funding enables you to pay your suppliers prior to receiving payment from your client.
Invoice purchasing - This product is designed to improve your cash flow while waiting for payment. You can now finance your approved invoice. It's the perfect solution for when your clients settle their invoices later than expected.
Import finance - This product caters to those times when you have to source goods from overseas. International suppliers typically expect immediate payment. Import finance settles your import costs (including logistics and local duties) in full. You simply repay the amount when you receive payment from your client.
Short-term asset finance - You can now finance any asset necessary for your business over a maximum period of 12 months.
Production and manufacturing finance - This offering secures funds for raw materials from your suppliers according to the agreed payment terms. It streamlines your production processes so you can deliver timeously on orders. It also enables you to negotiate for better pricing and accelerates stock delivery.
Profitshare Partners – Business loan
Loan Type

Business loans

Loan Amount

up to R5,000,000
Benefits of Profitshare Partners
Business finance quotes within 48 hours
Reliable business finance solutions
Fast online loan application
The fast and easy Profitshare Partners application process
Apply online and submit your purchase order and supplier's quote.
Upon acceptance of the quotation, you'll need to supply additional information.
When your supplier receives payment, you deliver the goods to your client and the latter settles the invoice.
You then pay Profitshare Partners the applicable profit share.
How to qualify for financial support
Your company must be a South African-registered business with the Companies and Intellectual Property Commission (CIPC).
Your SME must have a valid PO or contract with a creditable corporate or government institution.
Security required:
Personal surety from the applicant, or those in charge of the applicant. If the latter is married in Community of Property, his/her spouse will have to give added surety.
The applicant must provide a cession and pledge of the venture's proceeds to PNP.
The applicant will be required to open an escrow account. This is an account with a large commercial bank in your SME's name to which Profitshare Partners holds the administration rights.
A covering notarial or mortgage bond might be required in some cases.
Profitshare Partners' lending terms in a nutshell
Profit SharePartners operates as your short-term equity partner and only pays your suppliers. It doesn't loan funds to your company.
Profitshare Partners isn't a financial institution, bank, or credit provider and therefore doesn't charge interest on transactions. It only charges a deal management fee that is included in your obligation-free quotation.
High-efficiency-based contracts such as those in the construction industry don't qualify for funding.
Penalties will apply if the applicable terms are exceeded. These are also detailed in your quote.
Profitshare Partners' knowledgeable team of experts is ready to assist you with any financial challenges you may have. Contact them now and discover the huge advantages a partnership can have for your business.
Customer Reviews & Testimonials
"
June 2022
Profitshare Partners helped me fund my assets and improve my cashflow.
Samantha R
— Sandton —
September 2022
I would recommend Profitshare Partners to any business that needs quick access to business funds.
Rennie H
— Cape Town —
Profitshare Partners Contact
Contact Number
E-Mail
Website
Physical Address
Investment Place, Block C, Ground Floor, 10th Rd, Hyde Park

Sandton

2196

South Africa
Opening Hours
Monday

08:00 – 17:00

Tuesday

08:00 – 17:00

Wednesday

08:00 – 17:00

Thursday

08:00 – 17:00

Friday

08:00 – 17:00

Saturday

– Closed

Sunday

– Closed